So I have something very exciting to talk about!!!
I was one of the lucky people who got early access into Beautylish's new boutique! Needless to say I was extremely excited! I was checking their site all day and at random times, until I realized that they were going to email you when it was your turn to get in! Haha I finally got that email around MIDNIGHT this morning. I actually had fallen asleep pretty early and kept waking up at random times through the night and around midnight my body was like GET UP ITS TIME! So, I woke up haha, checked my email, saw I had it and rushed to the website.
The first boutique that they are offering is Sugarpill cosmetics. I have ALWAYS wanted to try Sugarpill and this was my opportunity! Granted I only bought 3 shadows, but I want to see what else they come out with as well.
Now you must be yelling at my about my wedding budget, but a few months back, when Beautylish had announced that they were going to be opening a boutique they had an option where people could sign up and if you got a certain amount of people you got credits toward the shop. 51 people clicked my link and signed up, thank you to everyone who clicked and signed up! <3 Because of that I wound up getting $160 in credit to the boutique and a free t-shirt.
These are the products that I wound up purchasing.
Sugarpill Loose Eye shadow in
Birthday Girl

&
Asylum

You must be thinking that I am crazy for a red eye shadow, I can assure you I am not. Ever since I started getting into makeup I have been wanting an amazing red eye shadow.
I also bought one of their pressed eye shadows in
Love+

Yes, this one is red as well, but its a different finish. Don't judge!
I am really excited to get these shadows in the mail! I'm thinking about getting a few more, but for right now, I think I am going to hold off!
They are also doing special that if you buy their Heart Breaker palette you get their limited edition shadow in
@#$%!
, now this is an exclusive limited edition shadow. First you could only get it at IMATS, now you can only get it on Beautylish.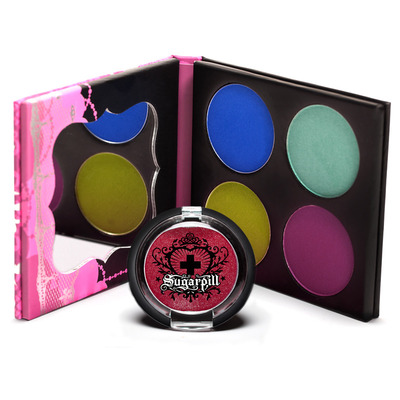 I am excited that I was one of the FIRST people to actually order from their store! I wasnt the first, but one of! :P I would give you a peak into the store, but I am going to just leave it at this for a little while! Plus, there isnt much to look at just yet haha!
UPDATE! 8/16/12 8:46pm
Hey everyone! Just a little update! My package already shipped from Beautylish! How crazy is that!
I just got the confirmation and tracking number around 10 minutes ago.
I also wanted to say that Shrinkle, the founder behind Sugarpill also put up a blog post and there are 5 sets of lashes that are on in the Beautylish boutique, they don't even have them on their website! So, definitely scoop those babies up while you can! I will put up a blog post when I get my package! <3
Shrinkle's Blog Post
Are you excited about the Beautylish shop?! Did you get priority access? I would love to hear what you think/got!
Beautylish!
Store
Disclaimer: I am not being paid or sponsored to talk about the above mentioned companies. All opinions are my own. The pictures of the 3 shadows that I purchased are owned my Sugarpill and I got them off of the Beautylish website. I do not own those images.