Hello Lovlies!
Today I have for you the China Glaze Holiday Joy 2012 collection!
Or well, a few polishes from it! I think I am only missing 3 polishes though!
(Also, before anyone says anything I am quite aware that my cuticles are in horrid shape. No need to point it out.)
I picked up a set of Mini polishes because I didn't want to get the full sized bottles.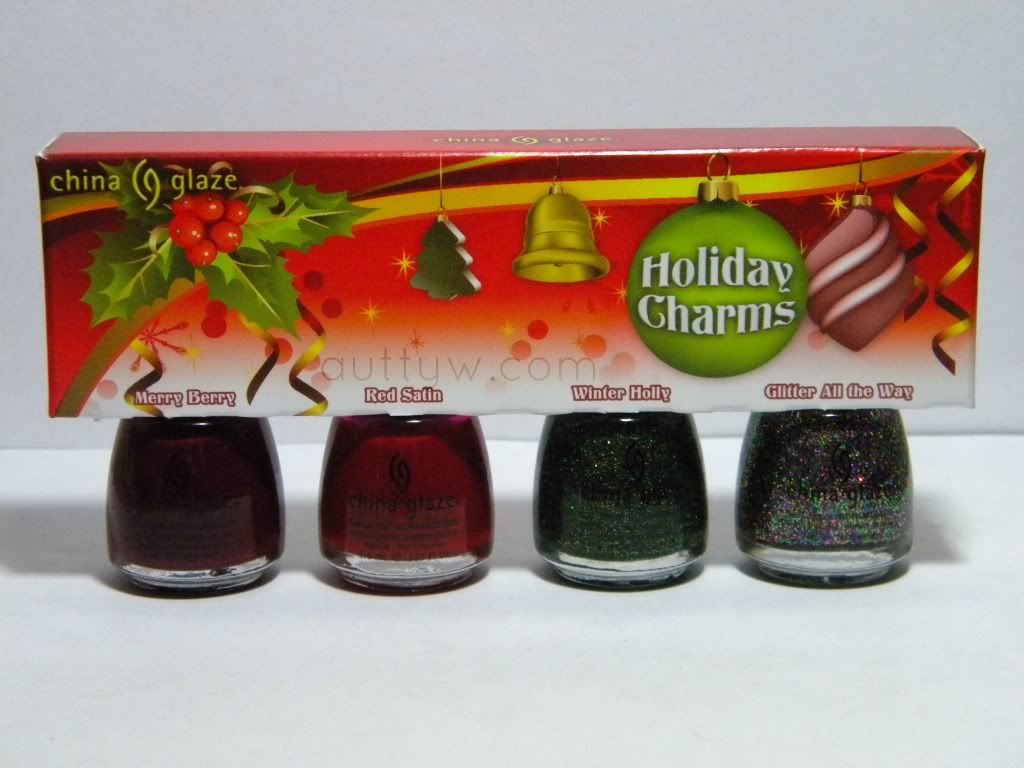 I also picked up 2 full sized polishes.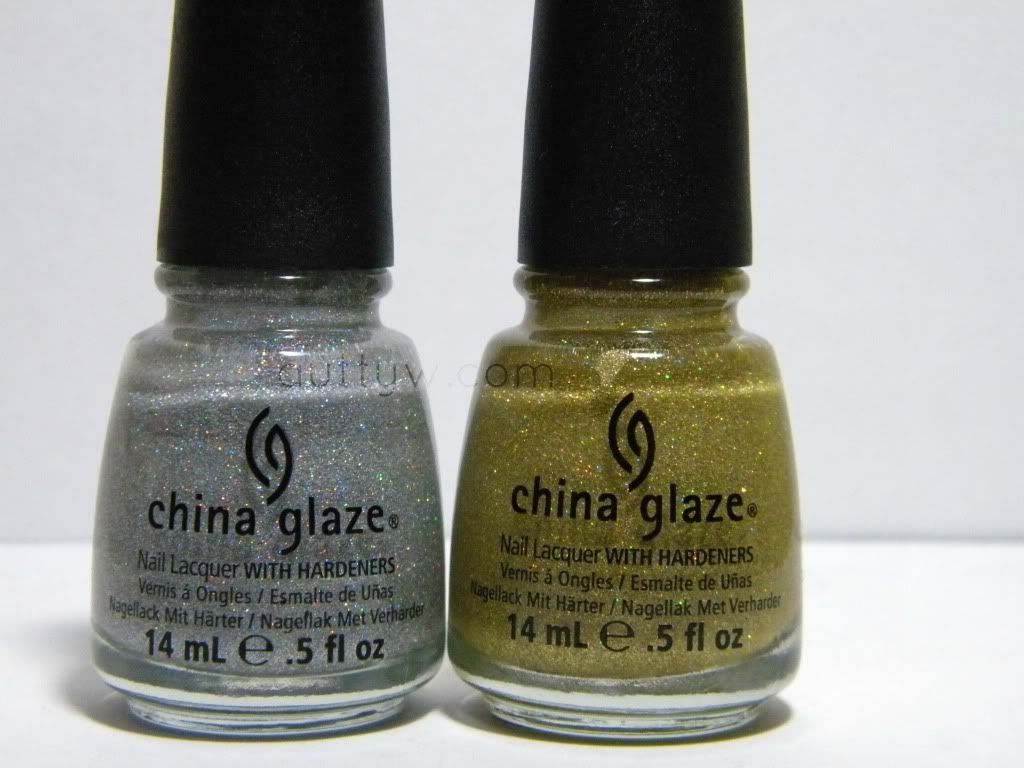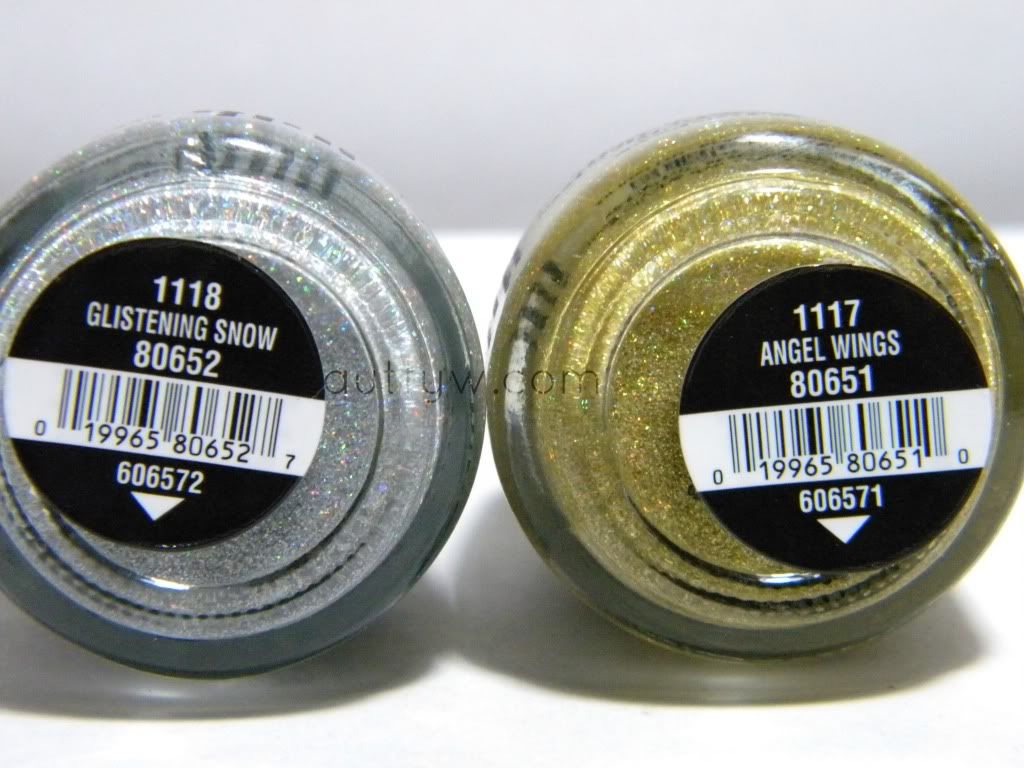 The Mini set retails for $9.99 while the Full sized polishes retail for $6.49 (without card) I also want to ask, does it bother anyone else when the stickers on the bottom are not on correctly. Le sigh
First up I am going to talk about Merry Berry and Red Satin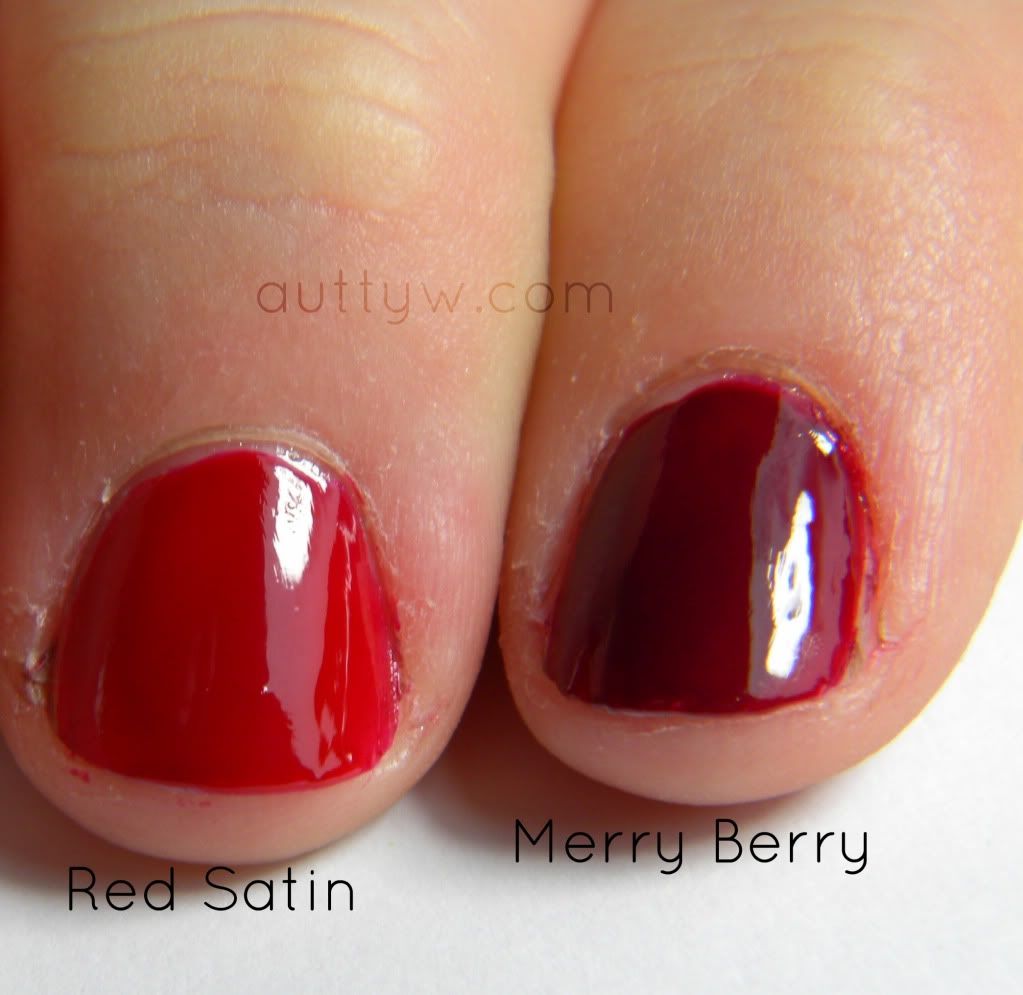 Both of these to me scream Christmas. :P
Red Satin is a blue based red creme while Merry Berry is a deep berry red. Both of these are shiny without a top coat and they also remind me of a jelly polish. Don't quote me on that though :P
Both of these also took 3 coats to make opaque.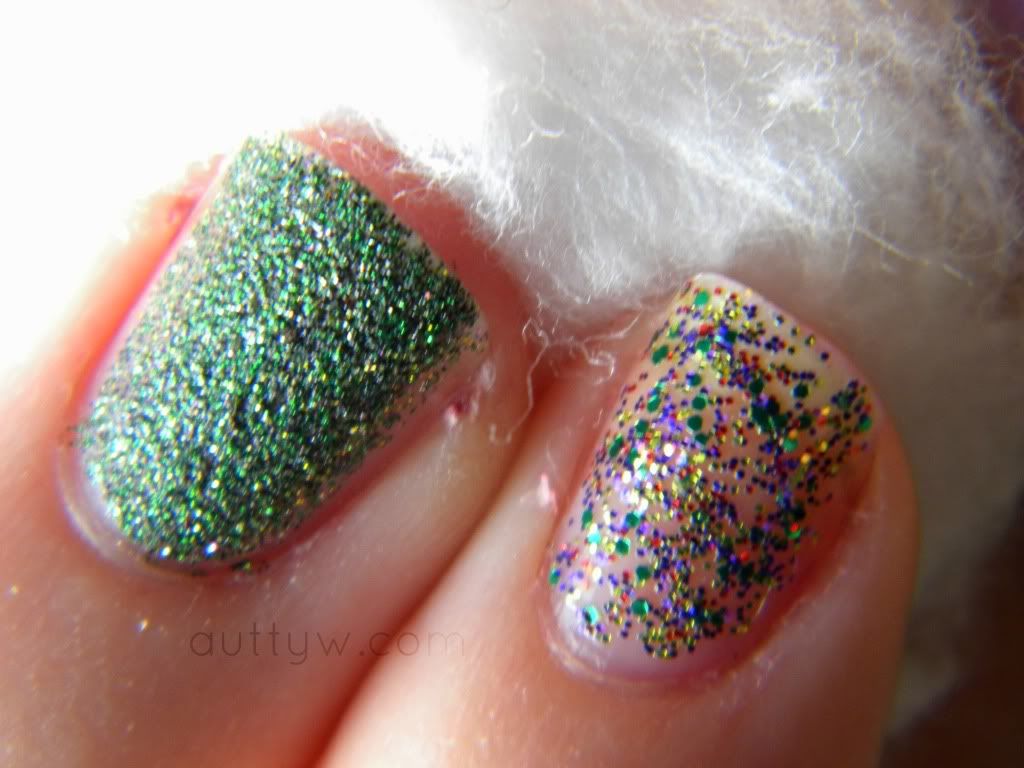 Winter Holly (L) and Glitter All The Way (R)
Winter Holly is a green micro-glitter polish with holographic micro-glitter. This holographic aspect is as noticeable like in the other two polishes I will show you later on down in the post. This was one of the polishes that I was extremely excited to try out, and I was really disappointed in it! You can tell that it is not applied all over the nail because for me at least, it is extremely hard to work with. Not only that but the brush is extremely cockeyed in the bottle. It's really weird. This in my opinion would be better layered over a dark green polish. This was 3 coats. Also, if you want to use a top coat with this, you will have to use extra to make it smooth, otherwise the top coat just sinks into it and its still grainy feeling.
Glitter All The Way is a clear base with gold, purple, red and green micro-glitter. It reminds me of Mardi-Gras, not Christmas. When I saw a picture that Hello Miss Niki put on instagram, I couldn't wait for her review, I just HAD to have it, that was before I saw it in person. I will use this polish, but in my opinion, it's not Christmas :( This was 2 coats.

[caption id="" align="aligncenter" width="716"]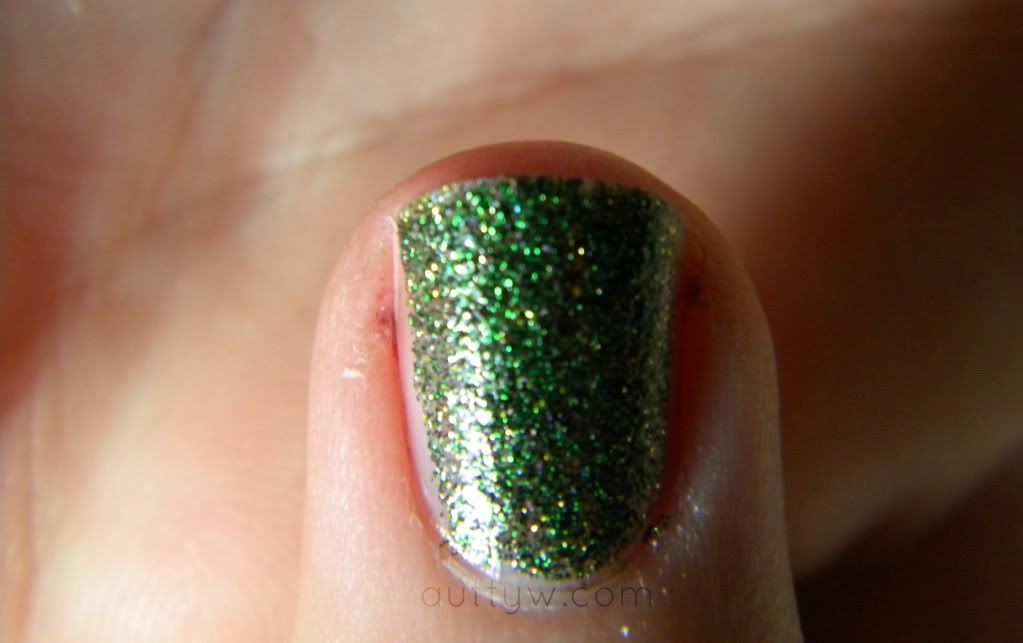 With Top coat[/caption]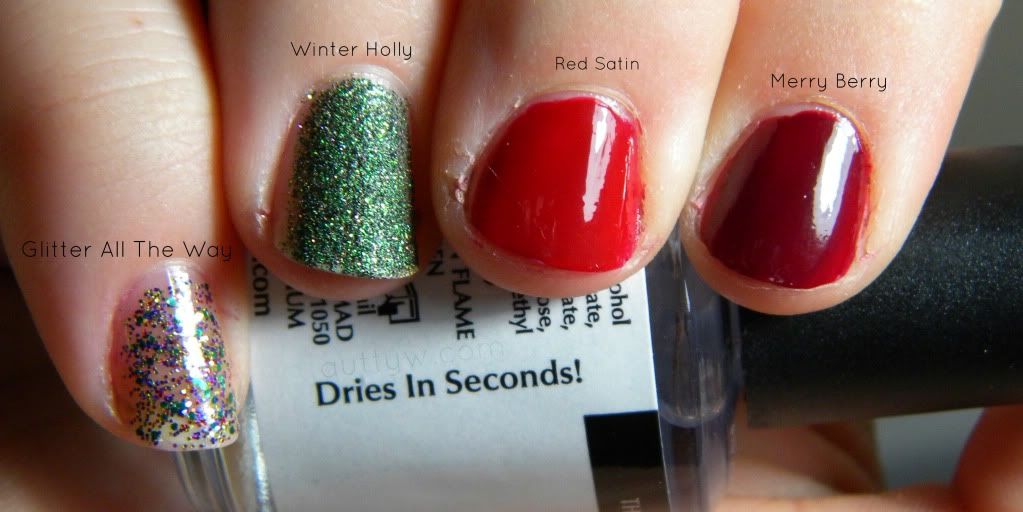 I'm glad I got these in mini sizes because I know I will get a better use out of them that way. :) I love Merry Berry and Red Satin, but the other two I would honestly do without.
The next two polishes are the ones I got full sized!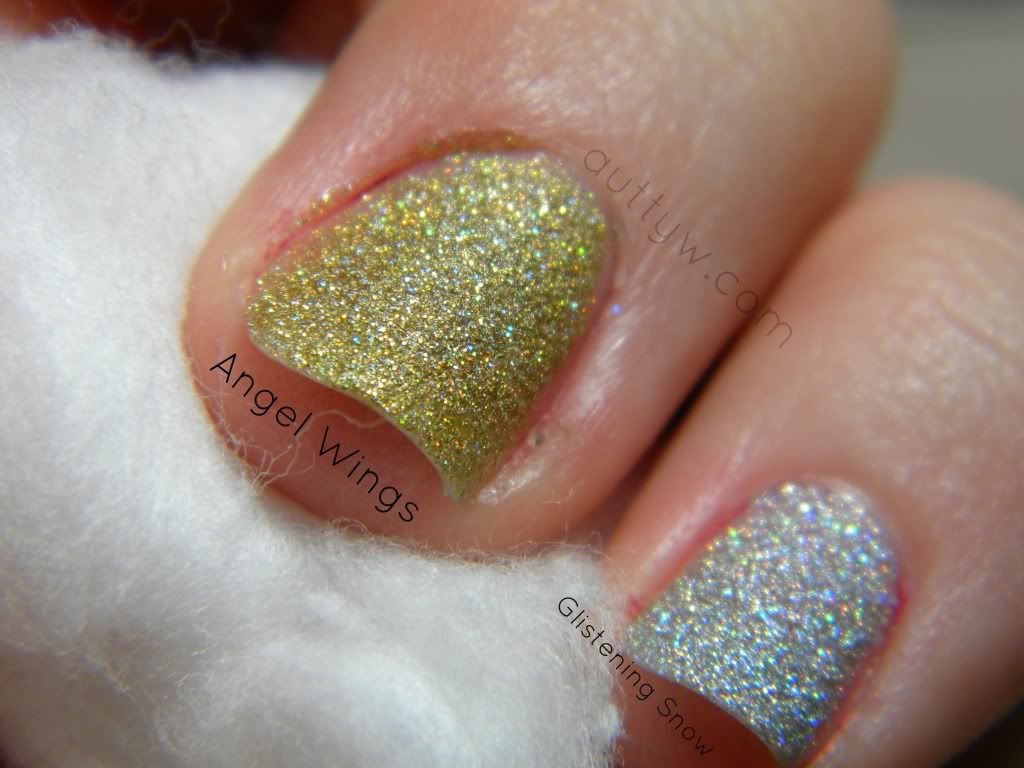 Excuse the language but I have had one hell of a time photographing these! because of the holographic aspect in them, they do NOT want to photograph nicely. Its really annoying because they are so gorgeous!
Angel Wings is a gold micro-glitter with holographic micro-glitter as well. You only need two MAYBE three coats of this. Depending on how you want it to look. I didn't have high hopes for this but I actually LOVE it! I really love putting a burgundy color with red. They compliment each other so well!
Glistening Snow is a silver micro-glitter with holographic micro-glitter. This is the one I have been raving about the most! It is also the most used out of all of them! I actually think I may have to go and pick up a back up or two because I absolutely LOVE this polish! It glistens so beautiful with and without a top coat! This is a 3 thin coat polish. That is what I would recommend.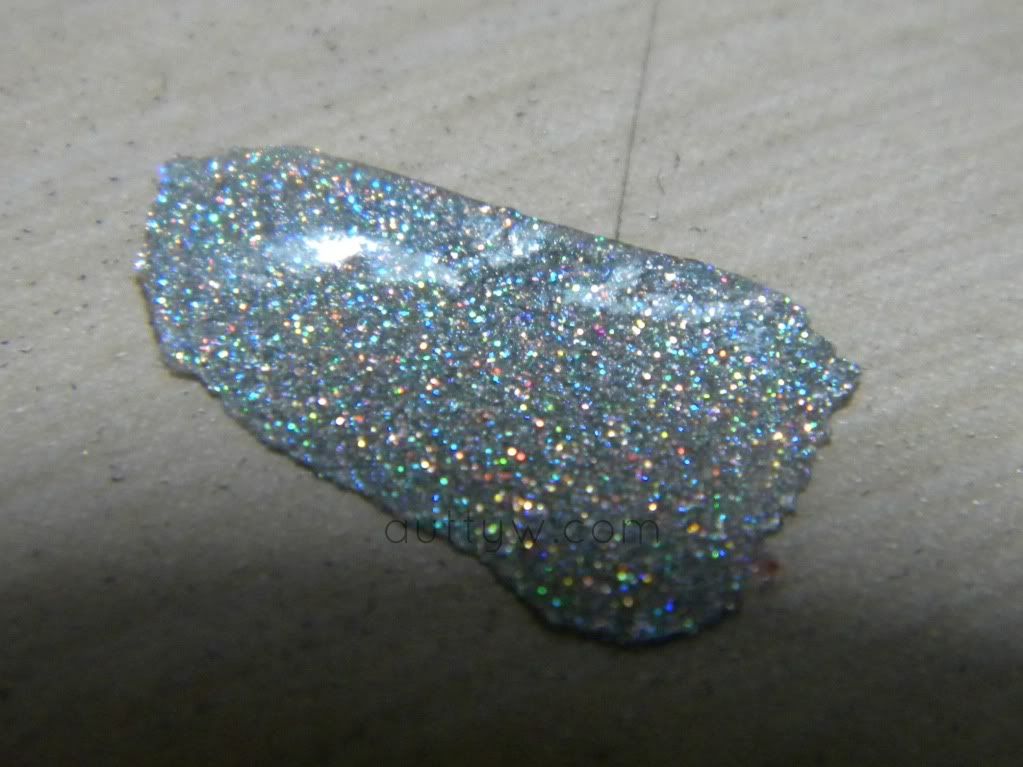 This is seriously the best captured picture I could get of this! It was with a couple thick later of a top coat, which made it want to peel right off of my nail. SO I stuck it to my desk and there is stayed! Low and behold is did come in handy though! Isn't that absolutely gorgeous! All I want to do when I have this polish on is wave my hands in the light :P
Just a little side note, but to get a glitter nail polish off easily without any hassle is take a cotton ball and put some nail polish remover on it and place it on the nail. Now you can put tin foil over the cotton ball and your fingers to full enclose it on your nail, but if you are in a pinch and out of tin foil like I was a while ago, just stick some tape over it to make t stay on your nail. Let it sit for around 5 minutes and slide it RIGHT off of your nail! Off comes the glitter polish without any hassle of rubbing your nails like crazy :) You can also do with with nail polishes that stain your nails! :)
Have you tried any of the Holiday Joy collection?! Which polish is your favorite?!
Disclaimer: I paid for these with my OWN money.