Hello everyone!
I am finally going to get around to some of the Wedding blog posts. No lie, but I've kind of been avoiding it. Not for any particular reason, it's just a lot to cover and I bloody forgot to take pictures of everything. So I feel like it is a waste to talk about something when you don't have a picture of it!
First off, I am going to talk about my Dress, since that is one of the most important things about a wedding. Hah. I found mine at Davids Bridal on clearance. Which was exciting to me because I didn't want to spend a ridiculous amount of money on a dress I would wear once! That seems stupid to me! >_<
I payed around $260 on it I believe. Don't quote me on that though! I do know that you can still purchase it online. (HERE) as per if your store carries it that is something you would have to check out yourself. This is "last season's" dress, but I really could care less. Red wound up becoming one of the MAIN colors of the wedding even though it was fall themed. Twas kind of funny.
I'm waiting on the "Official" pictures, but I will show you the picture that my Aunt took.
[caption id="" align="aligncenter" width="720"]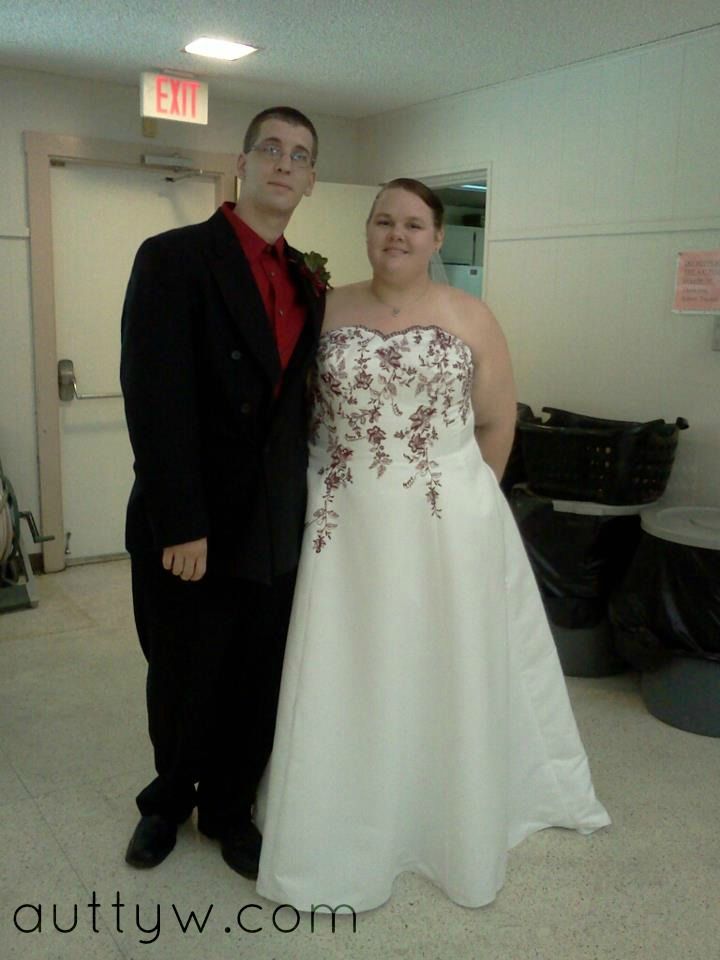 Thank you to my Aunt Helen for this picture![/caption]
As you can tell, the dress doesn't exactly fit me like it should. I do want to mention that I DID have this re-sized the WEEK before the wedding and it fit me amazingly then, but it wound up being too big (again) on the day of. Figures right?! I also want to mention that when I purchased this, it was a Size 26.. well it still is I mean. I actually could have gone a few sizes down, but they only had a size 26 or a size 12. And girrrrrl let me tell you, you are NOT getting me into a size 12! :P
You might also notice that I don't have my glasses on! They broke 20 minutes BEFORE the ceremony and couldn't be fixed. Bloody figures right!?!?! Just my luck. Oh well, I did perfectly well without them! Actually, to be honest, because I didn't have them on I was extremely calm. No one freaking tear came out of me O_O, was not even medicated! (inside family joke)
Anyways, so my Grandma Morgan who is like a god with basically everything (:P) took the dress in for me. ( I still have to get the dress dry cleaned, the floor where the reception was, was disgusting and it translated to my dress.. then again I was having too much fun "swishing" around because it had a train that didn't come off. Hey, I was having fun. Don't judge :P
I really do/did love my dress. The scalloped edges were beautiful, and even though you can't see them in the above picture, the detailing of the red flowers and such, was absolutely gorgeous! There was even iridescent sequins and white beads!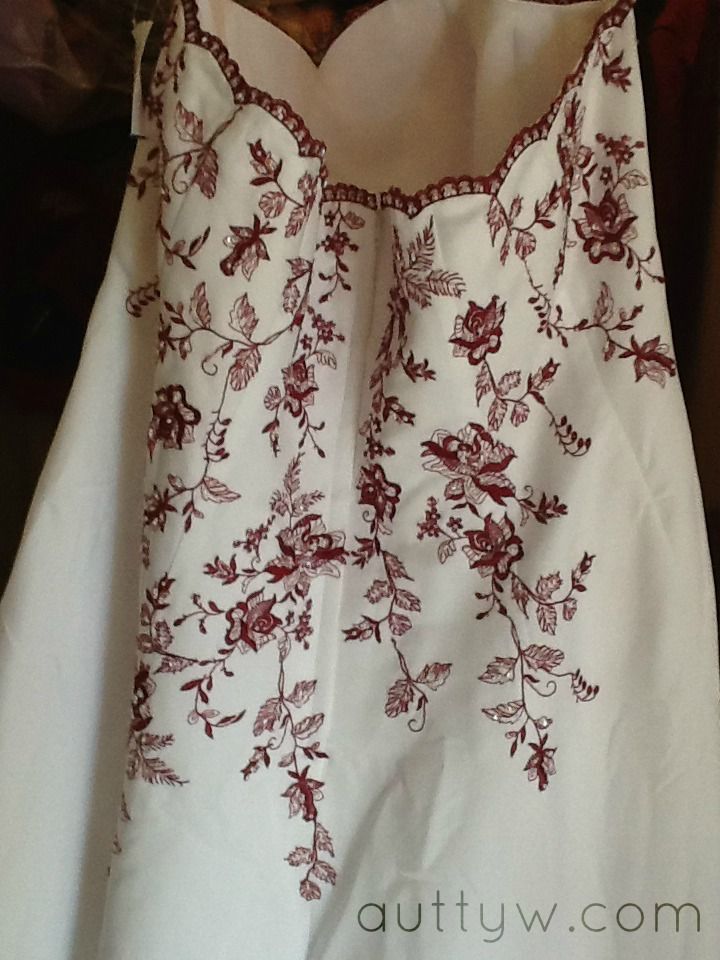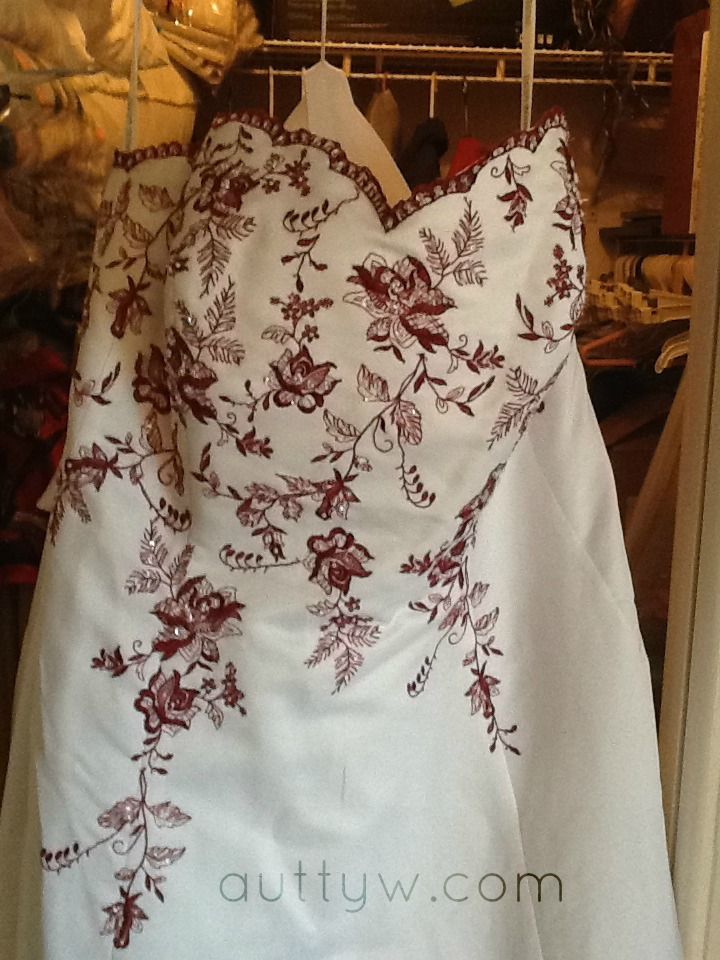 I know those two pictures are not the greatest, but they are the only ones I have of JUST the dress at the moment. Please bare with me until I can get the pictures from my Grandmother :P.
I do promise that I will add more pictures when I get them. :) I do have quite a few at the moment, but I'm not going to share them all just yet! :P
I hope you all enjoyed this post! <3