Hello everyone!
What I have for you today is what I got in my BeautyArmy box for December. I've not done a post since August because I have not gotten a box since August. No particular reason to be honest.
Now, I was originally NOT supposed to get this as I asked for it to be cancelled. Indeed it did not, so here we got with what I picked out!
First off I picked the tea! If you saw the blog post a did a while ago when BeautyArmy announced that they were expanding into Health and wellness. I'm a serious Tea junkie (send me your tea! ..lol kidding) so I jumped on this when I saw it.
Immuno-Viva Sunset Tea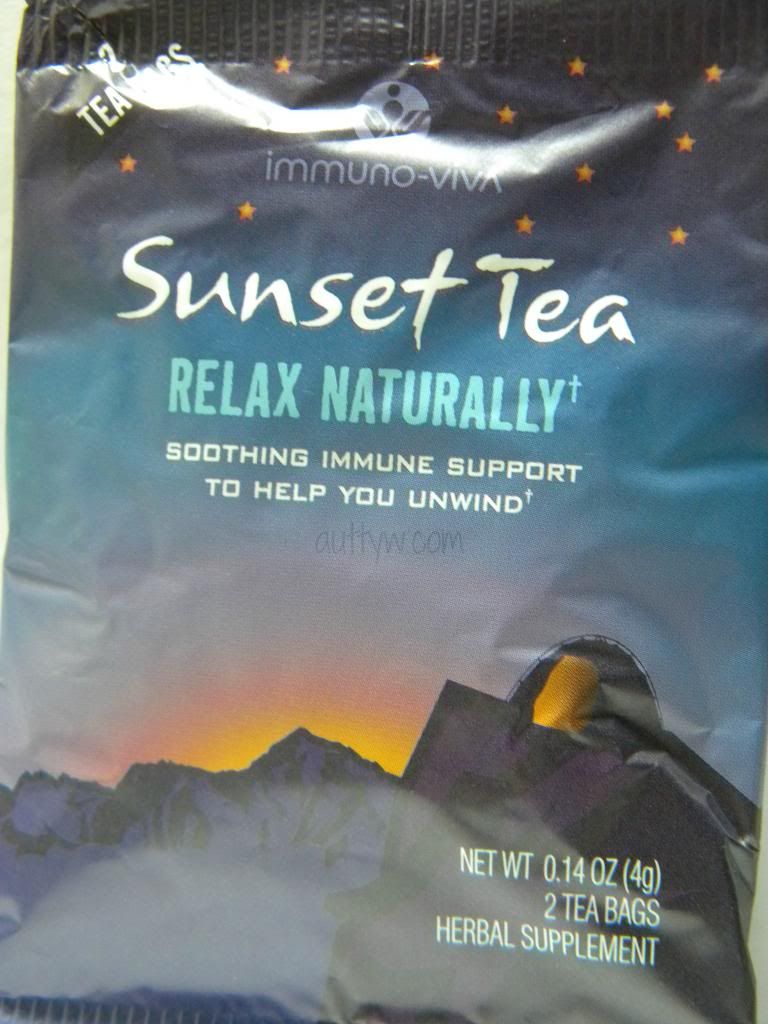 This pack as two tea bags and is packed with antioxidants to help you relax naturally and sleep restfully.
(restfully.. that's what the package says hah)
Lipsi Cosmetics Aphrodite Powder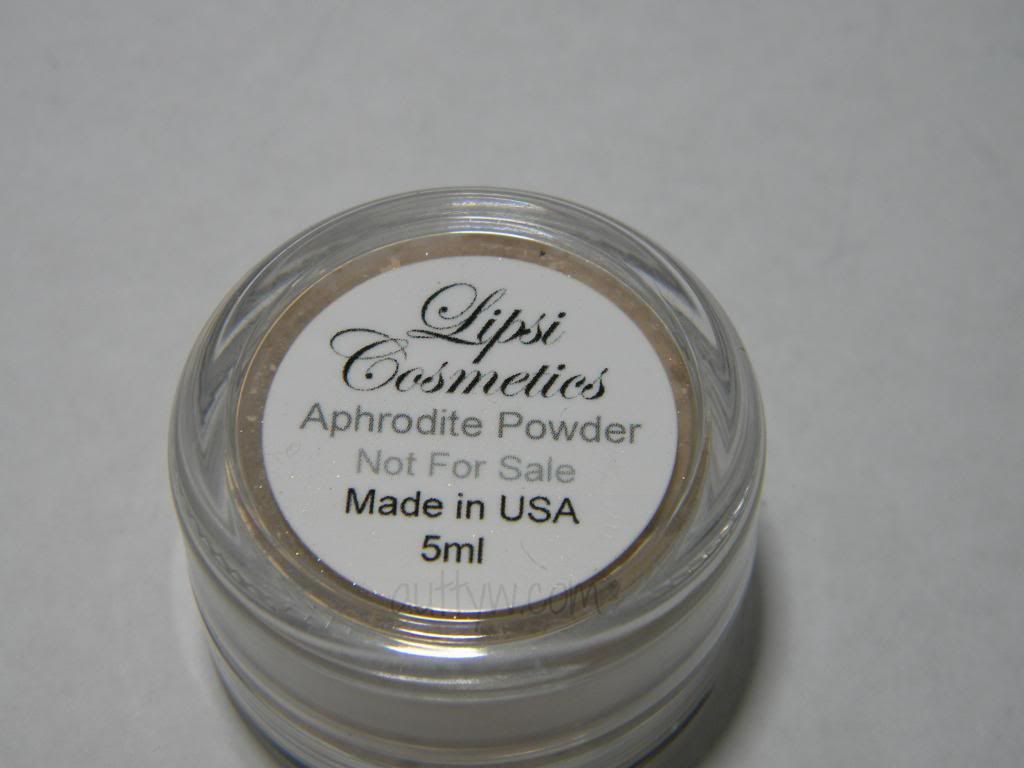 This is a luminous powder that you apply after your foundation to set it as well as to help absorb excess oils. This is recommended for all skin tones and skin types.
Nelson Beverly Hills Argan Oil 7 (7 in 1 non-foaming shampoo)
What a name..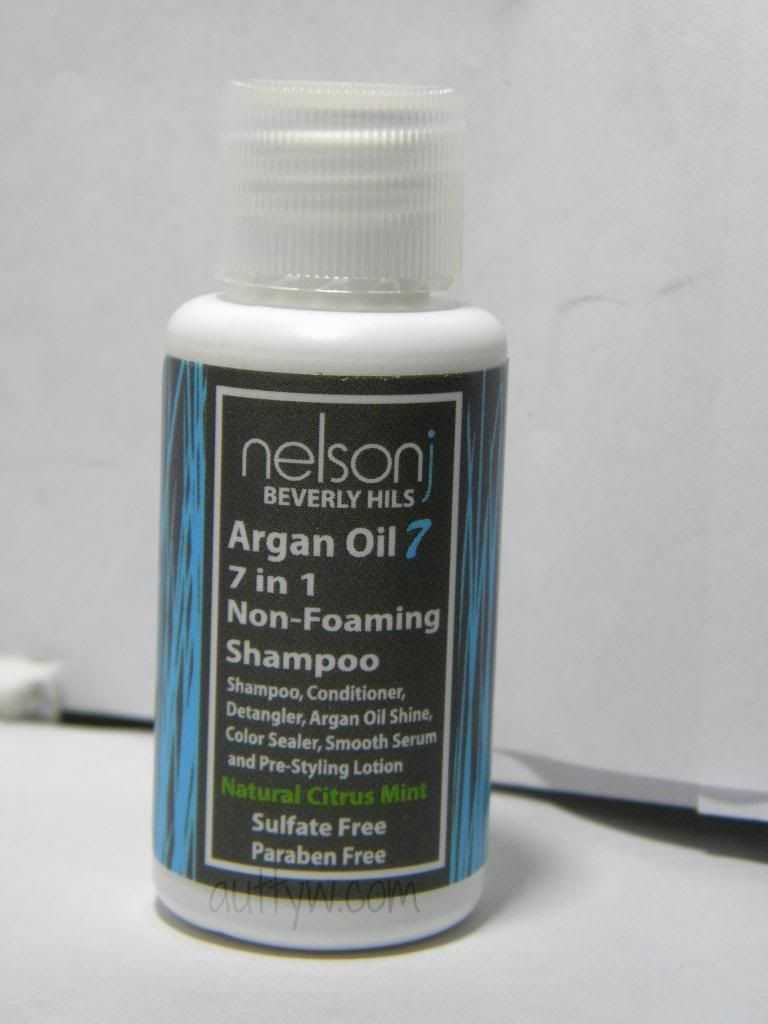 The 7 in 1 aspect of this shampoo is that it is a shampoo, conditioner, detangler, argan oil shin, color sealer, smooth sereum and pre-styling lotion. That is a pretty big claim for a little bottle. (The full size of this is bigger) Since this is Sulfate and paraben free, this is exceptionally good for color treated hair.
Skinn Cosmetics Twin Set (Pink Tulip) (full size)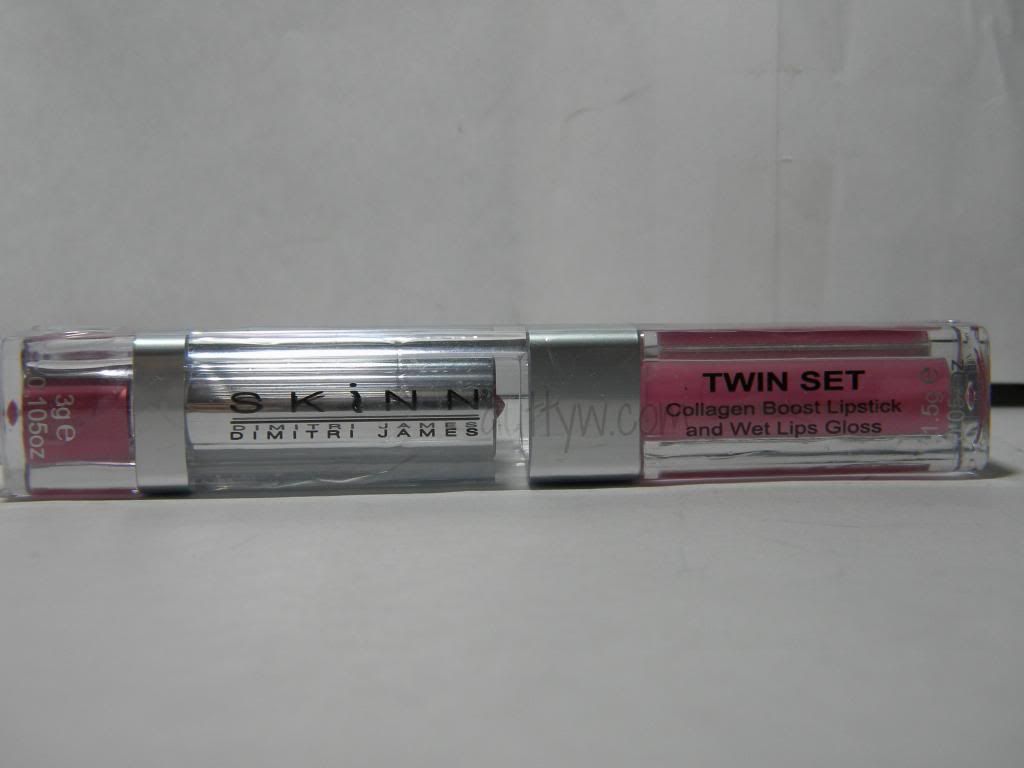 The "twin set" aspect of this product is that one end is a Lipstick and the other a Lip Gloss. the color is absolutely gorgeous (from looking at it, this is still unopened) The lipstick and gloss are collagen boosted. This product has Vitamin E, Soy and Aloe. This says it will soothe even the driest of lips.
Mark. Hook Up Gloss in Honey
(full size)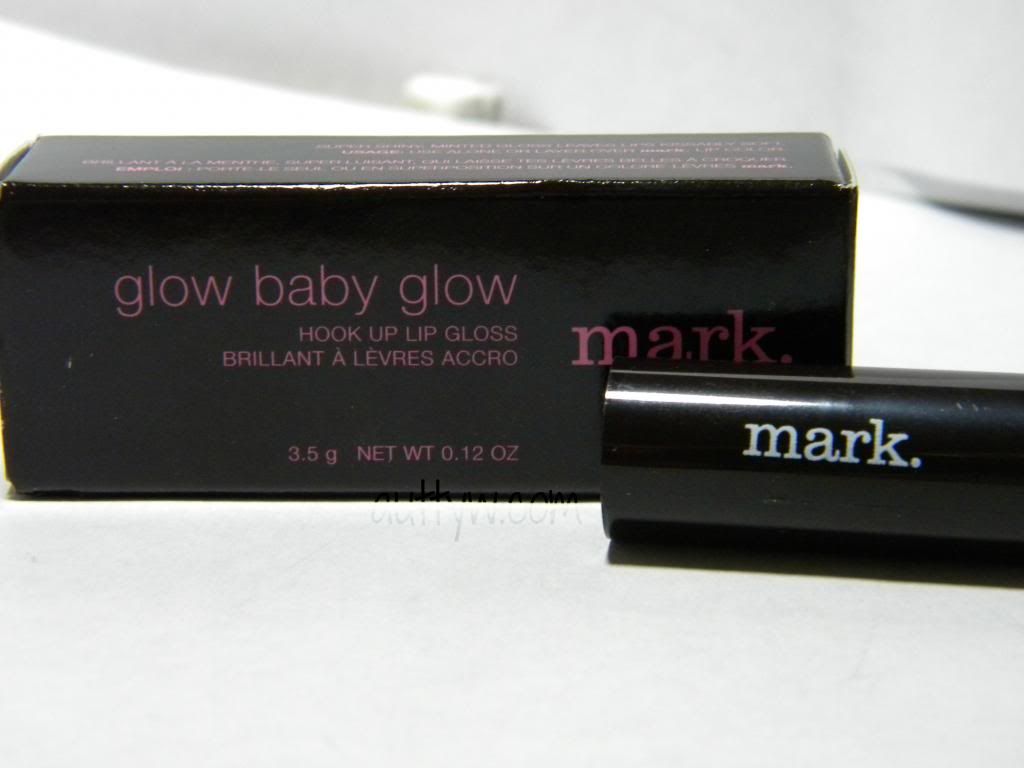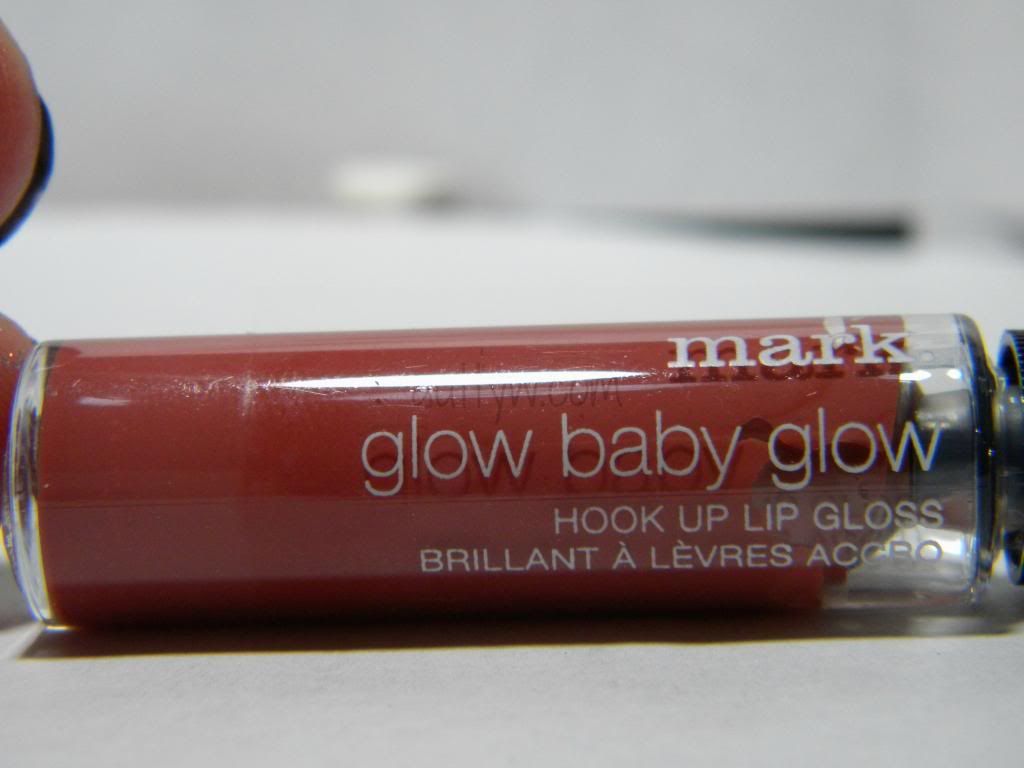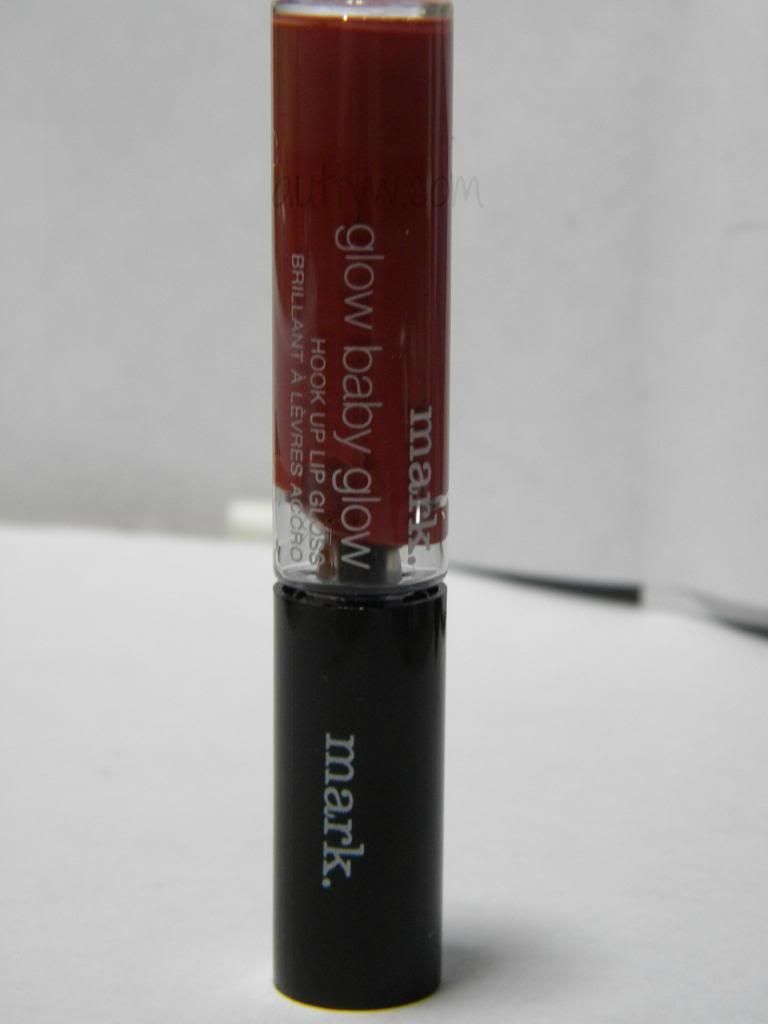 This comes with the Hook Up part so that you can purchase more from the "Hook Up" line, or wait and see if you get more in your selection window! The website says that this is a shiny lip gloss. Once again, as you can tell ,it has not been opened. This is a peachy-pink lip gloss that is also supposed to moisturize your lips while you wear it.
The last product I got was
Whip Hand Cosmetics Pigment in Green Beret
(I will explain why this is empty in a minute)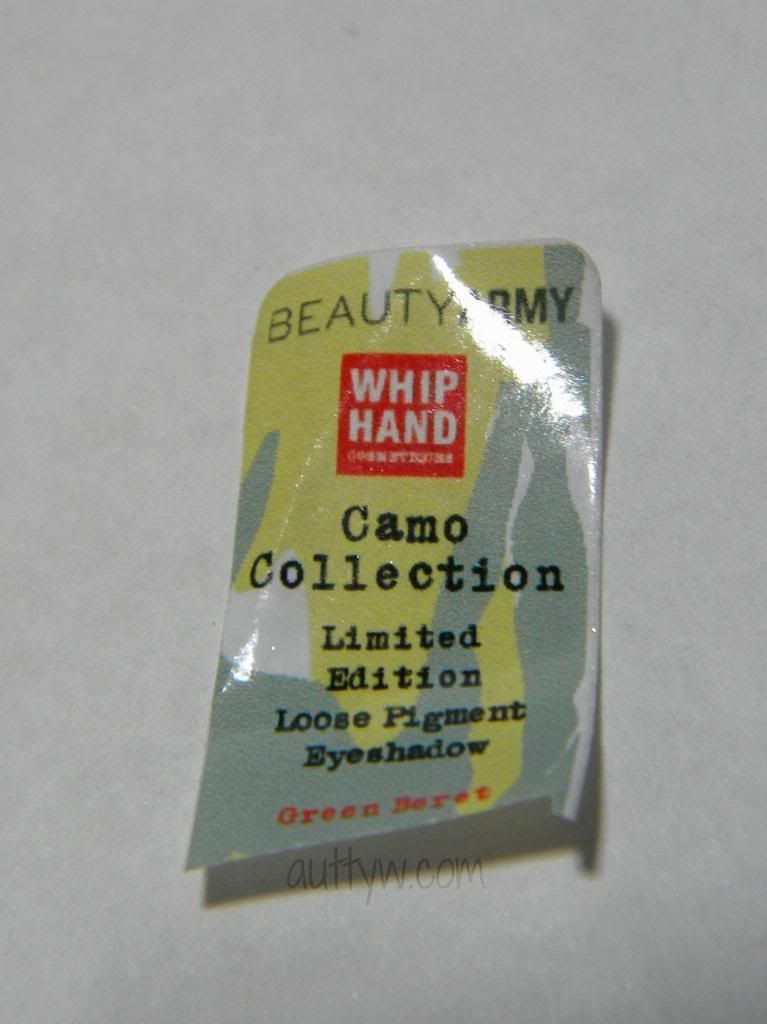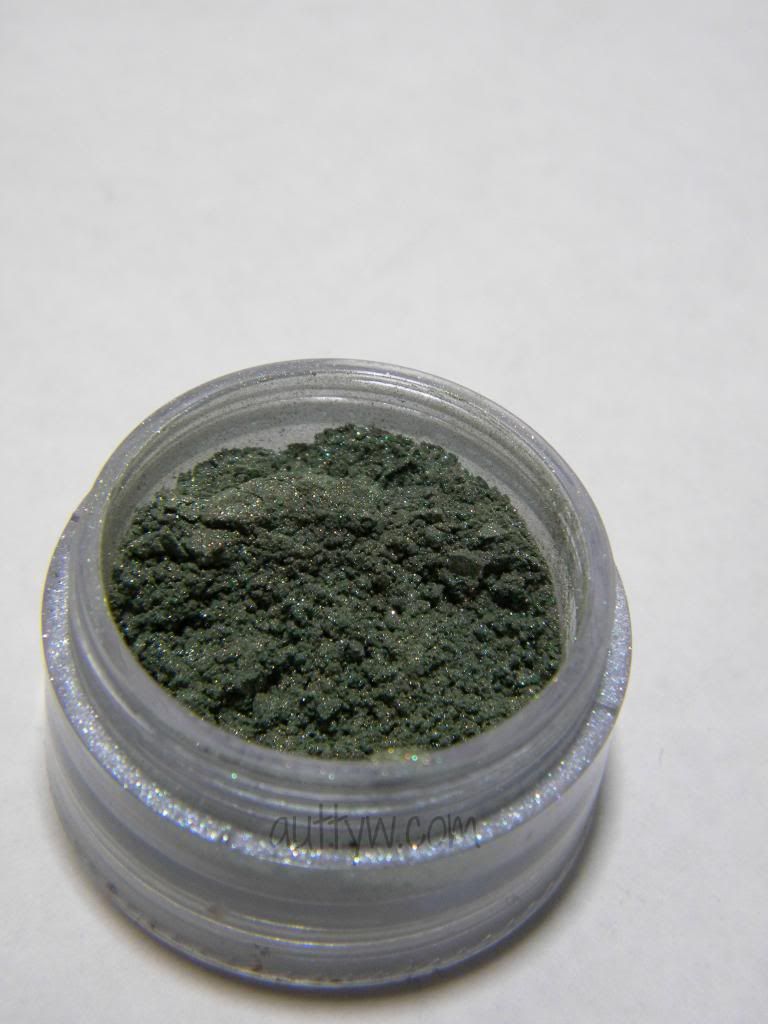 The reason that this is not in its original container is because I have extremely careless mail carriers and my bottle opened in transit. I saved as much as I could and put it in a different container. The top picture is just to show you the original packaging and how small it is. It's really cute! I saved almost all of it, thankfully. This is a gorgeous color. To the best of my knowledge the Camo Collection is exclusive to Beauty Army.
This is a mossy green pigment with gold undertones and gold shimmer.
( on a side note, I did let BA and WHC know that my shadow was opened, Whip Hand Cosmetics so graciously offered me a new bottle or any pigment from their website. Since it was not either of the companies faults. I turned them down. In my opinion, since I saved almost all of it, I don't need another one, and they did not have to offer me a full sized pigment, which is $14! The reason I turned them down on their offer was because I was not out to get something free from them or beautyarmy. If you would have seen the outside of my box, you would agree with my on the fact that it was the USPS' fault that it was so jumbled up to where it opened. The outside of my box was absolutely torn up. I do want to extend a Thank You to Whip Hand for their offer. I felt it was extremely too generous of them to even consider to offer me a full sized pigment.. I don't want to be one of those people that complains just to get something free. Not my intentions EVER which is why I turned them down. :) )
So that was my box for December!
Oh! to show the box.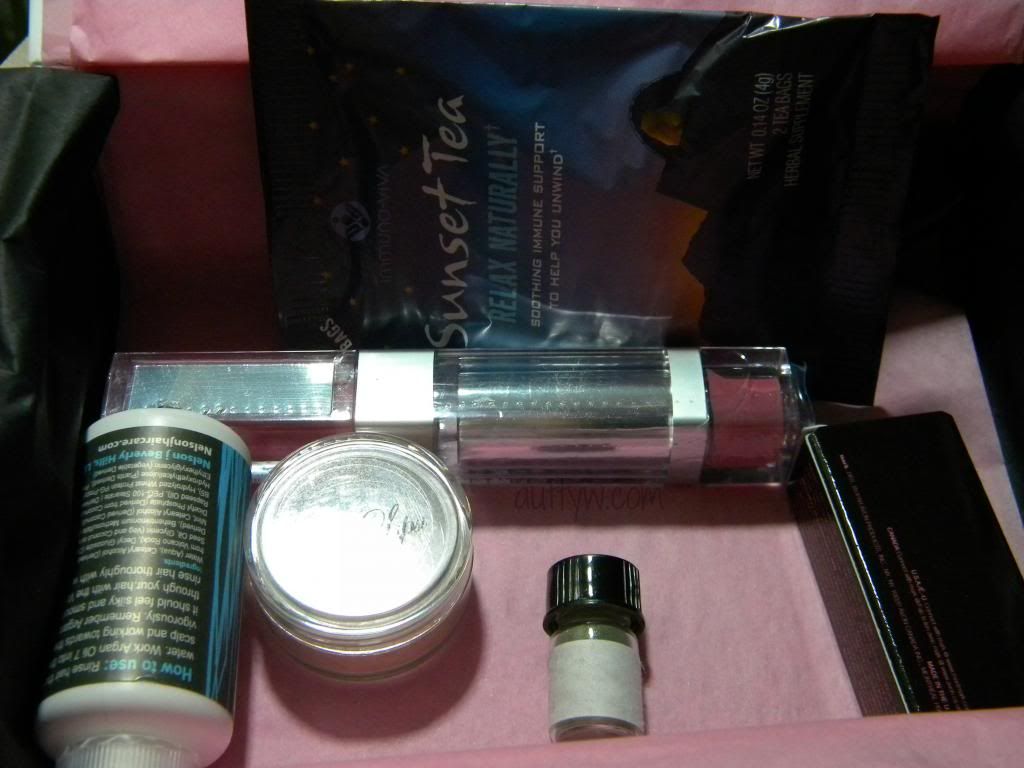 The contents. The box was wrapped in the normal Pink and Black (or dark navy if that is the color that you got, I normally get dark navy but this time it was black. I like!) I love how they package the boxes.
BeautyArmy has released more colors of their boxes instead of black, they now have Pink and white as well! I love that! They are normally random onto which color you get to the best of my knowledge, but this month everyone got a white box with a gold sleeve on it that says Happy Holidays! I thought I had a picture of it, but I must have accidentally deleted it.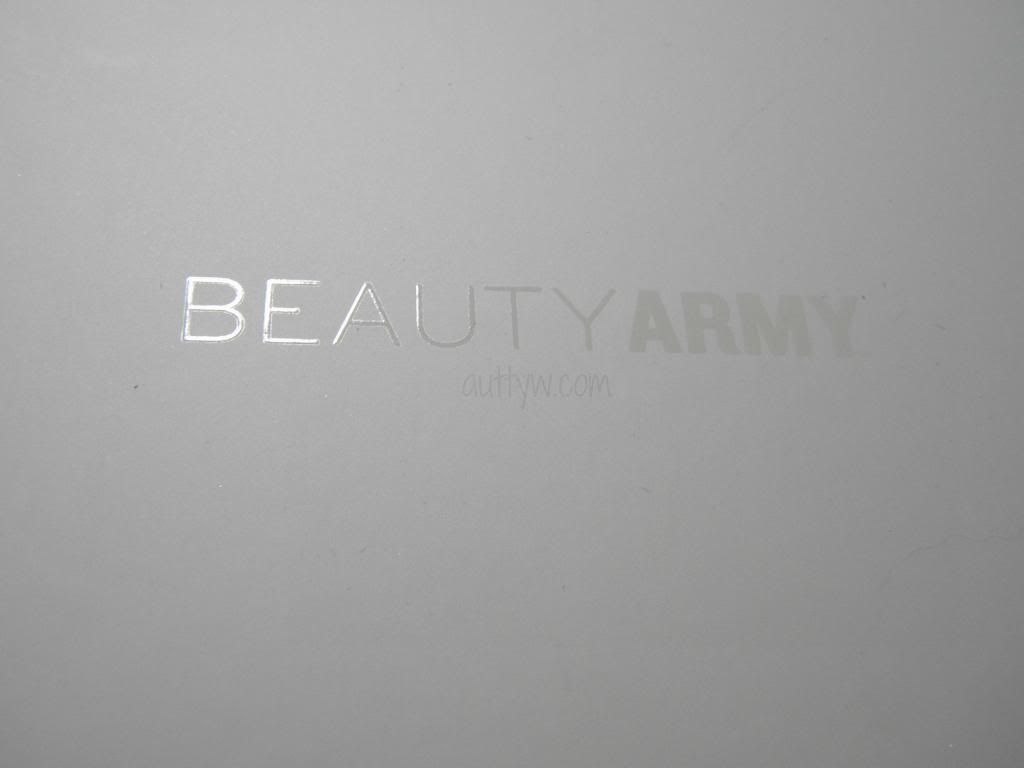 I think the white box is EXTREMELY elegant and I really love it! I love how they mix it up as well instead of the same black box. Not that I minded those either, but I think having multi-color boxes is really neat! This box is the same as the black, it is recyclable which is another thing to love about BeautyArmy.
Oh! The reason a lot of the stuff has not been opened is because I plan on giving it to someone :) :P
Do you get a BeautyArmy box?! If so what did you choose for this month!?
I hope you all have a SAFE and Happy New Year! I am going to do my first OOTD along with my face of the day and Nails for what I wore today (new years eve) up on the first, so I will see you all in the new year! Be safe and be happy! xx