Hello everyone!
I figured since it is 4 days till Christmas, it is now or never for this blog post. On my giveaway post, I asked everyone what their favorite Christmas Memory or Traditions were with their families or in general. I know I've not been blogging much in the past two weeks, I've been in a serious funk. I promise I will be out of it soon! xx
anyways.
I have quite a few Christmas Memories with my family. I am going stay onto the tradition side of things for this post because the memories are amazing, but thinking of them make me cry.. good tears though and I think I have done quite enough crying in the past week :).
Every year my Parents go out and decorate the yard like crazy people. (lol) When I lived with them, I always helped them decorate outside, this year, I didn't get a chance to help unfortunately. My Mom wasnt going to decorate but the neighbors and other people kept coming around and asking her (for over a month) if she was going to decorate the yard this year. She didn't want to do it this year, because we always do so much, that by the time we get it all up, we feel like it's time to take it down. Extremely understandable! My Nephew helped them this year! :P He's too cute being almost 4 in February!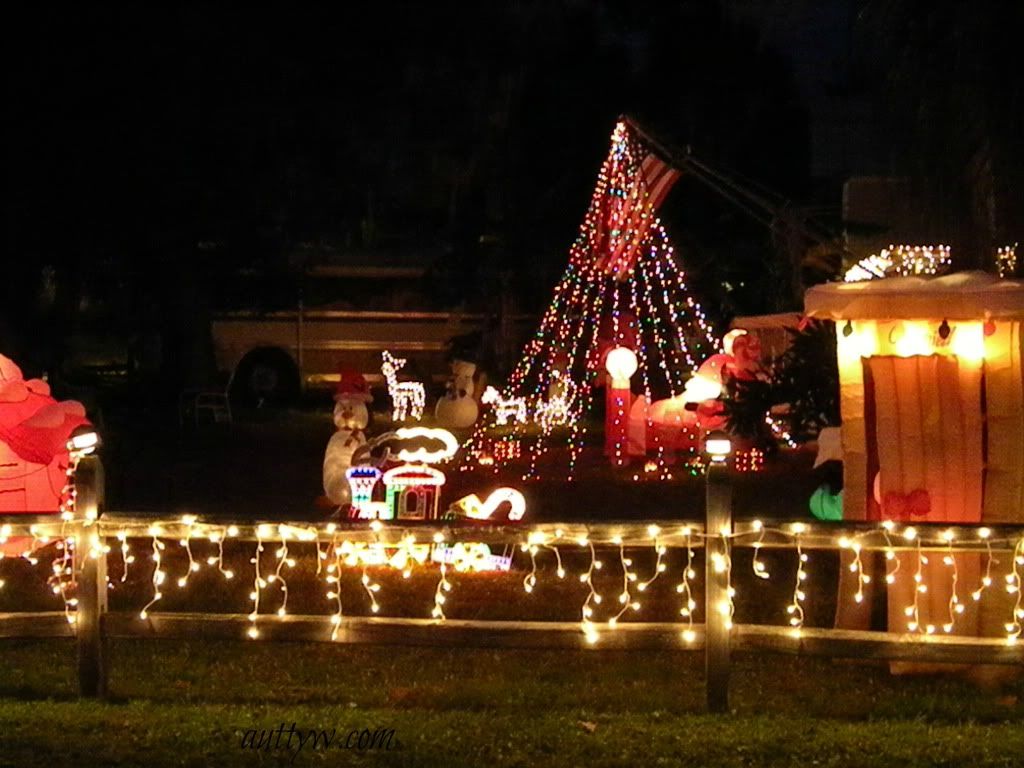 This is from last year.. actually all of the pictures in the yard are from last year. The one inflatable on the right is Santa in an outhouse and he pokes his head out and goes back in and shuts the door. It's cute! In the back in our "Light Tree" is a Santa reading a list of names, his head turns.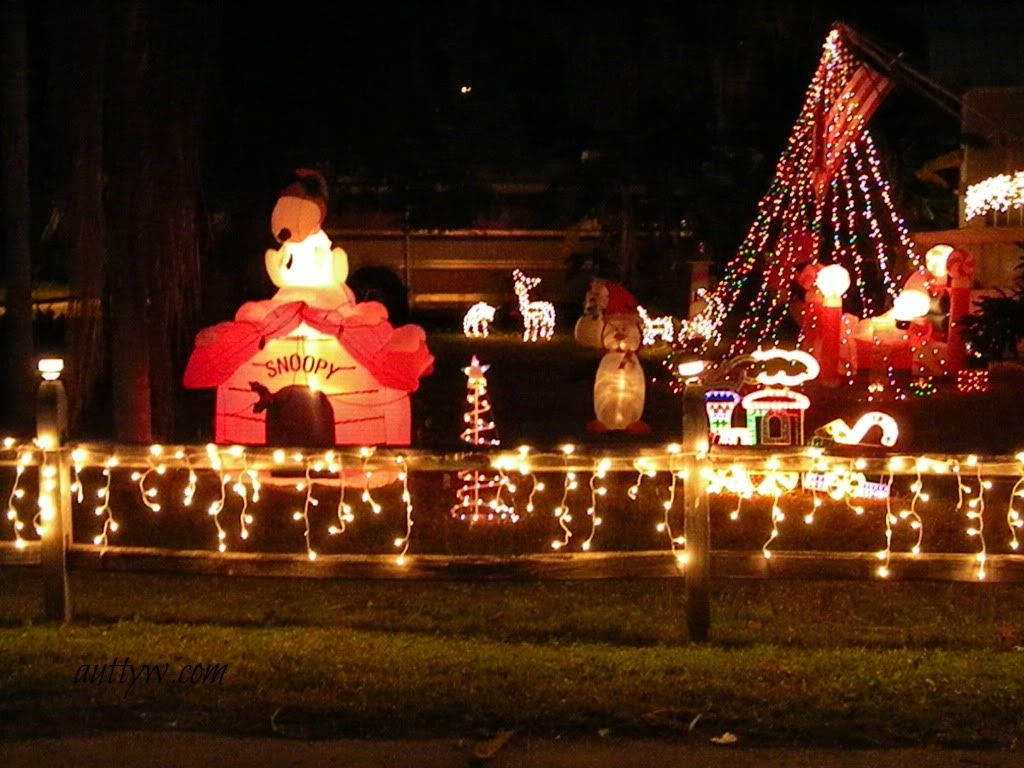 Now, this is not nearly as many inflatables as my Mom has. We actually had to get rid of quite a few of them because they had holes. :( Sad day that we had to get rid of the 8ft Penguin couple. haha I LOVE penguins. <3 My Parents gave our 8ft Santa to my Sister so they could decorate their yard a little bit. That Snoopy there on his Dog house is my Moms, she LOVES Snoopy.. well anything that has to do with Charlie Brown.. He is flying his house like he is the Red Baron.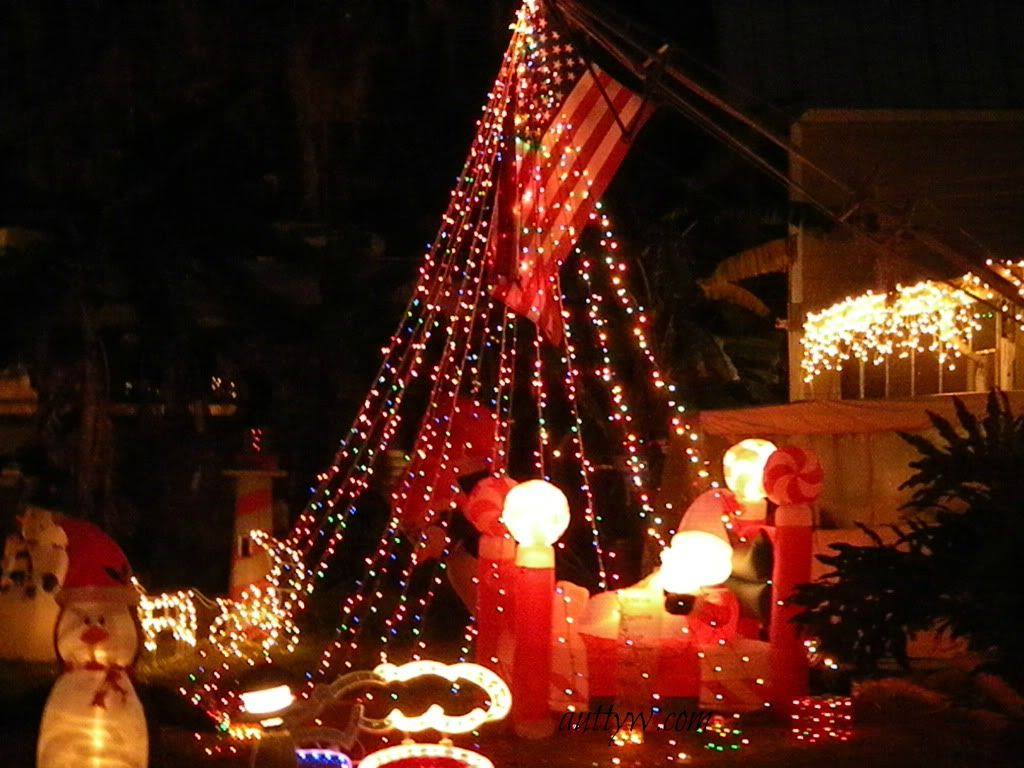 This is a bad picture, but you get a little close up of the Santa. Two of his bed post lights went out, but funny enough, they kinda went together haha. Those are the only pictures I have of the yard. It's been extremely more elaborate then this, BUT last year there was so much going on we didn't really want to over crowd the yard.. considering there are two dogs who go outside :P
Another tradition that we have been doing for.. jeeze I am not sure, we have been doing this for as long as I remember. One person in the house gets my Dad a Hess Truck. Normally it would alternate between my Brother, Sister and I, but it's been alternating between my Brother and I lately. I normally get it, but this year we decided to let my brother get it. :)
The cool thing is this year they made it available for you to buy online! You can see all of the ones that they ever made, which is pretty freaking cool! :P They costs $26.99 plus tax, then whatever shipping is. I've never bought them online, since this is the first year they have done it. They are fully functional toys or you can collect them. We used to play with my Dads when we were kids, but we always made sure we were careful and we ALWAYS put them in the box. :P
[caption id="" align="aligncenter" width="406"]
SOURCE[/caption]
That is this years truck. I've not see what it does, but it's pretty cool :P .. actually they have an interactive thing on the website where you can see what it does, hah how cool! :P
Every year, no matter how old I am, just for the fun of it I like to check out Norad Santa and claus.com . Why? Because you can TRACK SANTA. How cool is that?! :P It is definitely a really fun thing to do with Kids. I did it with my nephew one year.
Claus.com is an interactive Santa Village. There are recipes, coloring pages you can print. You can even type your name or your childs name into the Naughty or Nice list and see what it says! It's a really fun thing to do. I really enjoy playing around with it every year and I just turned 22! Don't hate :P
Santa Tracker is exactly how it sounds. I honestly think this is so cool. On Christmas Eve load it up and it shows you everywhere Santa has been it even has little videos of Santa flying through the cities. It's a really cool thing!
Definitely check those out!
Those are my two favorite traditions. I have more, but I decided lets keep it down so this doesn't get too long. :P
What are your favorite Christmas memories or traditions with your family!? I really would love to know!
I hope you all have a lovely day! xx
PS. don't forget there is still time to enter my giveaway! The link is above! xx
Disclaimer: I am not affiliated with Norad Santa or Claus.com. I just wanted to share them with you all because I really enjoy the websites!