Hello Loves!
Today I have 3 eye shadows to show you from SauceBox Cosmetics. They are an indie company that was started in 2010 by a Mother and Daughter duo out of California. They have single shadows (
which are what I am going to show you today
) and palettes. I wanted to get a couple of their palettes but couldn't afford it at the moment. Maybe one day.
I had heard quite a lot about them from Marina of mCubedMakeup so I decided that I would just take the jump and order a few eye shadows from them!
Their single eye shadows retail for $8 each. I thought that was a really good price for them! I'm assuming they had quite a lot more on their website because I saw people talk about mascaras and primers, but all I saw were shadows. Shame! :( I miss the good stuff! Bah
A lot of their shadows are also on sale! So check that out as well!
Oh! I also want to mention I did get a 15% off because of a Bella Shoot discount code, Zadidoll also has one. ( bellashoot15 valid until 12.31.12 ). SauceBox also ships worldwide! I ordered mine 6 days before Christmas (on my birthday) and it took a bit longer to get here, but then again. I didn't really mind since I did it during one of the most busiest shipping months! :P
The 3 eye shadows I purchased were Coral Reef, Russian Rouge (more on why later) and Killer.
Before I get into the shadows I want to talk about the packaging. How cute it is?! Each shadow is in a cardboard container with Sauce Box written in lime green.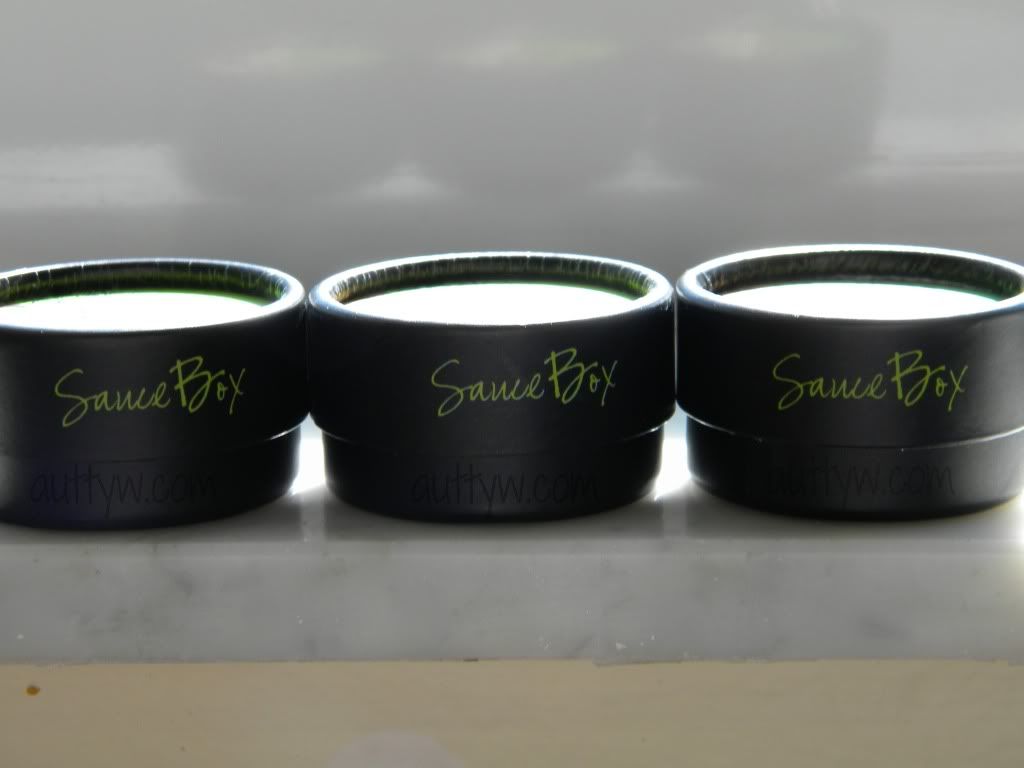 The top of the packaging is also very cute. Don't make me describe it, so I shall just show you.. so you can see it :P.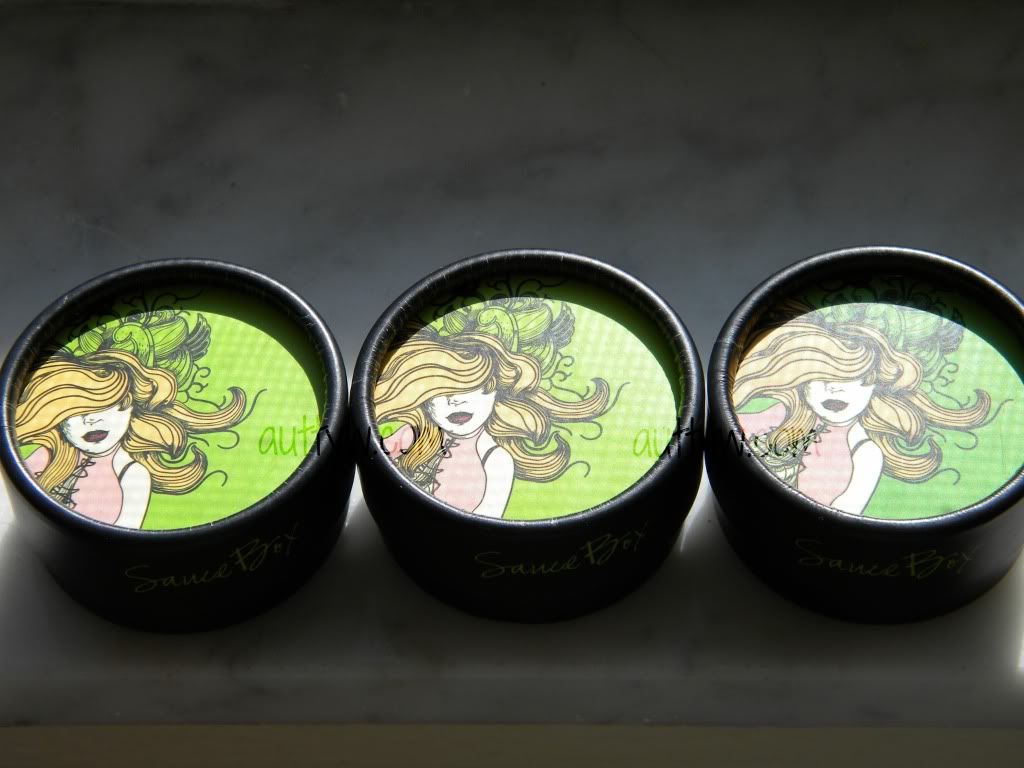 Coral Reef
is a color that I don't have anywhere in my collection. It is a peachy-coral shade with shimmer in it. It is absolutely gorgeous! The texture of this shadow is very soft and silky. It is not soft enough to cause fall out so don't worry about that!!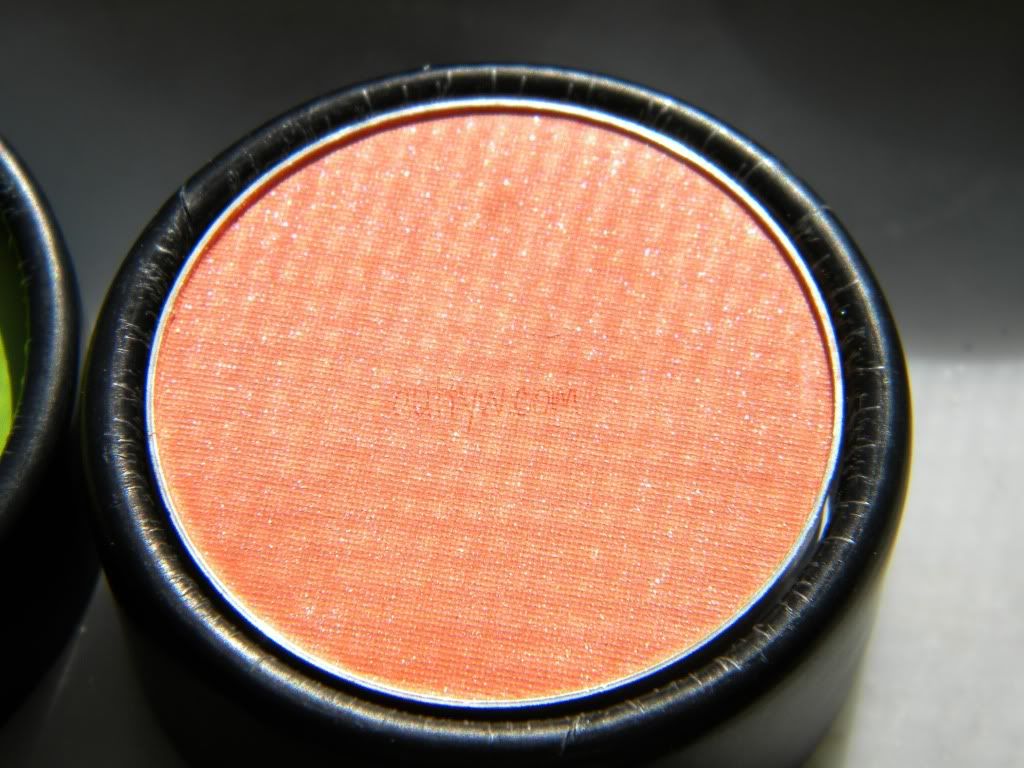 Killer
is a true grey matte eye shadow. I don't have any true grey matte eye shadows.. Okay wait..I have one its a L'Oreal Infallible 24/hr one.. I forgot I had that.. Killer is more cool-toned then Sultry Smoke. (
i'll do a comparison in a later post
) This has the same texture as Coral Reef.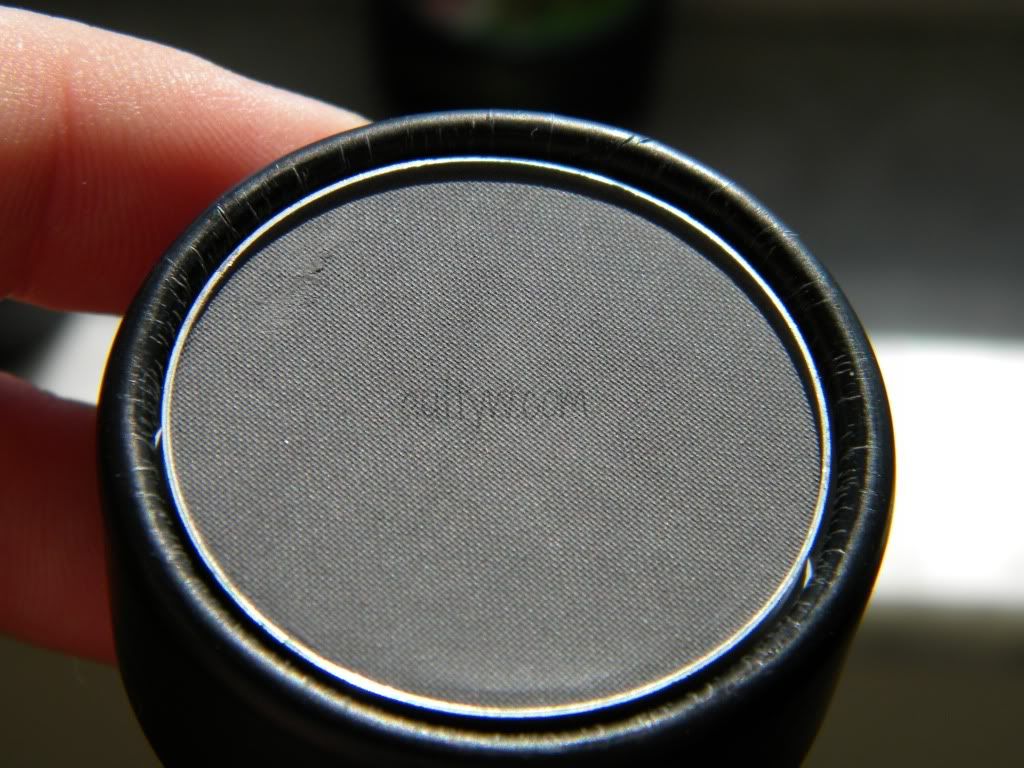 Russian Rouge
as you guessed is a matte red. This is definitely a true red and highly pigmented so be careful! It could stain! :P It's gorgeous though. The texture is not as soft as Coral Reef, but it is still soft.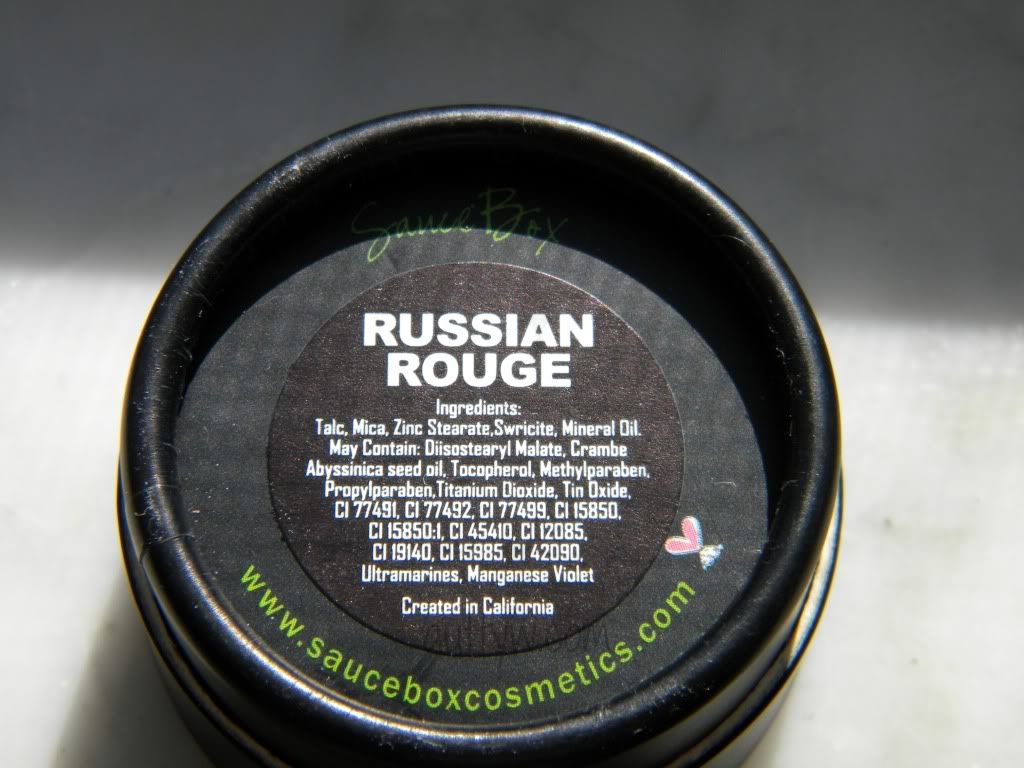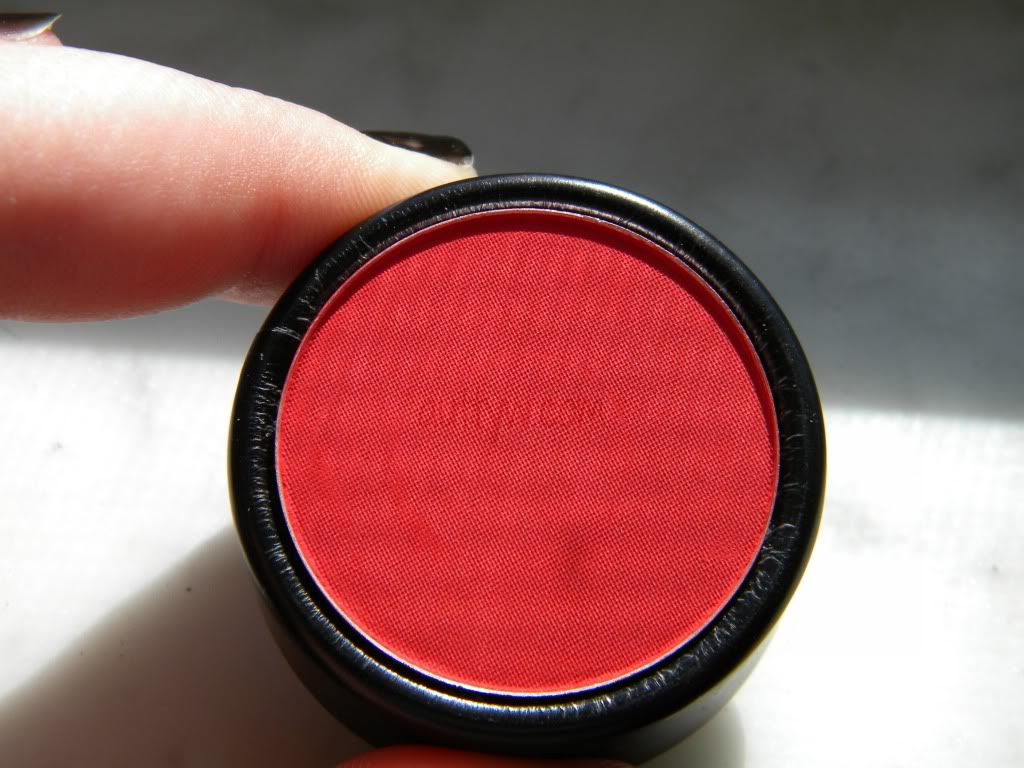 Oh!! To tell you why I bought Russian Rouge. I heard their matte black eye shadow (which is sold out) and this one were compared to Sugarpill, so I wanted to try it out, since I have Love+ and do a comparing post. Maybe save you all a few dollars since SP is $12 and SauceBox is $8. We will see in the next post! xx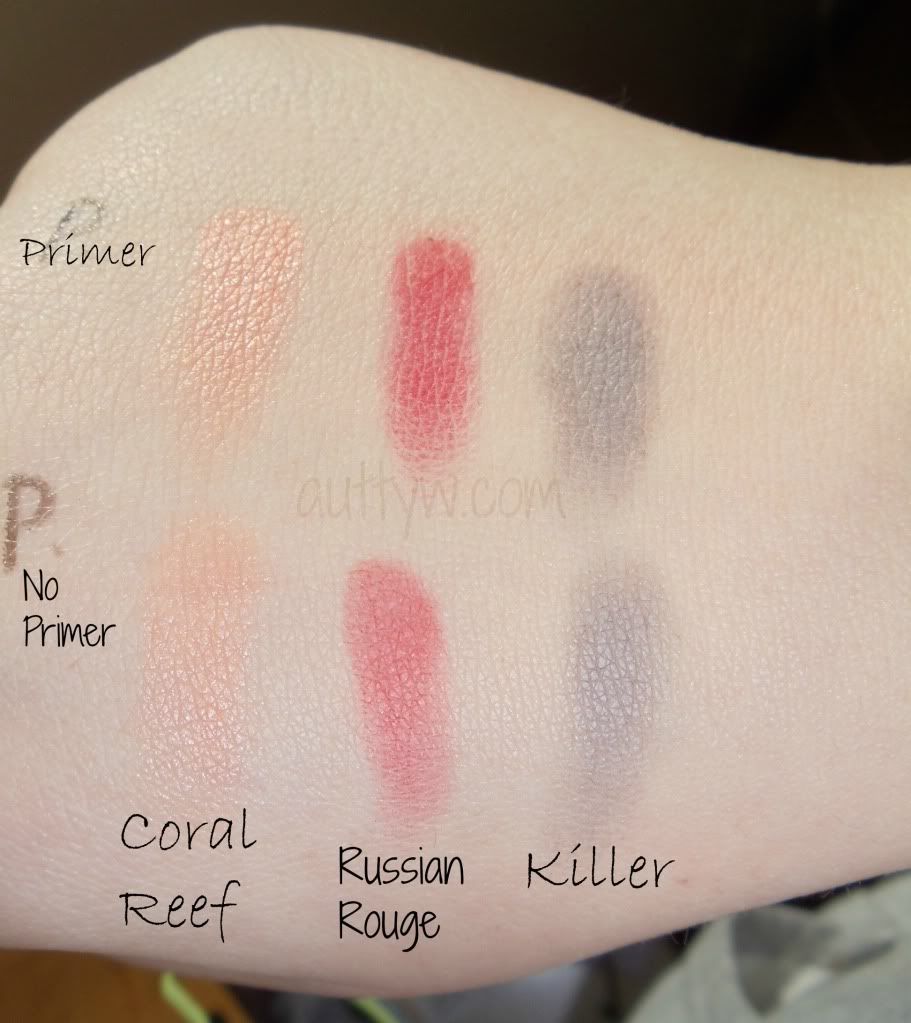 I can't wait to get more SauceBox cosmetics.. I really can't. I've got to save my pennies though! They are very affordable, but at the moment, I just am broke. Which is okay. It helps curb the eye shadow/nail polish addiction LOL. I can't wait to see what they come out with in 2013. Whatever it is I bet it will be absolutely spectacular!!
Oh! Jeeze, almost forgot, SauceBox is also Cruelty Free! So, gorgeous shadows, cruelty free. What more could you want?
Don't forget to check SauceBox out on Facebook and on Twitter
Disclaimer: I paid for these shadows myself with my own money. I am not being paid or sponsored to do this blog post. All opinions are my own.