Oh my gosh!
To be 100% honest, there really are no cons to this product except for the price. It retails for $12 PER pot. Each pot 0.21 oz (6g). So in essence you are getting a lot of product for the price, but I still don't like the price :P. The only reason I bought these in the first place, is because it was a trio that was on sale for $19. I could not let that deal pass me by at all! However, the trio was a LE holiday thing so they aren't selling it anymore. :(
Anyhoodles, I am going to review two out of the 3 pots that I have. Because I've not used the third one yet.
Jasmine is a sheer neutral pink.
As you can tell, I was a bad blogger and used it before I took a picture of it. *slaps self on hand* You can't really tell that this is on my lips because it is sheer. In reality it's pretty close to the same color as my lips, which I don't mind. This was the first one I decided to dive into and you can tell that it has been WELL loved..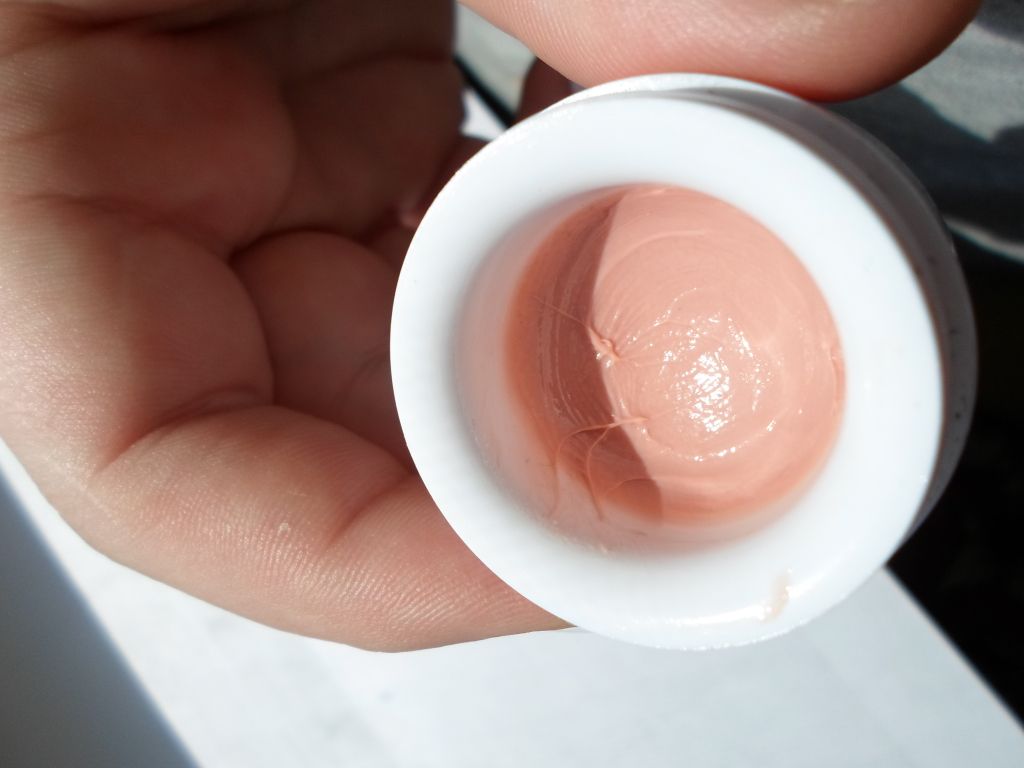 It's actually almost empty, which is sad. However I do have 2 more pots and a lip glaze to work on!
(more on the lip glaze in another post)
Pomegranate is described as a sheer coral. However when I use it, it looks more of a light red then a coral. I do see the coral aspects of it, but on my lips it leans more red.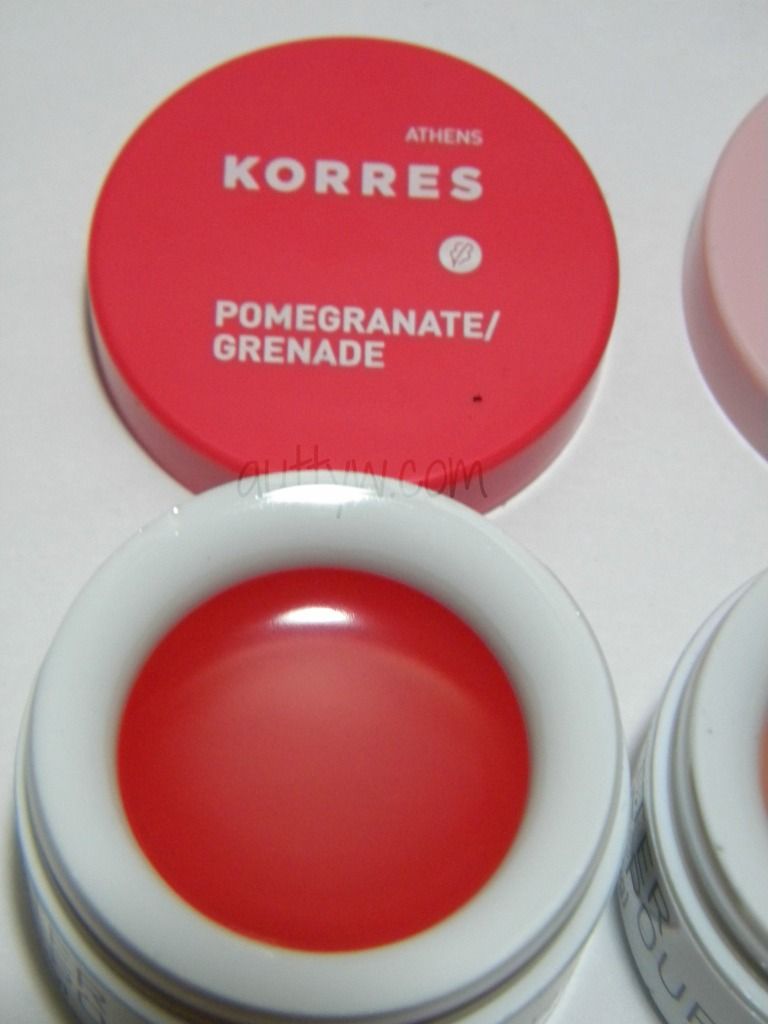 You can tell that I've not used this one as much, but there is still a pretty decent sized dent in it!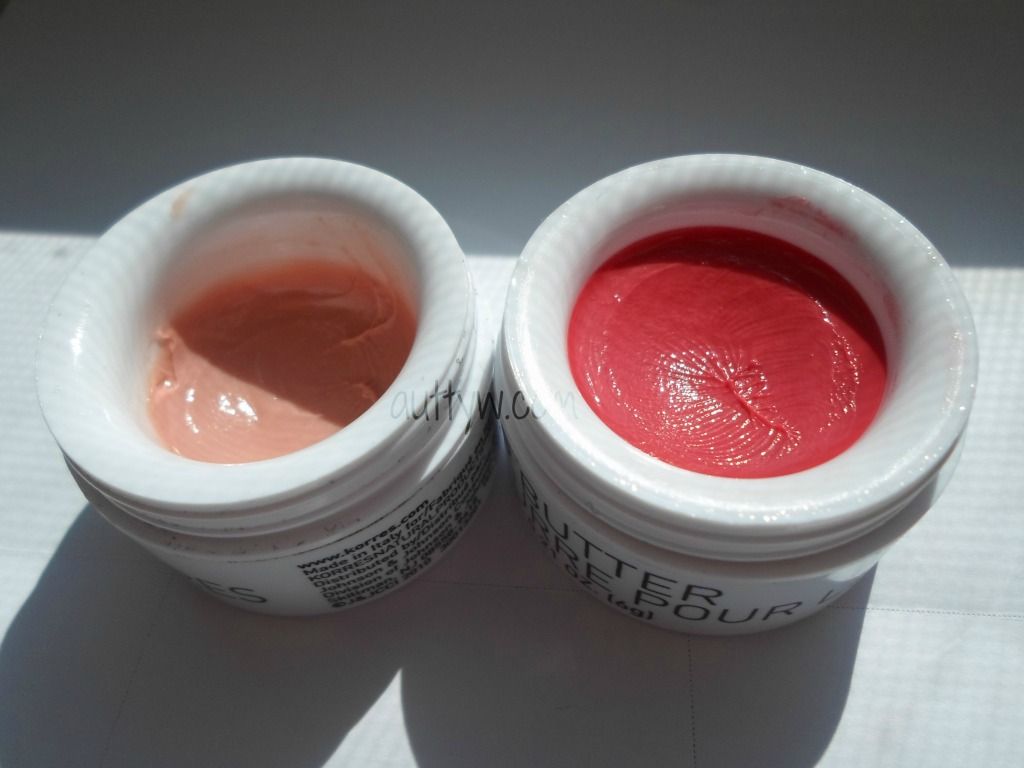 These lip butters come in pots (obviously) I know some people don't like that aspect, I myself do not mind it. Well, I don't to a point, but I carry hand sanitizer around with my so I make sure to sanitize my hands or wash them before I stick my find in the pot.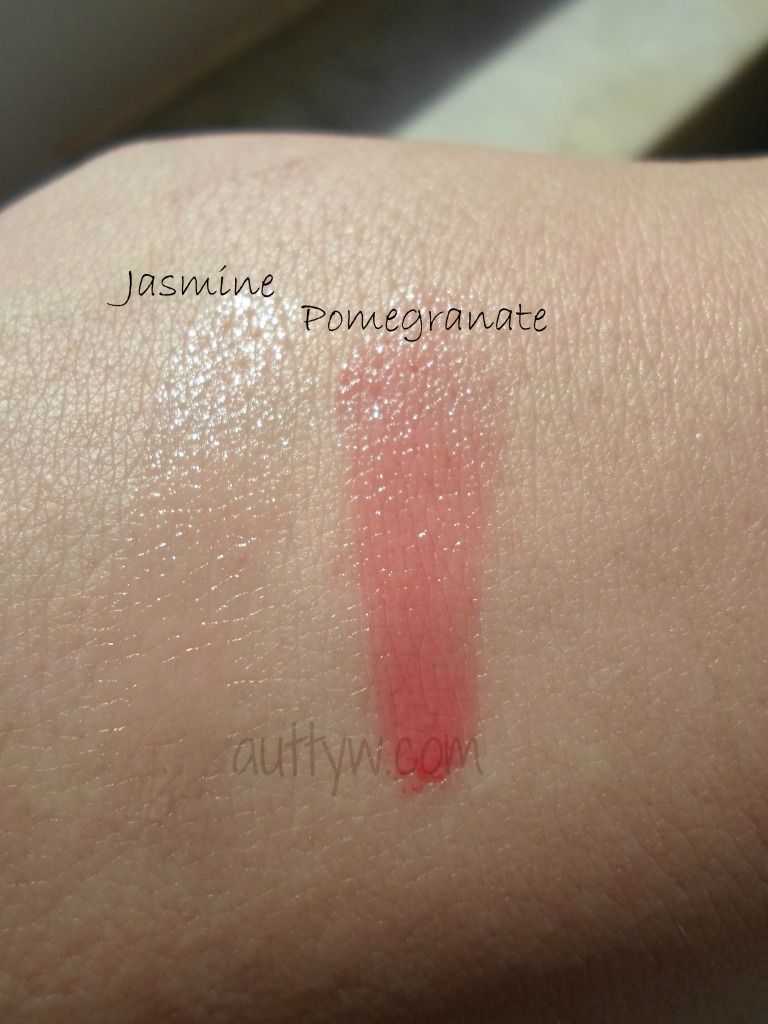 These are EXTREMELY moisturizing and at least for me, they last quite a long time on the lips as long as I am not eating, but that is typical for any lip balm/butter. I've found that these bad boys (or girls) are the ONLY thing that I reach for anymore when it comes to my lips. I just don't feel like I need anything else. These do have a VERY mild scent, in fact you can't even tell that it is there unless you stick your nose practically into the product, but I am just a freak like that. I like covering all bases. I'm not sure if these are supposed to smell like what they are called, because I can't really distinguish a scent at all.
They are not sticky at all, which hello I love about that! Not only that, but you would wear these as a wash of color on your lips and call it a day. They do have a shine to them, which I really like, its not an overpowering shine either like a lipgloss can tend to create. I also find that these are extremely hydrating, like no otha motha. The pigmentation is fantastic and they are super creamy, so a little goes a long way.
These will last you quite a long while. Unless you are me and you are constantly applying your lip balm like a crazy person.
( I blame working at Busch Gardens. That place made my lips like a desert. NEVER again)
They really are everything and anything that I could ever want in a lip butter/balm. They are fantastic and at one point in my life I want to eventually own all of the colors, or multiples of them ( I told you I was crazy)
Oh! Currently on Sephora's webste, they have the Lip Blockbuster Volume II for sale. It's $39.00USD but you get 3 lip butters and 3 of the lip butter glazes. That's probably going to be the next thing I invest in. Oh! The lip butter glazes, are basically the potted lip butters in a tube so you don't have to stick your finger in it. That is at least what I have found. Same product and everything. Just tube form. :P
You can find these at Sephora and Sephora.com . I'm not sure if Ulta has them though. I didn't see them online and I don't remember seeing them in the store.
I think I've got everything covered! If I missed something PLEASE let me know! xx
PS I'm kinda jealous that you can purchase these in the UK for
£7