Hello Loves!
Today I have a review for you on the Revlon Nearly Naked Liquid foundation. This foundation came out I believe a month ago, it's still a extremely new product anyways.
When I was in Walgreens, I knew I needed a new foundation and I figured that I would try this out. I mean why not?! It's new and I can do a review on it. Not only that, but I was EXTREMELY surprised at the price it was only $9.99! The last foundation Revlon came out with was around the $15 mark, depending on where you went. That was at least how it was for me.
This is what Revlon claims about this foundation::
"Makeup so refreshingly light, it melts right in, creating a fresh even look. So the only one that knows you are wearing makeup is you. Blends seamlessly, buildable coverage."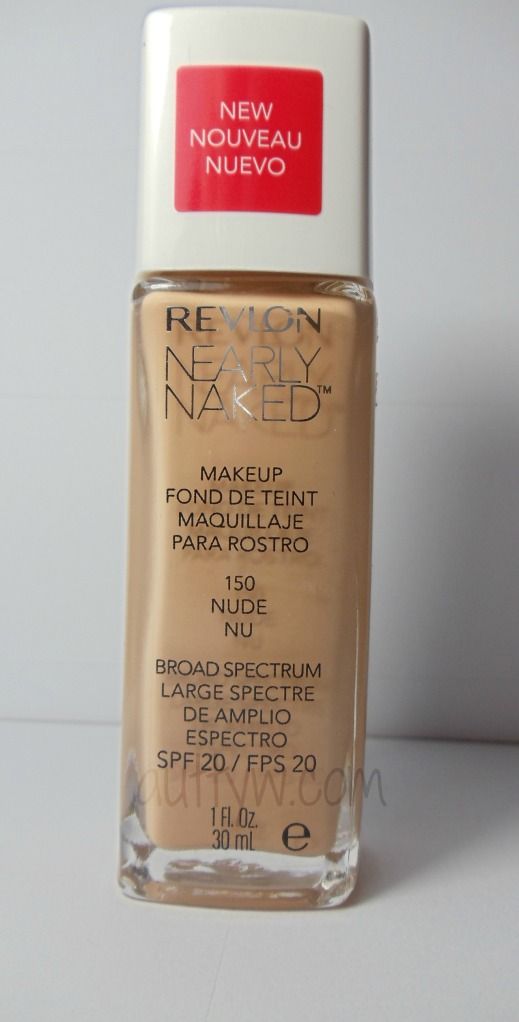 I do have to agree with Revlon on their claims. This foundation is extremely light in consistency. It's almost watery compared to other foundations. It does even out your skin tone (to a point more later) with one layer. I didn't have a problem blending this out and it built up nicely. I don't notice any type of scent associated with this either, which is extremely nice. Overly scented things make my allergies go CRAZY.
I did not have a problem picking out a shade for this which was nice. It's hard to find a good foundation match at the drugstore. Revlon also has a interactive guide to help you choose a correct foundation for you. Did I use it? Of course not, I didn't know there was one until I read Nouveau Cheap's blog post about it. Figures right? The foundation I picked out though was a nice match to my skin.
There are sixteen shades of this foundation. Unfortunately from what I saw, it doesn't go dark enough for you dark chocolate ladies, which in my opinion stinks. I love when companies have a shade range to fit EVERYONE.
I applied this foundation around 7pm and as I typed this review it is around 10:20pm and I unfortunately have to report that this foundation might have to go back to the store. This foundation did oxidize a bit from when I put it on originally. Unfortunately as well, I have a very oily nose and the foundation has already broke and the oil has shown through there. Which stinks. :( It's also POOLED in my pores, making them practically punch you in the face. I did use a primer with this and even set it with a powder and on my it only lasted a few hours. It's honestly really disappointing in my opinion. In some of the pictures you can even see where on some of my dry spots (yes I have them :( ) the foundation even STUCK and didn't blend at all. Shame shame.
I can't complain too much since I got this on buy 1 get 1 half off, so I paid less than $4 for this, but it's such a bummer because I was really hoping that this foundation would work well for me. Oh I think I forgot to mention I got shade 150 Nude
This foundation also has broad spectrum SPF 20 in it. I didn't find that there was a white cast with this. (yes I took pictures with flash) It's just such a shame that this did not work out for me. :( Back to Walgreens it goes.. You can purchase this anywhere that you can buy Revlon products. The price could also vary according to your region as well. :)
Have you tried this foundation? What do you think of it?!