Hello everyone!
I did have a post set for well, yesterday actually but I've been feeling a bit under the weather and I'm not sure why. I'm not sick but I just feel blah. Anyhoodles, I went to CVS yesterday on the search for Wet n Wild Clear nail polish or at least NYC Clear nail polish and seriously, anyone else seeing this trend but I've been to a couple of Walgreens and they are completely out of the Clear WnW Wild Shine polish. Really? Ugh, the woman wouldn't even go into the back and look so we just left and went to CVS, they only had ONE clear NYC polish. What's the deal? Lol, has there been some kind of clear polish shortage and I missed the memo? Almost every other brand I saw had no clear polish either. Bah!
So whilst there, I decided to pick up a few other polishes. NYC was buy 1 get 1 50% off and since those polishes are 99cents each, I couldn't pass it up. The Milani polishes were buy one get one 50% off as well and I've never tried Milani before. Granted I picked up glitter polishes to mix into other polishes, but that is beside the point at this present moment! :P The Spoiled polishes were 2 for $3, those I definitely couldn't pass up. The ONE Spoiled polish that I wanted was half gone and still sitting on the display. .. really? Bah oh well. As per the Revlon nail polish it was 75% off, that bad boy I couldn't pass up! :P I had a $4 any $12 beauty purchase so I used that and my total came out to a little over $15. Which, in my opinion I don't think is too bad. I really do like the NYC polishes.
French White Tip is a nice white, it is kind of streaky, but it does the job that I need it to do. So far I have THREE bottles of this!
Starry Silver Glitter are the two bottles on the right. I REALLY love this polish. I think I've got 2 other bottles , plus an empty one...so in total I think I have had 5 bottles. I told you I love it :P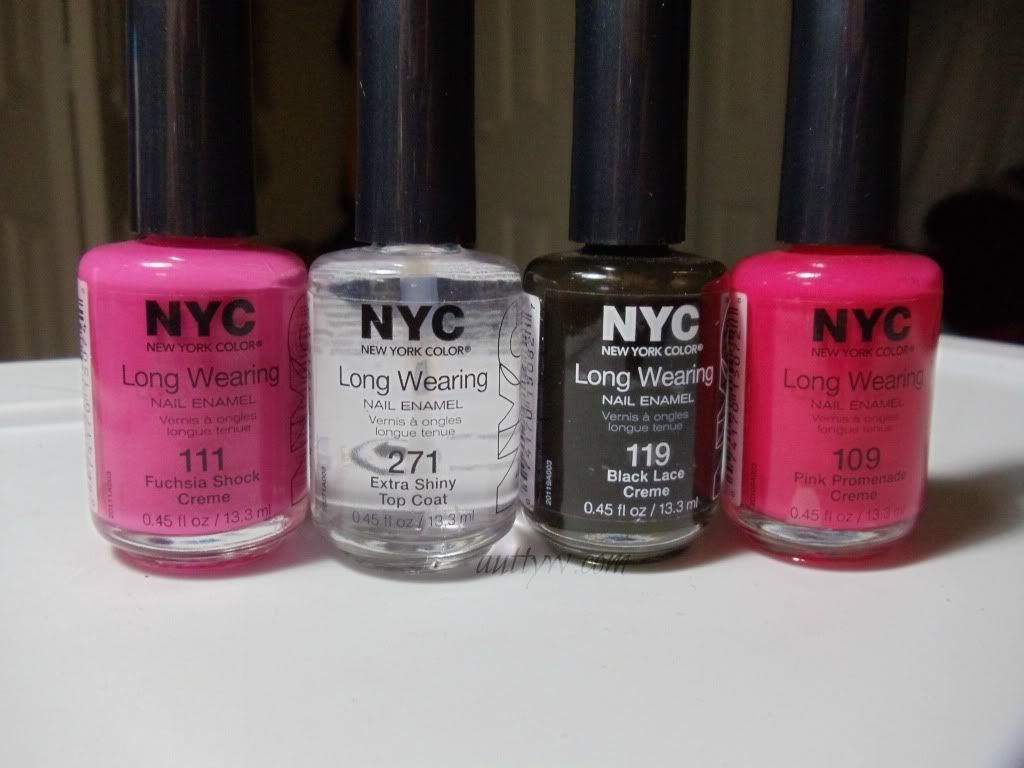 This is the first time I've tried any of these colors. So far it's going good except for the black. It's not exactly black and it's sheer. It's kind of odd, as you can tell in the bottle it's not a true black, nor is it a creme as the bottle suggests!
The Extra Shiny Top Coat, is a derp on my part, I thought it was a plain clear coat, but once again it's been good to me so far!
As for Fuchsia Shock and Pink Promenade (The entire time I had this, I thought it said pomegranate fail!) These two have been gorgeous too me! Mix them together and oh my goodness! It's like a pink heaven.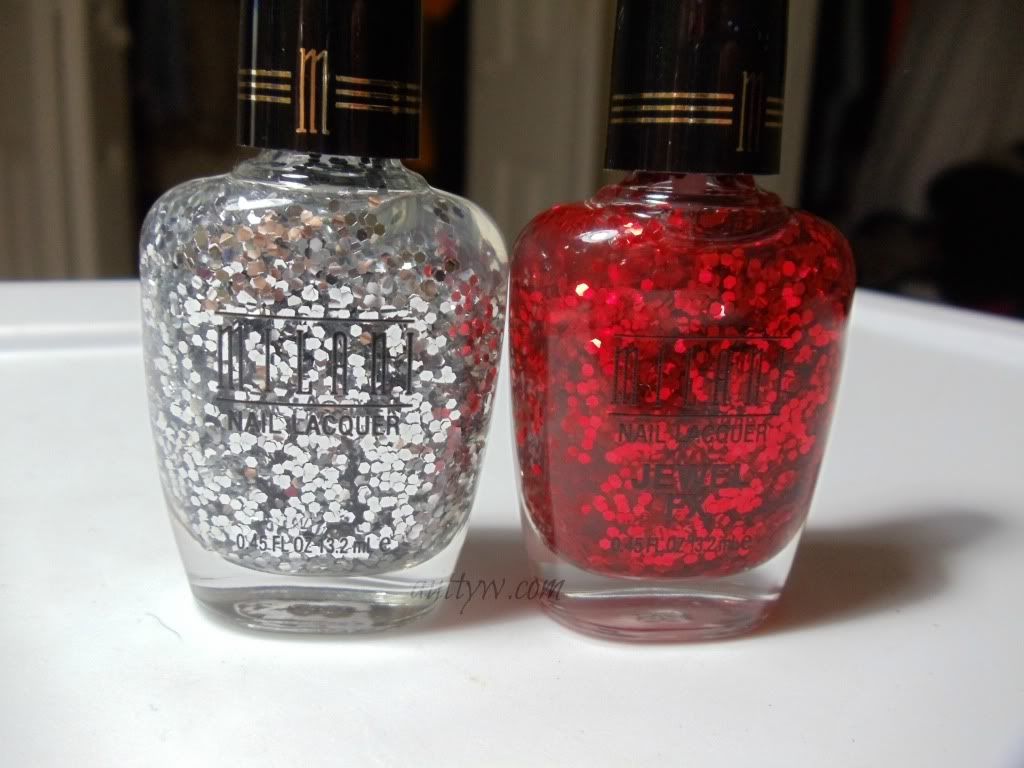 \
Per these being my first two Milani polishes I don't have much of an opinion as of yet. These are hexagon glitters and they don't have unique names at all. Silver and Red.. yes those are the names. The red is from the Jewel FX collection but the silver is not. I'm not sure why considering its the exact same polish but different glitter. C'est la vie.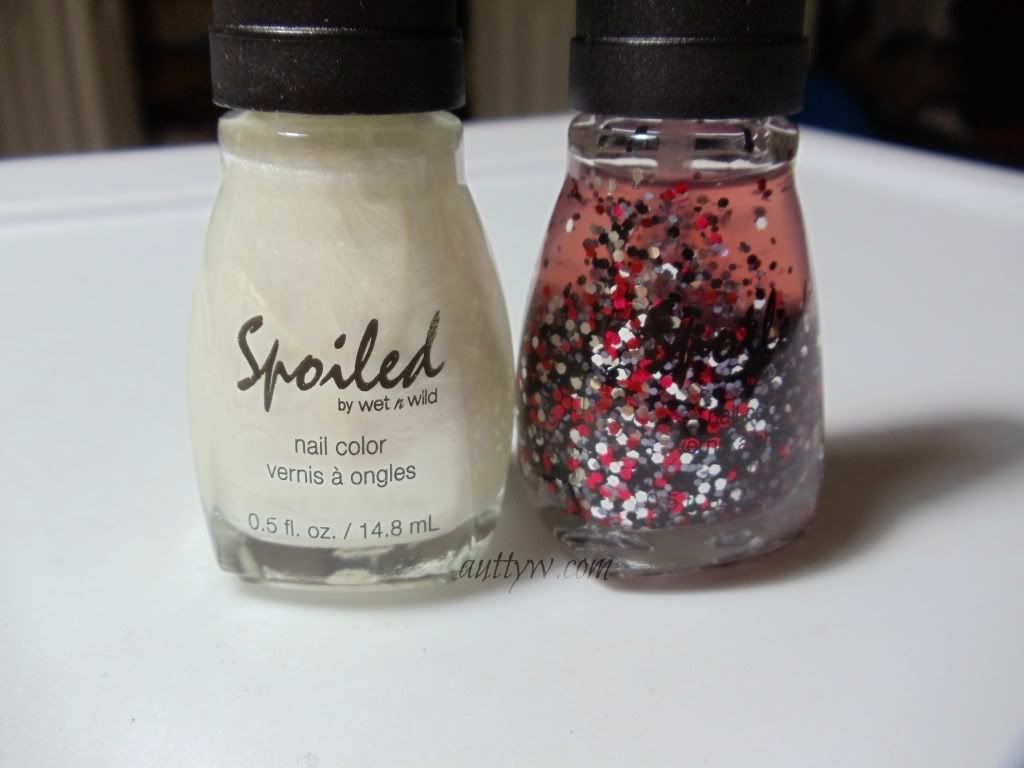 So far, I have been enjoying Spoiled polishes. This is my second bottle of Pearly White Teeth and the one on the right at this moment, I can't remember the name. I've never tried this one before but like the glitter combination. HOWEVER, I'm not too thrilled with the suspension base. As you can tell the glitter is compacted as the bottom and the base is ontop. The only reason there is glitter floating up top is because I was jiggling it around. Tis all. I've not tested this, but I will get back to you!
As for my last polish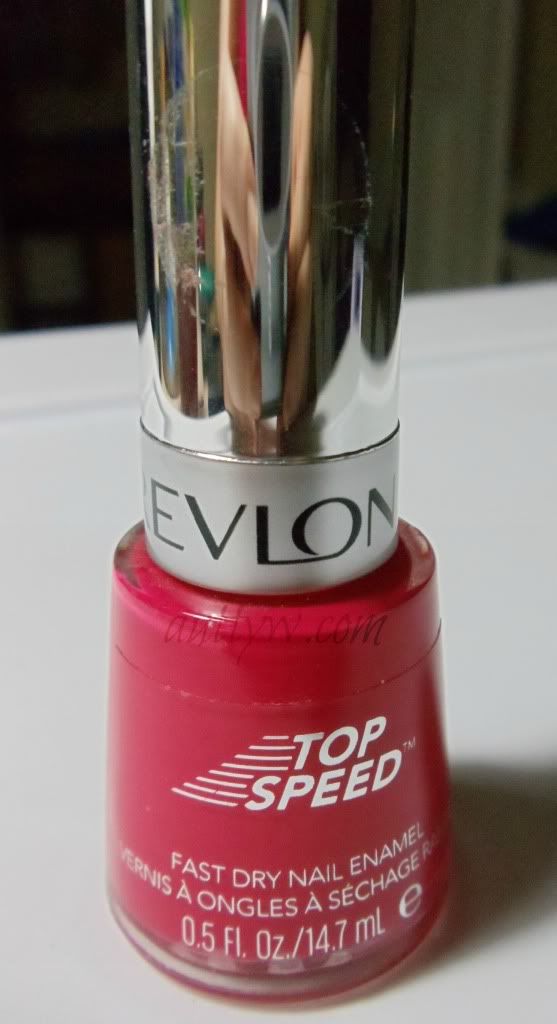 This was the 75% off polish. It's a gorgeous pink color and it's called Jelly. I've not tried it as of yet.. in complete honesty, my nails haven't been painted in a few weeks because I have been mixing polishes. Shame shame.
So this is my nail polish haul! I'm definitely going to be picking up a LOT more NYC polishes and I need to get some Wet n Wild polishes (I seriously have a LIST of the ones I need/want) I can do another "haul" then if you want!
I hope you all are having an amazing week!