Hola everyone!
This is going to be a different kind of review!
What I am going to talk about is Skinny Sprinkles. What the heck is Skinny Sprinkles?!
Welp, it is a food supplement to aid in weight loss and increase alertness Pretty much it is a Weight loss / Energy Drink powder. It helps to curb your appetite, helps you feel fuller and it helps you feel more energized so you can do more exercise and basically.. to help you feel energized and ready to take on the day!
I first heard about this product from my lovely friend Rose (milkymoles) over in the UK. This product was working so well for her that I contacted the company in hopes that they would let me try it! You have no idea how bloody excited I was when they agreed and sent me some of their product! It was really exciting. It only took about a little over a week to recieve it, even with it coming all of the way from Wales! This is made from REAL strawberries so it is supposed to tasted amazing.
I was given enough for at least a week. You are supposed to take this 3 times a day and I figured if I am wanting to see any kind of results, I had to take at least 1-2 to make it last long enough for results to show. Unfortunately for me, the first time I took it, I wound up falling Ill for almost a month! So I didn't want to take it and eat less than I already was. So when I was FINALLY feeling better, I started taking it again.
I do want to say, don't take this with water. It's not that pleasing when you take it with plain water! I suggest mixing it with Milk, or I have thrown it into a fruit smoothie. That is the best way I have found is to throw it in a smoothie. I think trying the E-Boost and the original EmergenC have really scarred me and makes me afraid to taste powdered supplements. No lie. The E-Boost is HORRID. This however is not. The taste is okay as long as its not in water and it is WELL mixed into your milk or smoothie.
Did I lose weight? Yes, I lost around 5 pounds. It potential could have been more, but I really hate calorie restriction. Granted I have started eating healthier, I just don't like counting calories because I don't want to think of it as a diet. Once you start thinking something is a diet, that's when it all goes south. At least for me. I can NEVER stick to a diet. I will eat healthier and WATCH what I eat, but I wont consider it a diet. I don't even like the word.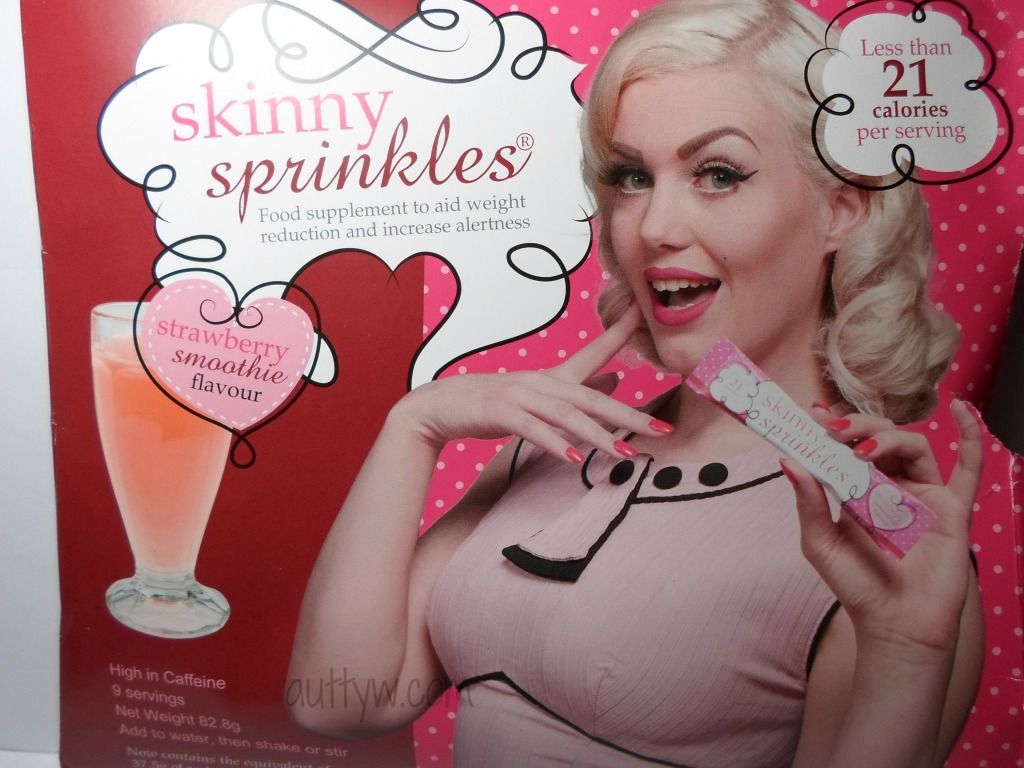 I do feel that this product is fantastic. I think if I would have been able to test it for a longer period of time, then it would have been more successful. Or at least test it the correct way with 3x a day. Myself personally. I don't think you can see a change in a week. It's probably a me thing.
You can purchase this on their website and it is NOW AVAILABLE on Amazon!
Since this product is from overseas and is located in Wales, for those who live in the US you will have to convert the money to Great British Pounds. (GBP) If you want to purchase the 42 serving tub it is £39.97 or $63.37. So it is bloody expensive for us in the US. If you want to just get the 9 servings trial pack it's £11.97 or $18.98. Still expensive but not as expensive. That is on the Skinny Sprinkles website itself. On Amazon however you can get the 42 servings tub for $49.99 and the 9 servings for $19.97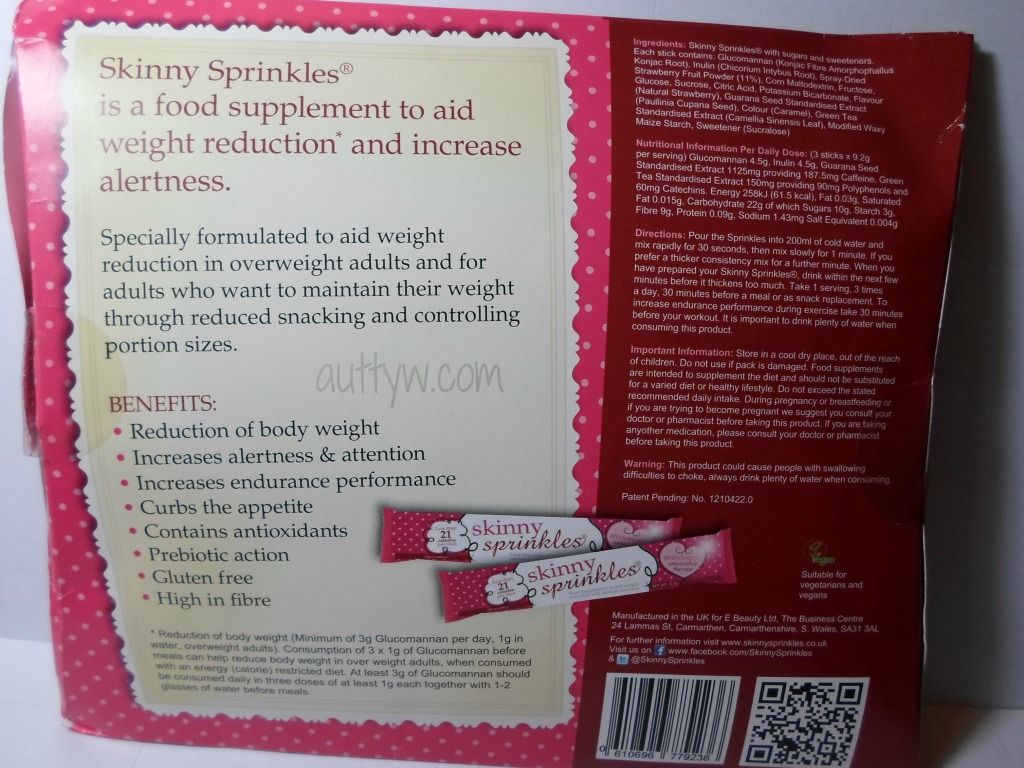 I honestly do love the product, but it is one of those I love the product but not the price. I think it is bloody fantastic. There is scientific evidence that this product works, which is why I will stand behind it. I know Rose has gotten absolutely fantastic results from this and I am so proud of her! I think if you are in the UK and can get it there, definitely go for it! As for us ladies in the US, I am on the fence about it because of the price. Oh good lord. I almost forgot. Okay this is pretty embarrassing and I went back and forth about putting this, but my Mum told me I should put it because of the fact it is associated with the product itself. When I say that it is embarrassing . it truly is. I'm blushing and really not wanting to type this next sentence, but all for giving my honest review. Okay. So... (if you knew how bloody red I was from being embarrassed you would totally understand) I found out whilst taking this product that it made you poo.. a lot. I don't know if anyone else experienced this, or if it was just me. I felt like I was forever in the bathroom. I guess it's not a bad thing, but come on now.. how embarrassing LOL. God it killed me to type that, but I like giving honest reviews.
This does make you feel quite full and I found that I was snacking extremely less and I was NOT craving sweet things like I used too. Now anyone who knows me knows that I am a bloody night owl.. blame insomnia but that is just me.. When I am up at night I eat.. and eat and eat. Like a crazy rabid animal. I used to actually binge eat at one time, but that is another story. This really helped me keep my appetite in check and I found that I was snacking less and less and I wasn't frantically searching the cabinets in the kitchen and the fridge and freezer like a lunatic. So I am grateful for that.
This is a bloody genius product. I wish things were flavored in a good way over here! I'm too afraid to try weightloss supplements from over here honestly. I am happy about the weight that I lose, even with it only being 5 pounds. To me that is better than losing nothing at all! So I am pretty pleased with this product, minus the whole pooing constantly thing.
Check out the Skinny Sprinkles Website!
Purchase them on Amazon.com 42 servings tub / 9 stick packets
Don't forget to follow them on Twitter and Facebook
Speaking of following them. How freaking cute is the packaging! Good lord I love the model!
I believed I covered everything. If I missed something PLEASE let me know!!
Disclaimer: This product was sent to me for my honest and unbiased review. All opinions are my own.