Good morning loves!
I hope you all have an amazing Wednesday!
On Monday I got my First Graze Box in the mail, I was not expecting it because I wound up cancelling the box, even though your first one is free. It had been two weeks and I didn't hear anything from them, so I figured I would just cancel it so I wouldn't get charged $5 for the next box.
When I first signed up the Grazebox was $5 WEEKLY but since then to the best of my knowledge they have installed a bi-weekly and monthly I believe.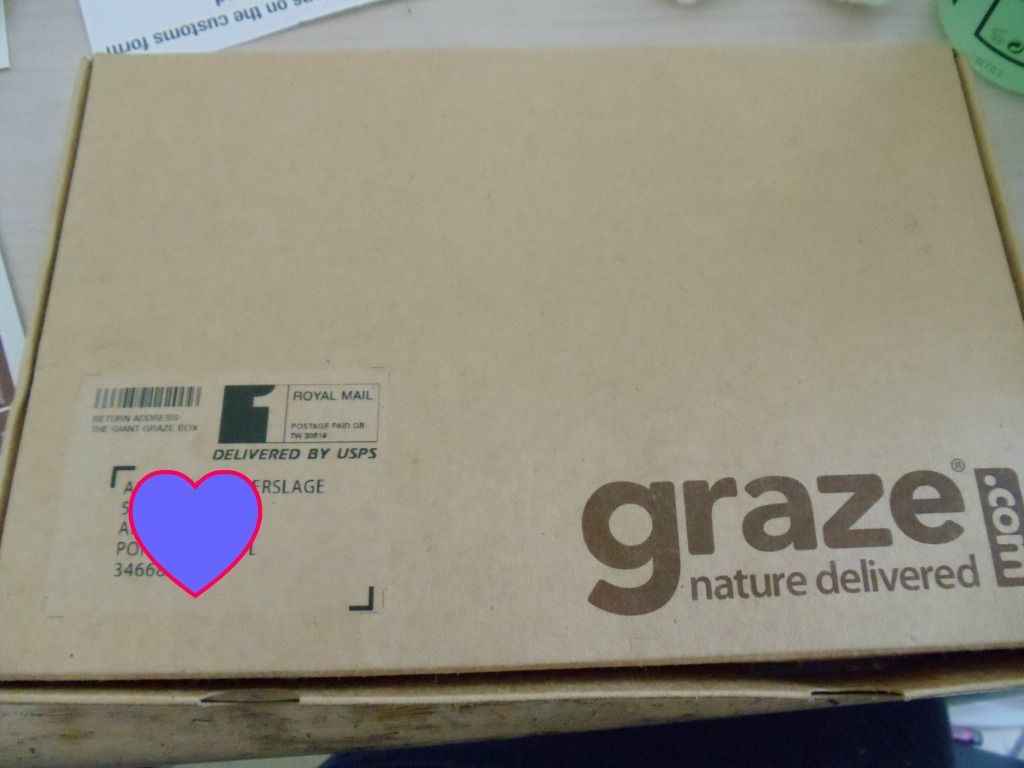 The box is a pretty decent size and I decided on the Nibble Box so I got 4 different snacks.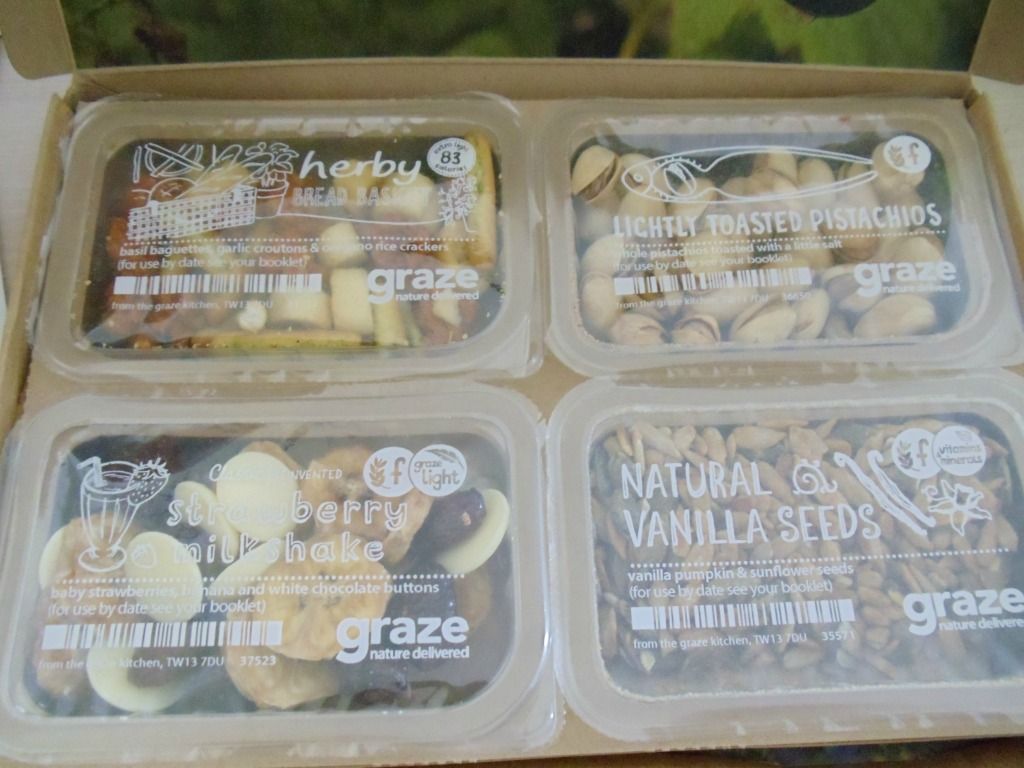 As you can tell, the little containers are a pretty decent size. I decided to share these with people in my family.
The top left is the Herby Bread Basket. This was 18g or 0.63oz..which is was pretty full. However I didn't really get the "herby" aspect of it, all I got was garlic..and it was extremely strong..like you need to brush your teeth after or it ferments strong. (gross but you know what I mean)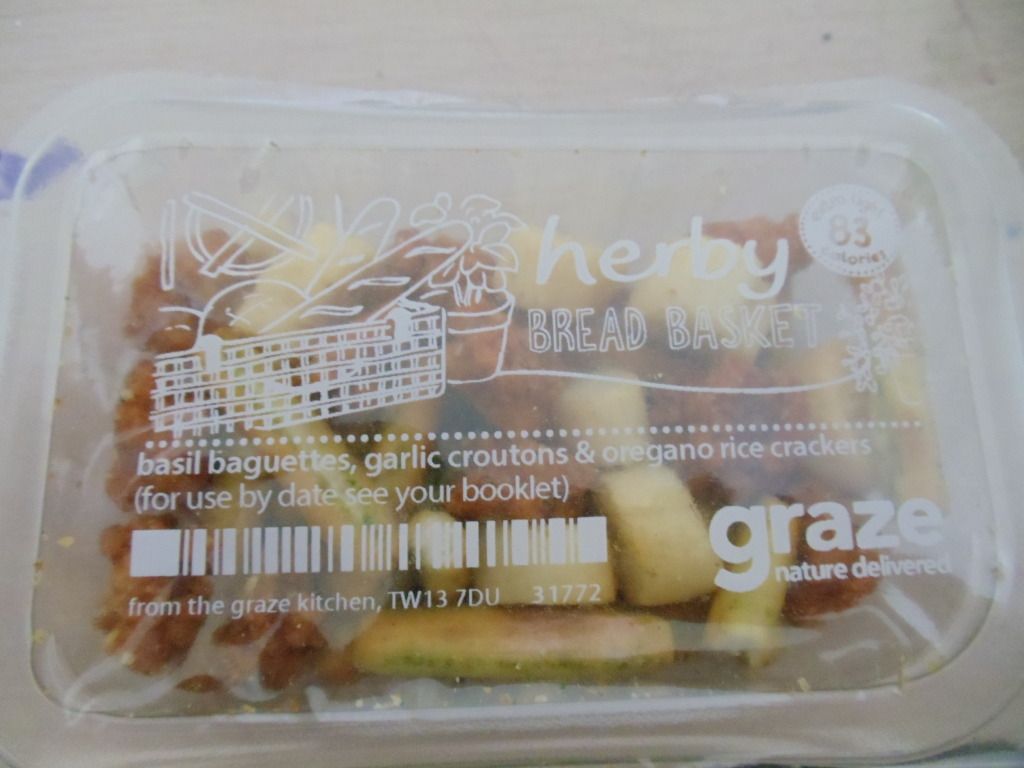 The next one I split with Chris. It was the Natural Vanilla Seeds. It was Pumpkin and Sunflower seeds. We both love them and we definitely LOVED this container.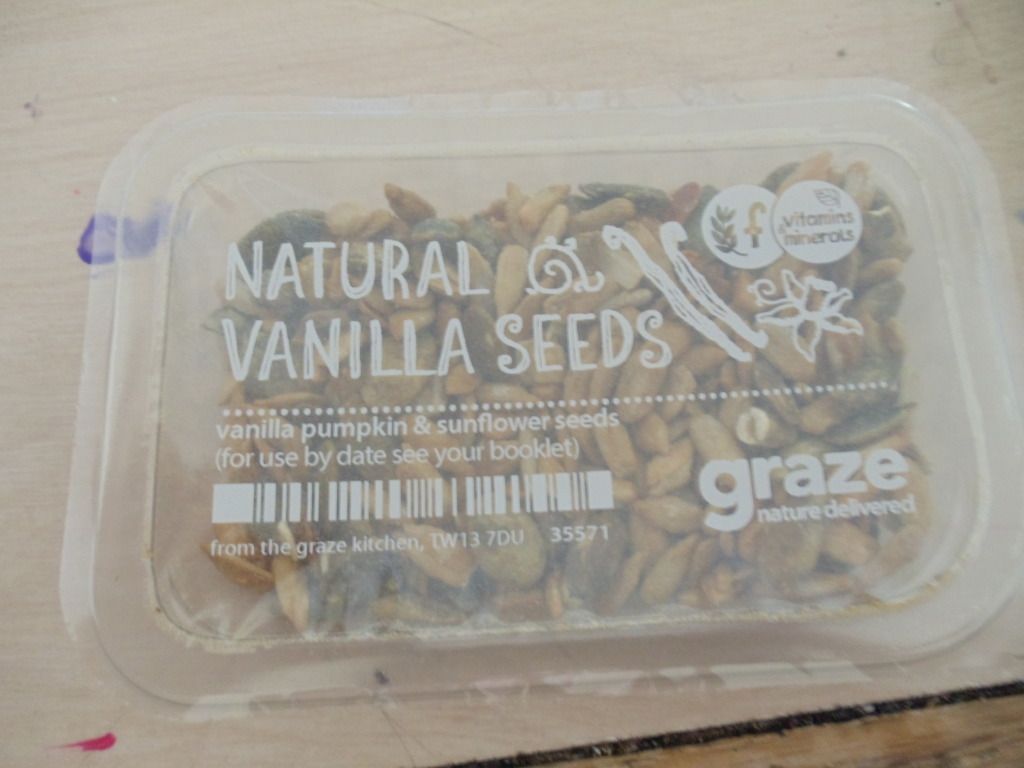 This one was pretty full as well. It weighed 31.5g or 1.1oz. Which doesn't seem like a lot, but it was.The seeds basically have a vanilla, sugar and honey glaze on them. It's amazing! They aren't too sweet which makes them even better! I definitely would live off of these if I could. It was my favorite container out of the entire box.
The next was the Strawberry Milkshake.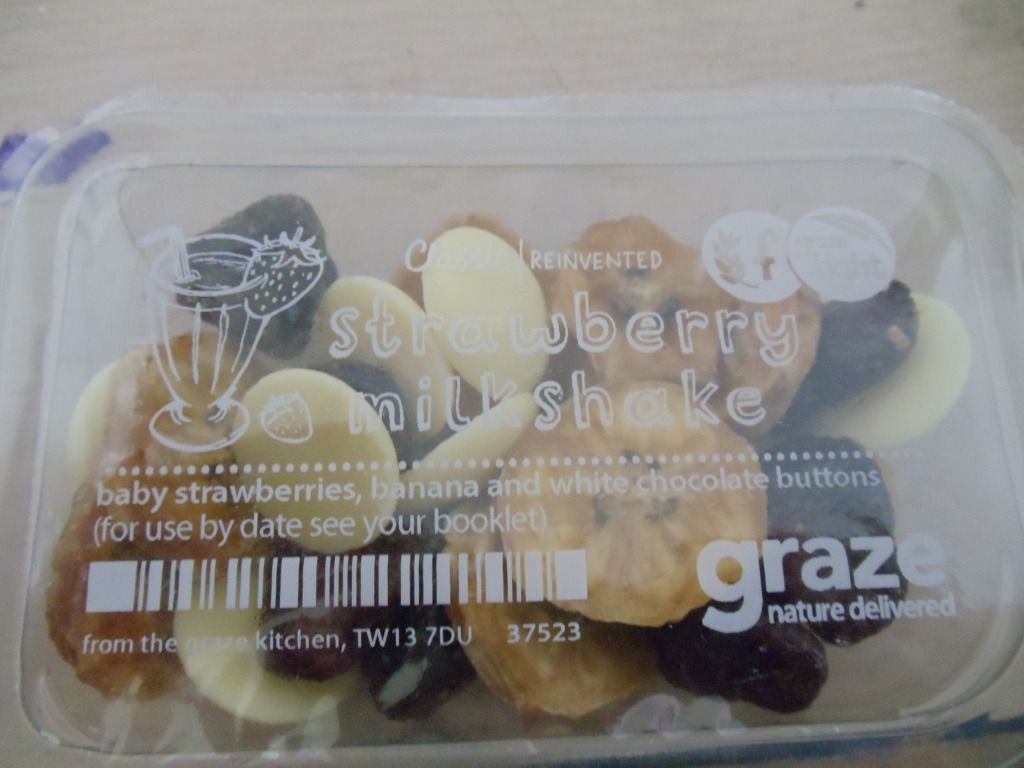 I'm not going to lie, I called this Strawberry Shortcake every time I talked about it. Oops. This was the heavier of the 4 boxes coming in at 36g or 1.3oz. This had white chocolate buttons, baby strawberries and banana. The strawberry and banana were like dried fruit, but they were still tacky and soft. They weren't hard at all. This one I let my Niece and Nephew share and they liked it a lot. My Nephew liked the banana's the most and my Niece just did not care, she loved it all. She doesn't have many teeth, but she ate these.
The last box, I couldn't eat at all...well, it's not a "I couldn't eat" it was more of a "I don't eat" situation.
Lightly Toasted Pistachios
This container came in at 32g or 1.1oz. I don't eat pistachios but my parents do so they got this box. I'm not sure if they have eaten it yet because they have been in the process of moving. I'm sure they taste good though.
With Graze you get to pick and choose what kind of snacks you want to get a lot, a little or never, I really like that. I think I picked the pistachios as a little because I knew my family would like them and I like sharing with others. I like that they give you nutritional facts about each one on the back of a card and on the website you get the FULL ingredients list, which is nice. I also saw that they have dietary restricted boxes are well. Non-Celiac, Non-Vegan and Non-Dairy boxes. I do want to state that if you have a nut allergy be careful and make sure you read each thing. On the website it even states that there is no guarantee that the boxes will be suitable for your allergies or dietary requirements because everything is prepared in the same kitchen. So if you are deathly allergic to nuts, stay away. I'm allergic to some nuts, but it's not bad so I don't mind at all. Just be really careful if you do have nut allergies or any other dietary requirements. Definitely read the website very carefully!
Overall, I think it's a nice box, I cancelled mine because it was still $5 a week, they didn't install the other choices until after I cancelled. I think the box is worth $5, but it's not something that I would want to get regularly honestly. I did hear about a few other people getting expired snacks or almost expired snacks.. My best by dates were between 12/03/2013- 15/03/2013.. so I am not fussed about it at all. I read it wrong earlier when I was talking about it on instagram, I thought it said the 4th on them all. But it's all good in the hood! :)
All in all, it was a nice box, everyone seemed to enjoy the snacks inside of it!