Hello everyone!
The inspiration of today's nails were that I wanted to use 2 nail polishes from companies I've never tried before. Yesterday (Saturday) was the Central Florida Beauty Bloggers Meetup and there was a swap and I picked up a few nail polishes. I got a couple of brands that I've never tried before and have been lemming over! I've got fake nails on because mine are misshapen and growing back out and my nails just look hideous! Bah.
Anyways, I KNEW I wanted to try the Bettina nail polish that I had gotten from Cristina (Let Them Have Polish) I had never heard of Bettina before, so I knew I wanted to at least try and get one polish. I had 2 in my hand, but I decided to put the other one back. The second polish is from Julep. I've been wanting to try Julep before but I can't justify a $14 polish at this moment, and I've not signed up for their subscription box. I've almost done it a dozen or so times, but at the checkout I ALWAYS wind up just cancelling it.
I'm so grateful to the ladies who brought them because I couldn't be happier with these two polishes! Thank you so much!! :D (I'm not sure who brought the Julep one honestly :( there was no name on the box)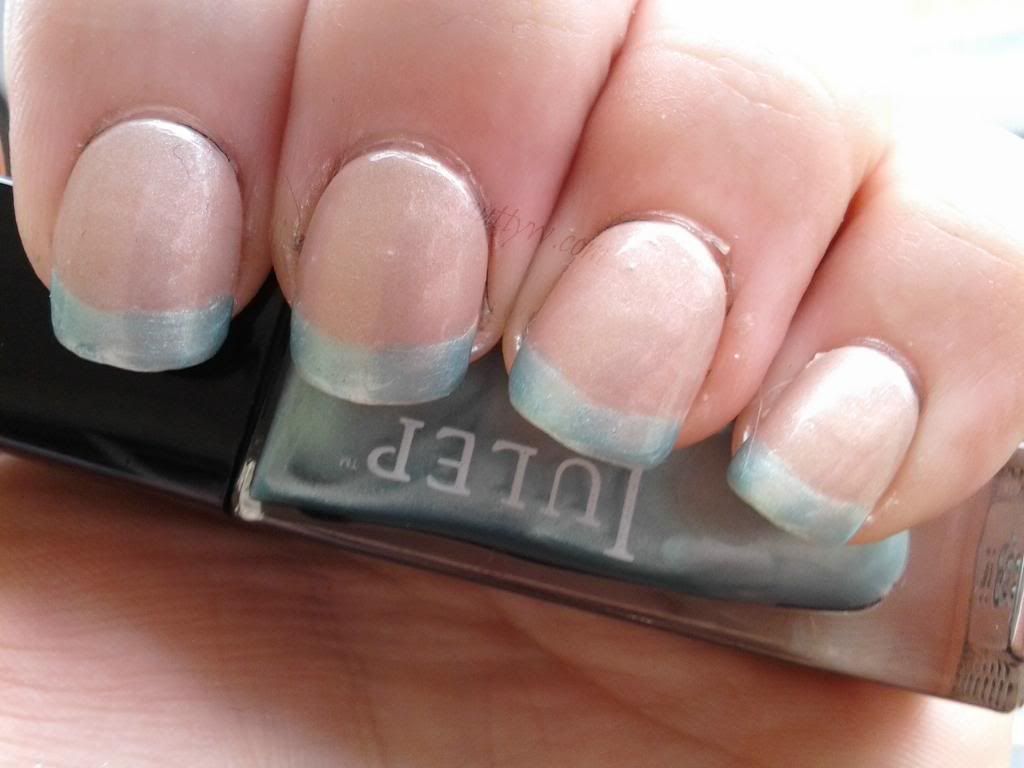 I didn't use a base coat because I have a pair of imPRESS nails on.
The neutral color is Bettina Jingle Belle.
The blue is Julep's Piper.
Out The Door Top Coat
I don't know why, but Piper and Jingle Belle together reminded me of mermaids.
Jingle Belle is absolutely PERFECT. I'm in complete love with it and kicking myself in the booty for not getting the other one (it was purple)! This polish has so much depth that it's not funny. I wish my camera would have picked it up! Gah its 100x more gorgeous in person! And the formulas! Gah! Don't even get me started on them! Bloody perfect! I did not have one problem with the formula's of either of these! Oh! The couple of bubbles on the nails were from my top coat, not the polishes!
Piper is a sheet color so it took about 4 coats to build it up to color which is okay. I still love it! Jingle Belle is 3 coats. It's a fantastic everyday manicure in my opinion that has a nice pop of color.
I am so happy with these nail polishes that it's not even funny. I keep starring at the bottles because they are so gorgeous! Oh! Sorry about the cuticles, especially the split one. For some ungodly reason, while we were sitting at the meetup, my cuticle split. :( I spent a majority of the time rubbing it because it hurt and.. well I'm not sure why I rubbed it, but it helped it stop hurting! Bah. I need to bust out my heavy duty moisturizer!
I hope you all are doing well! I want to give a HUGE thank you to everyone who was at the meetup. I was psyching myself out for no reason, which is why I was terrified. In general meeting new people kind of scares me because it's out of my comfort zone, especially when it's in a larger crowd. It was SO relaxing though! I enjoyed meeting all of you! I promise I'm not normally that timid. Now that I have met you all, I'll be fine! It's just the first time that gets me! Thank you for such a great day and for being so welcoming!
Hey everyone. I just made a facebook page. I'm going to give it another shot. So CLICK HURR and another page will open :)
Disclaimer: The Julep and Bettina polish were received in a swap and I bought the top coat with my own money.