Hello Gorgeous ladies and Handsome gents! I hope you all are doing well!!
The review I have for you today is kind of an exciting one for me! I'm really excited to share this product with you all! This was sent to me via iFabbo, which is an International Organization for beauty, fashion and lifestyle bloggers. This is a members only website and you do have to submit an application (and actually blog regularly instead of occasionally). I actually didn't even know iFabbo did this honestly. Surprise for me! But enough about that!
The Own Lifting Eye Cream is an anti-aging product and I know what you must be thinking! "Girl, you just turned 22 why do you need anything anti-aging?!" Well, in my opinion it's never too early to start an anti-aging regime.. well.. I think once you hit your early to mid 20s it's okay to start. But don't start before 20. That's my opinion though. An opinion is like a butt though, everyone has one. Anyways, I have no shame in admitting that I have some lines around my outer eye area from squinting. I think more women should embrace and accept themselves how they are instead of trying to hide and be afraid of every line in their face. Girl you live once! :P However, I do want to stop the problem in its track before it gets worse. I know myself, if I didn't start working and trying to prevent, I would have some serious crows feet by the time I was 30!
This claims to improve the firmness, evenness of skin tone and the softness of the skin around your eye in as little as 8 weeks! Too good to be true?! Maybe, maybe not. That is for you to decide. I'm going to tell you my experience with this.
I've been using this for 19-20 days, I know it's not a long time to see any "real" results, but I was not previously using any type of eye cream. So in 19 days I have seen a good change in my eye area. I will say that I was blessed with barely any noticeable dark circles or bags under my eyes. Those who know me though know that I BARELY sleep, dang this insomnia! I do get purple areas under my eyes though from the lack of sleep, but they aren't anything horrifying. (Like Chris' are. I'm forever bugging him about his, I should start making him use this!) Since I've started using this, I have noticed a good changed in how my eye area looks and feels! UGH I love it! :D
My eye area was never rough or anything to be honest. I guess it was like a normal eye area? What is normal? I have no idea. So as per the change in the softness of my eye area, I've not really noticed that much of a change. Maybe in a few more weeks something will change though! Now, with me having a fuller face, the skin is not as tight as I would like it to be, especially in my eyebrow area. Those bad boys hang a little lower then I would like! I'm not going to call it sagging, because they are not saggy.
This cream I found was VERY hydrating. My under eye area is a bit weird, it's not really dry but at the same time it can get extremely dry and flake and my eye lids can burn like a mother. I know some of you know what I am talking about. My under eye area(s) definitely appreciate the extra hydration and so do my eye lids, even though my eye lids are oily, they soak up this cream like they were a desert! This cream is very light, so it wont weigh your eyes down, or make them feel heavy. Since this is so light this soaks in VERY quickly, like you gently rub it in and BAM it's soaked in! I also want to state that this is NOT greasy. This has a very nice and cream texture to it.
This contains a Own Skin Health Patented CLA (Conjugated Linoleic Acid) plant based technology. It works with YOUR skin and specific and unique biochemistry. It also works with the first THREE layers of your skin. Okay, how freaking cool is that?! I love when products have so many different levels to it. I love that this works with your skin though, so it will work differently on every person. I have never come across a product like this before. Have you?
I do want to talk about the box. I know no one probably cares, but it's something I feel needs to be talked about. Y'all know how I feel about excessive outer packaging. For such a little tube this has a pretty big box! This honestly really irked me from the start, I feel that the box could have been smaller, especially compared to the tube size. However, there is a TON of information on ALL sides of the box. So it does make up for the fact of excessive packaging!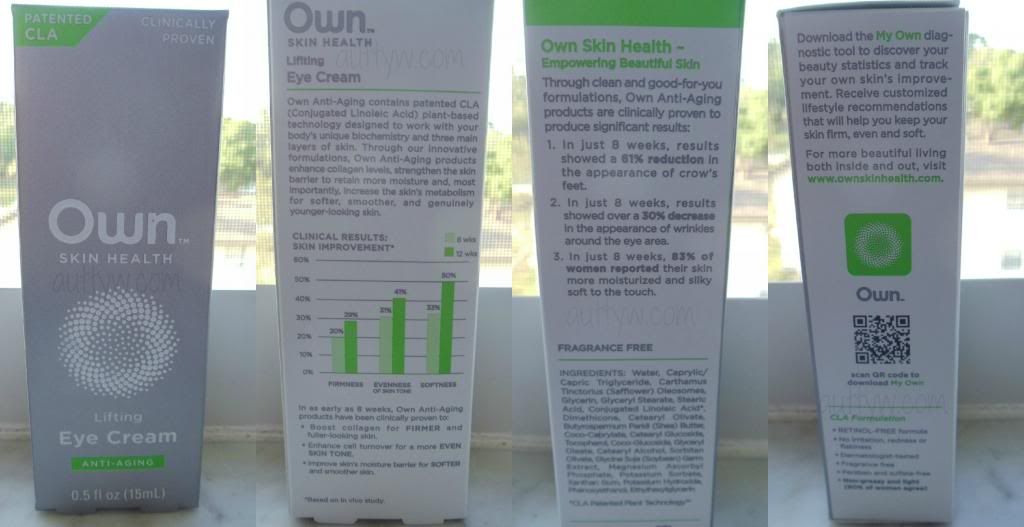 I am so thankful that I was given the opportunity to try this!
When using this you only need a very small amount! So this will definitely go a very long way! This retails for $23.99 for a 0.5 fl oz (15mL) tube.
You can purchase this at Ulta , Own's website and Amazon.
Have you tried this product before? What's do you think of it?!
Disclaimer: This product was sent to me for FREE for my honest review by iFabbo and Own Skin Health. All opinions are 100% my OWN. I am NOT being paid to do this review.