Hello everyone!
This FOTD is inspired by a look that A Brilliant Brunette did a couple of days ago on her blog. It's her Ocean Sunrise Eyes look/tutorial. I absolutely LOVED it the moment I saw it and wanted to re-create it.
Granted hers looks a million times better, but hey, I tried. That's all that counts! :P
Check out my re-creation after the jump!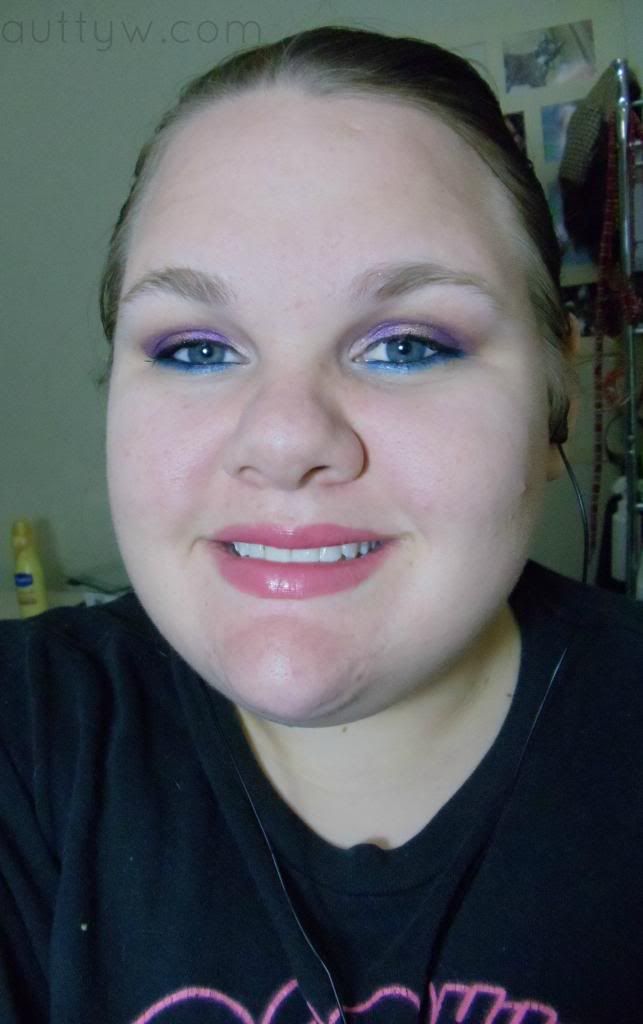 Like how my neck is at an awkward angle. Pft bahah :P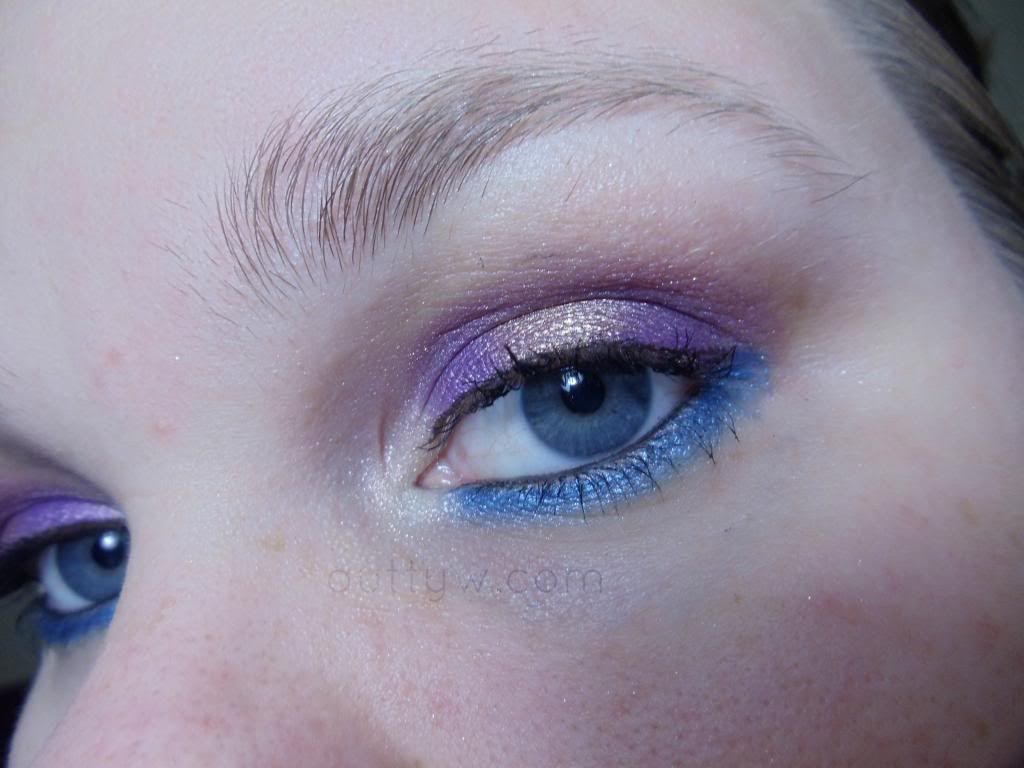 She used false eye lashes in her look, I don't own any and can't really wear them anyways since they give me a migraine :(. I also want to mention that I could not get one good shot of my lashes. I'm having huge issues with my camera and can't get it to focus AT ALL so, it's going to be a bit before I can get actual proper pictures. Maybe I can afford a new camera by the time I hid day 100? Bah unlikely, but you never know! <3
EYES:
Urban Decay Primer Potion - Original
Whip Hand Cosmetic Creme Shadow - Thermal
MUA Glamour Days eye shadow palette - Purple (all over lid) Blue (under waterline)
Sugarpill Goldilux mixed with Urban Decay Half Baked (Naked 1) (center of lid)
Revlon ColorStay Liquid Liner Black/Brown
Urban Decay 24/7 Liner in Perversion
Urban Decay 24/7 Liner in Radium
Revlon Lash Potion Mascara -No available until May 1,2013
LIPS:
Rimmel Apocalips Lip Lacquer - 101 Celestial
FACE:
Rimmel Stay Matte 011 Creamy Beige
There shouldn't be much surprise that I didn't use much on my face. My skin is still pissed at me for the look I did last night, that I have to re-do. Pft. Skin clearing makeup my tush! Bah.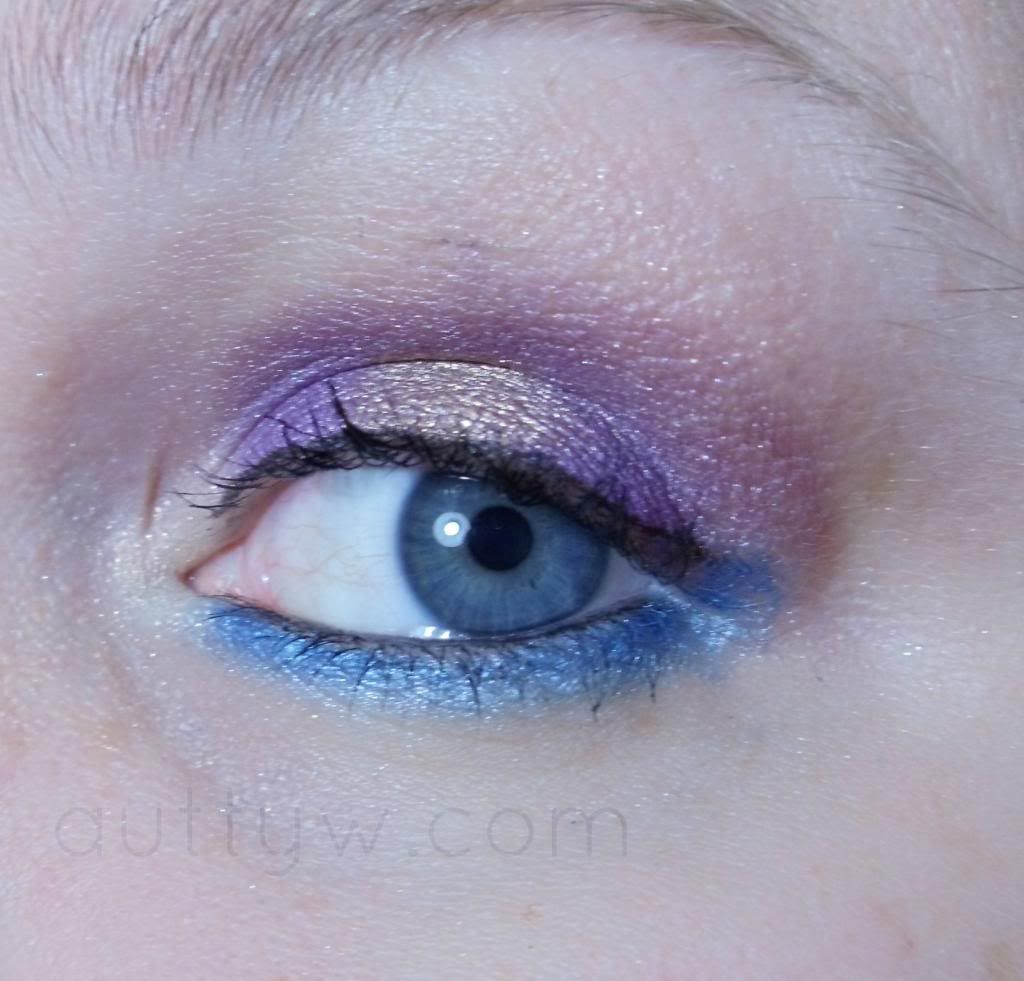 Like I said before, it's not an exact re-creation of her look because I don't have any of the products that she used and my purple is a different color. I couldn't find one that was the right shade :( I thought the one I used was close, but after looking I realized it wasn't. Bah. You can also tell that my eyeliner on the waterline and below it started to get messed up. Thank my eyes for it. AS SOON as I started taking pictures it was attack of the watery eye. You can kind of tell in a couple of pictures.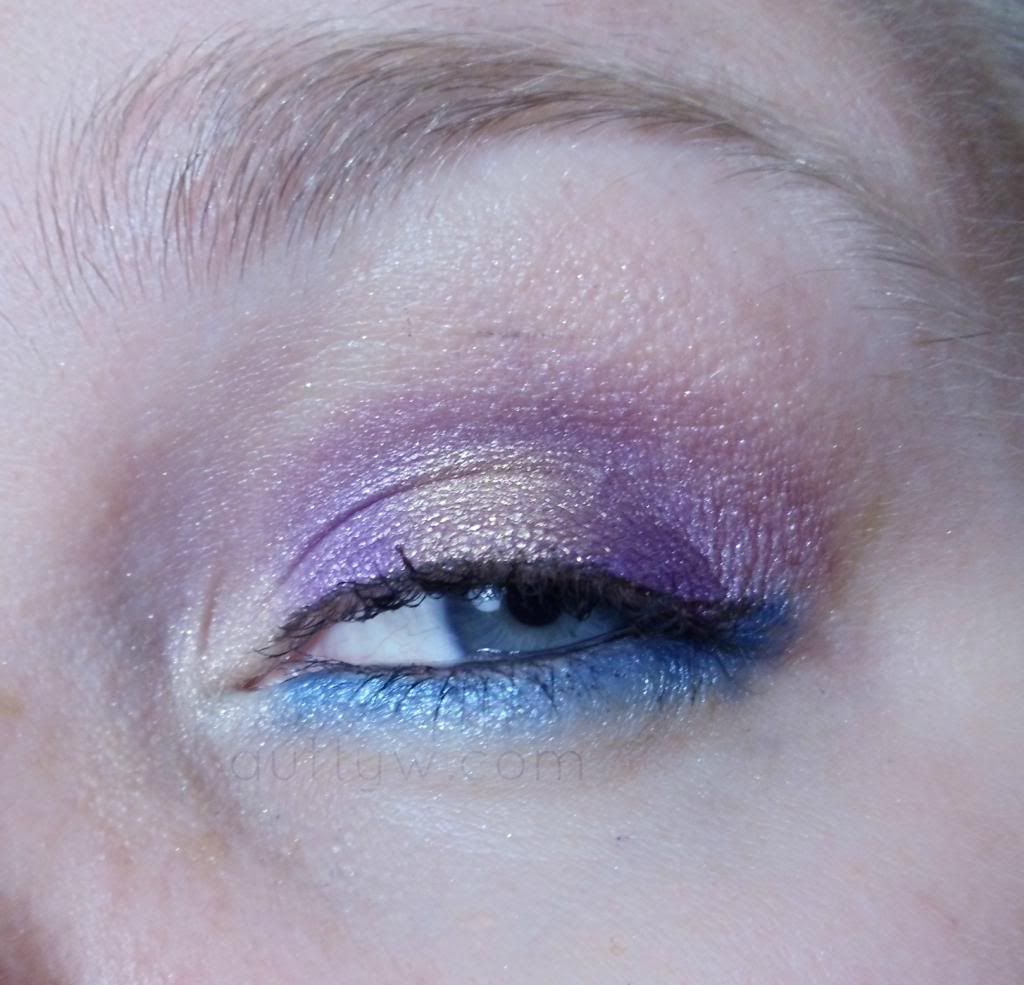 I'm going to try and get a better shot of my eye lashes with this mascara within the next few FOTD's. Damn camera.

Don't forget to follow me on Bloglovin'! GFC is going to be kaput soon!
I hope you all enjoyed this!
Disclaimer: The Revlon Lash Potion mascara was sent to me for review for free. I am not being paid or compensated to use/talk about this product. Everything else mentioned in this blog post was either purchased by myself with my own money or was a gift from Rose of Milkymoles (MUA palette, Rimmel Apocalips) No company is paying, sponsoring me nor am I affiliated with any of the above mentioned companies. The link for the MUA palette is provided for your convenience. I am no associated with A Brilliant Brunette. Her links are also provided for your convenience so you can see what look I am recreating.