Heyyyy Sexy Lady!
:P I have Gangnam Style stuck in my head bahaha.!
So, the past what month? I have been really really self conscious about my nails. I have two very short nubs that do NOT want to grow at all :(. It's kind of depressing honestly. The damn things just will not grow. I decided to just get over it and play around with some nail polish. I've been attempting to paint my nails for 2 weeks. Every time I start, they don't dry completely and get smudged! Ugh it stinks so bad! >_< I'll get halfway done, they get messed up and I just say screw it!
Welp! Last night I got a bug up my tushka and I was DETERMINED needless to say to get these bad boys painted. Woo!
Check out which polishes I used to create this nail look!
Honestly, that was the best picture I could get :(. I'm having such an issue with my camera and can't get it to focus to save my life :( Even in actual natural lighting. Pft.
Basecoat - Sally Hansen Continuous Growth Treatment (discontinued)
Julep - Cindy (green from the Bombshell box)
Julep - Jordan (glitter from the Boho Glam box)
ORLY Liquid Vinyl (black, under Jordan)
Top Coat - Salon Perfect Crystal Clear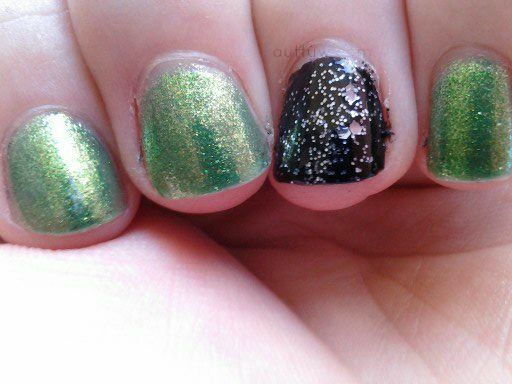 I really like Cindy.It's an Emerald Green (Panetone Color of 2013) with gold microglitter. This is a metallic polish and I LOVE it!
Jordan is a gunmetal glitter. I knew I would love this one when I saw it! I have Essie Stroke of Brilliance looks exactly like it, but it's almost gone, so I will definitely be doing a comparison!
I probably should have done a 4th coat of Cindy because there is still a slight VNL, but I felt 3 was good enough for me! :)
What do you think?
Disclaimer: I recieved Julep Cindy and Julep Jordan from the Central Florida Beauty Bloggers Meetup back in March. I don't know who brought them, but thank you! I'm falling hard for Julep polishes! xx