Hello everyone!
Okay, I don't know what came over me, most of the time I am very against taking full body shots of myself. Call it a confidence thing. I have a very limited wardrobe and it greatly affects my confidence and wanting to post OOTD's etc. So normally I avoid them LIKE THE PLAGUE! No lie.
Seriously though, I've talked with a few people and my wardrobe is my biggest issue. I really only own baggy t-shirts and it kind of makes me feel meh. Not only that but some of them are so old and worn that they are getting holes in them. NO me gusta mucho! Today though I just decided what the hell, I want to do an Outfit of the day! It's nothing exciting, Chris my brother and I are going bowling in about 45 minutes so I wanted to be pretty comfortable.
Oh! Stay tuned till the end! I've got a special appearance by someone! <3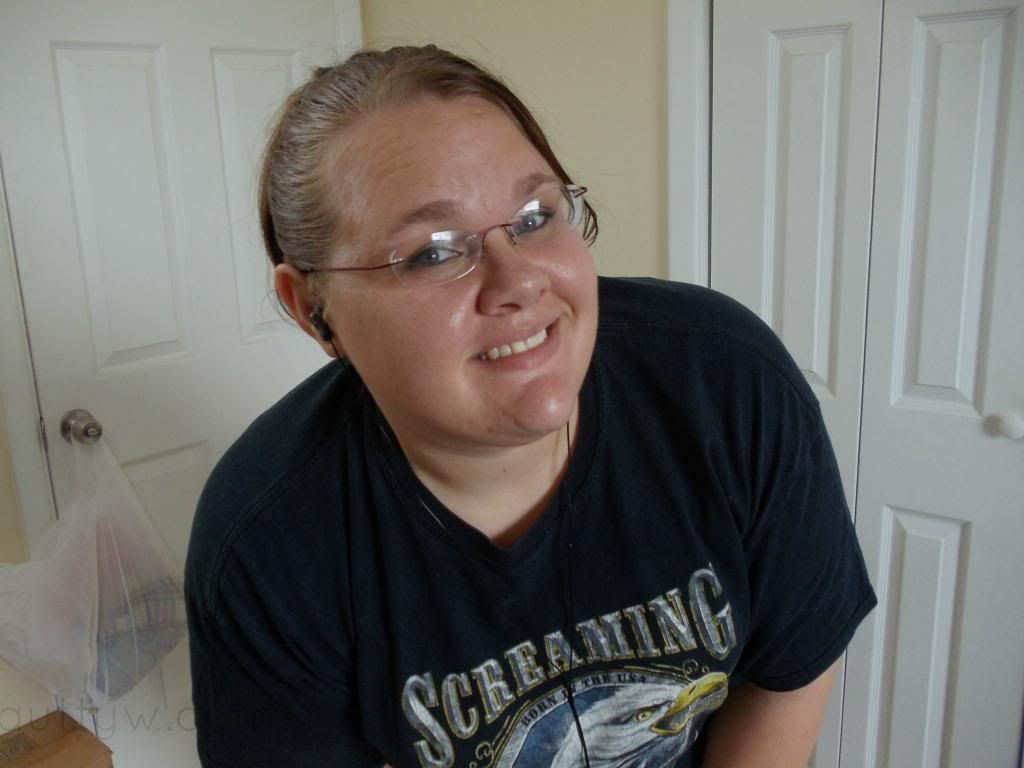 To see my FULL outfit click to read more!
Like I said, it's nothing sexy, outrageous or anything, it's just something comfortable.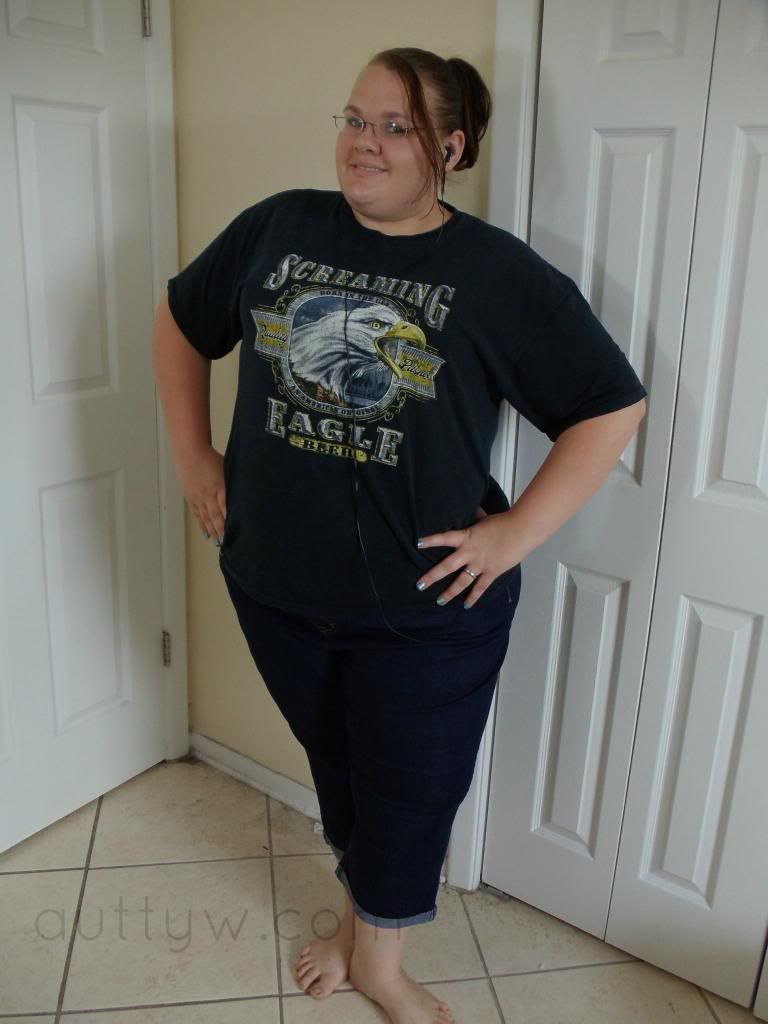 My Capri's are brand new, that's probably why I am such a good mood lol. I got them from Walmart for $16. The brand is Faded Glory.
My shirt is my Dads. I kind of took it the night before the wedding, I kind of FORGOT to actually bring a freaking t-shirt to wear and I kind of just haven't given it back. LOL I don't think he misses it actually, he has more clothes than me and my Mom put together. Pft.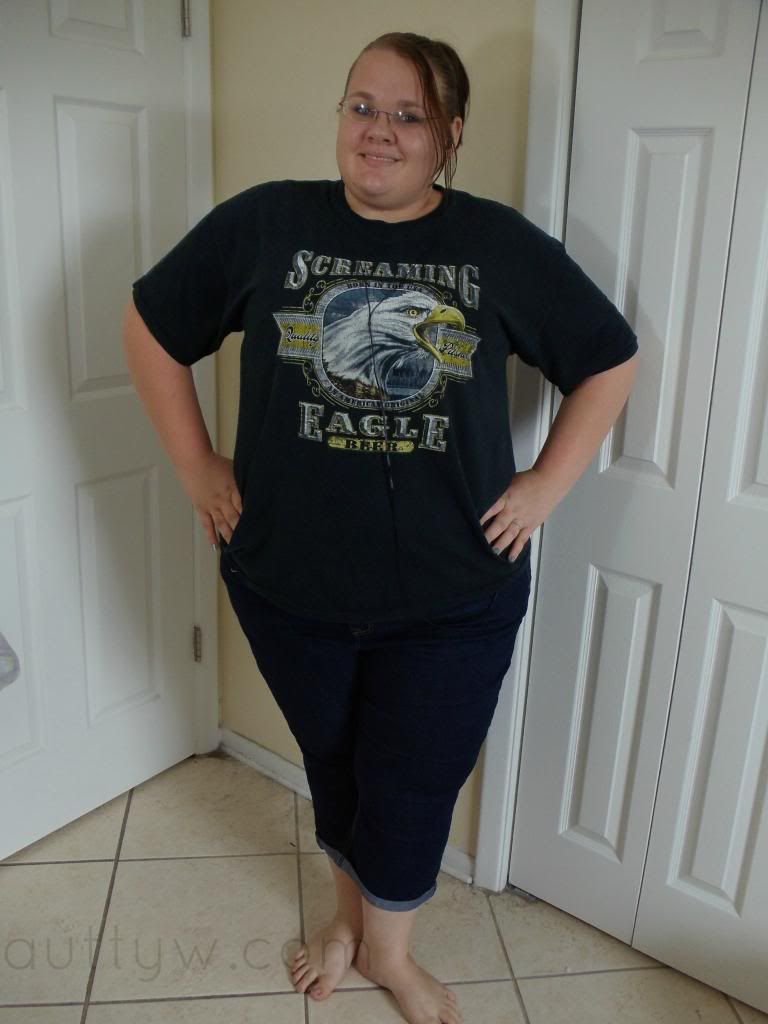 Don't judge my face. I look uncomfortable because I had a pretty hectic night of sleep, filled with locked muscles and joints. Not fun. I'm still kind of recovering hence looking uncomfortable. I decided to take a half side shot and a full front shot (above). Notice my feet? EVERY freaking time I have to stand still etc, my feet are like that. I can thank Color Guard for that! lol. It's actually a really comfortable way to stand. :P
Anyways, so that is my outfit of the day.Like I said, it's nothing special but it's comfortable. I definitely need new clothes though. I plan on doing more OOTD's though and plan on seeing these capri's A LOT. I own one pair of pants and they are about to go in the garbage from over wearing and since my thighs rub, there's a hole. Tis life yo!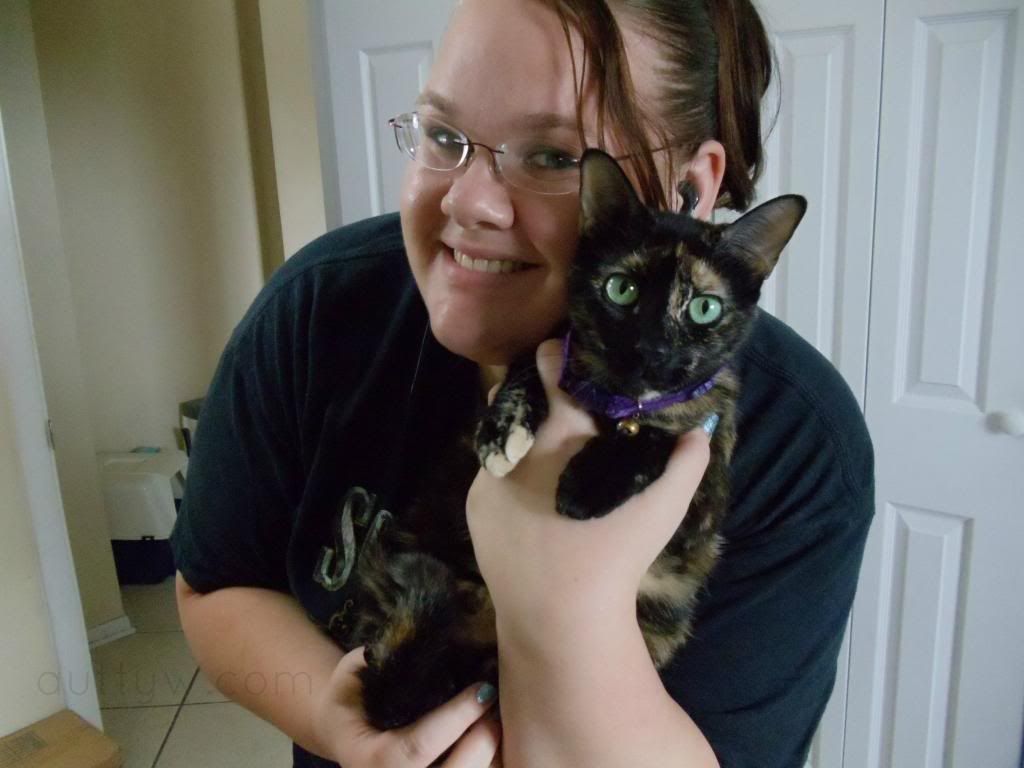 THIS is my favorite picture EVER! She actually was looking at the camera! Squee. !!! That's Anya, my crazy ass cat. If you are following me in Instagram you will have seen her a LOT. :P
I hope you all have a fantastic day!