Hello Lovelies!
Before I even bother to get into this post, I want to say ignore my cuticles like they aren't even there. They were doing SO GOOD and looking nice for once, then we went bowling.. -_- Bowling is h.e.l.l. on cuticles, on both of my hands, my cuticles were even bleeding. Ugh.
Enough aboot that!
Strap On Your Moonboots is the polish that I was the MOST disappointed with in my last haul post. In the bottle it isn't that crazy of a holographic polish, but on the nails it's not as bad. The holographic-ness of the polish comes out a bit more but it's still faint. It kind of reminds me of those holographic cards from the 90s. :P
If you have never tried any of China Glaze's holographic polishes then I will fill you in a bit on their formula. This formula is exactly the same as their Tronica collection from 2011. The formula is VERY thin, it wont flood your cuticles, but it will dry very quickly. That is one thing I do happen to love about the holographic's is how quickly they dry. Typically you only need 2 coats, 3 at the most.
To see the rest of the post, click on
Strap On Your Moonboots is a navy blue holographic.
Since the formula on this polish is very thin, this most definitely will settle and show every imperfection/line on your nail. Le sigh! I was slightly annoyed with this. Mind you I did NOT use a base coat in these pictures.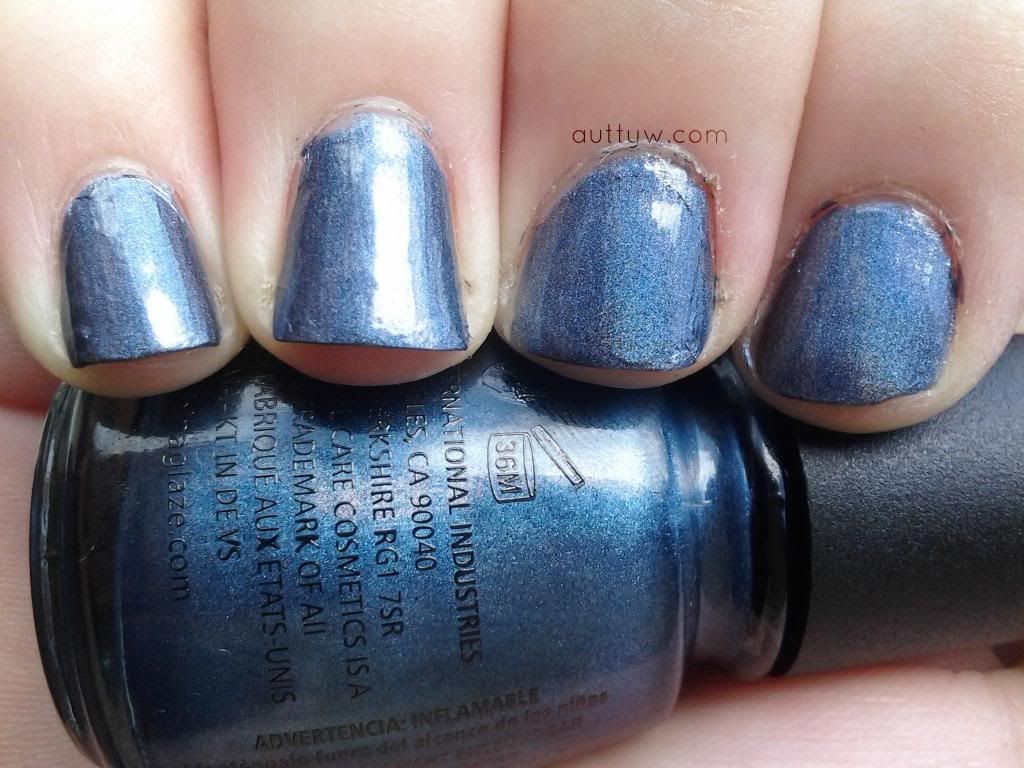 This picture and the picture above were taken NOT in direct sunlight. It wasn't exactly shady but it wasn't sunny either. You can see the holographic aspect of the polish and you can see every imperfection etc in my nails.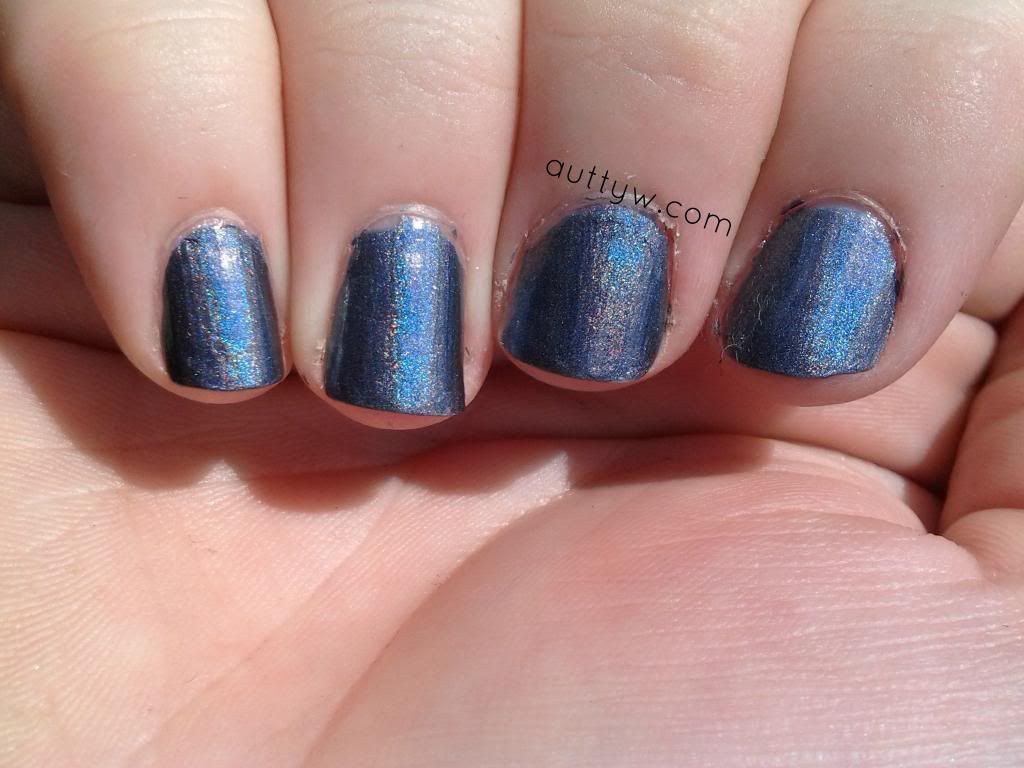 I took this picture in direct sunlight. The holographic is a bit stronger, but it's still nothing insanely impressive.
While. I like the color of the polish, I wish that the holographic is stronger, that is me though. I LOOOOVE what Cynthia of Of Life and Lacquer called this whole collection. Holofraud! That is probably the best thing I have heard in a while. I probably could have cleaned my cuticles up, but I was in a hurry and didn't realize they were so ganked up looking loll. I should probably wait to do more nail posts until my cuticles look better huh?? Oh! This is with a top coat on as well.
Oh! Side note, I tried this with a base coat on the other hand and you have to be careful. I found that with using a basecoat the polish dragged, even when dry. It became more of a hassle then just not using a base coat. However the nails did look smoother, so I guess it's worth it? *shrugs*
What do you think of this polish? I definitely do NOT think it is something to go run out and buy, you could probably skip on this entire collection honestly. This polish retails for $8.99, so it's most definitely something you can pass on in my opinion. There are way better holographic polishes out there.