Hello everyone!
Before I even get into this post I want to tell you that I am so sorry I am so behind! When we went to Orlando for 3 days we were SUPPOSED TO have Wifi in the room and there was NONE. I will be damned if I am going to sit in the lobby for hours with weird people watching me. Trust me it KILLED me not being able to interact and blog like I wanted! :( BUT I am going to get back into the groove! Unfortunately as well I'm going to have to stop the FOTD Challenge. I really don't want too but with moving then having no internet to do posts I am about 2 weeks behind and I wont be able to make those days up. It stinks!
Since I was working Premiere for the brand Olivia Garden I KNEW I was going to have Sunday off because I had a CVS Nuance party with ClumpsOfMascara. Corrinne from GalacticLacquer and I decided that on Sunday before the party we were going to SHOP! Let me tell you, this girl is amazing for one, but she was also a bad influence, but in a VERY good way hah. She influenced a chunk of the polishes that I bought. Haha which is A-OK with me! But lets get into the polishes! (there are ALOT) All of these polishes were on amazing deals for Premiere. I'll tell you the prices, but honestly don't expect to find them at these prices unless you go to a beauty trade show like this
The first polish I have to show you is from Trind. This brand of polish comes from Holland. It also happens that they were giving this color away. None of their polishes have names but the label says
CC116
This purchase was DEFINITELY influenced by Corrinne 100%. I probably would have not bought it if she wasn't there actually.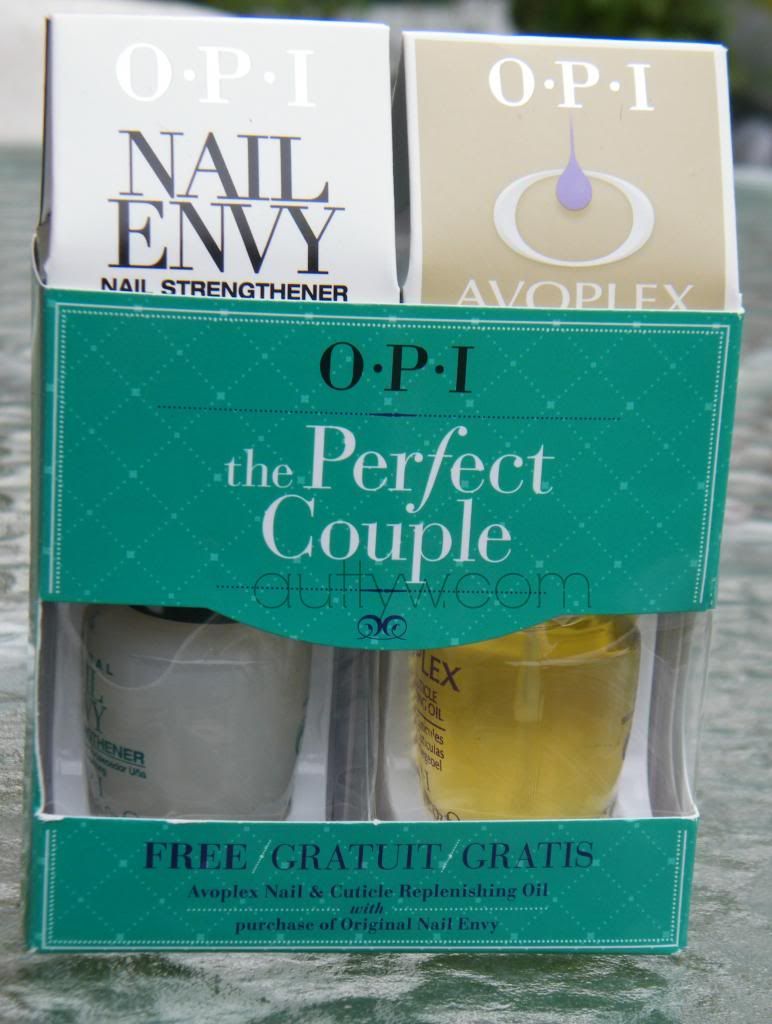 Nail Envy & Avoplex Cuticle Oil $8 for the set.
Click to read more<3
Nubar is a brand that I have been eyeing for a LONG time, but I hate ordering online so I've just never bought them. These polishes were $3 each.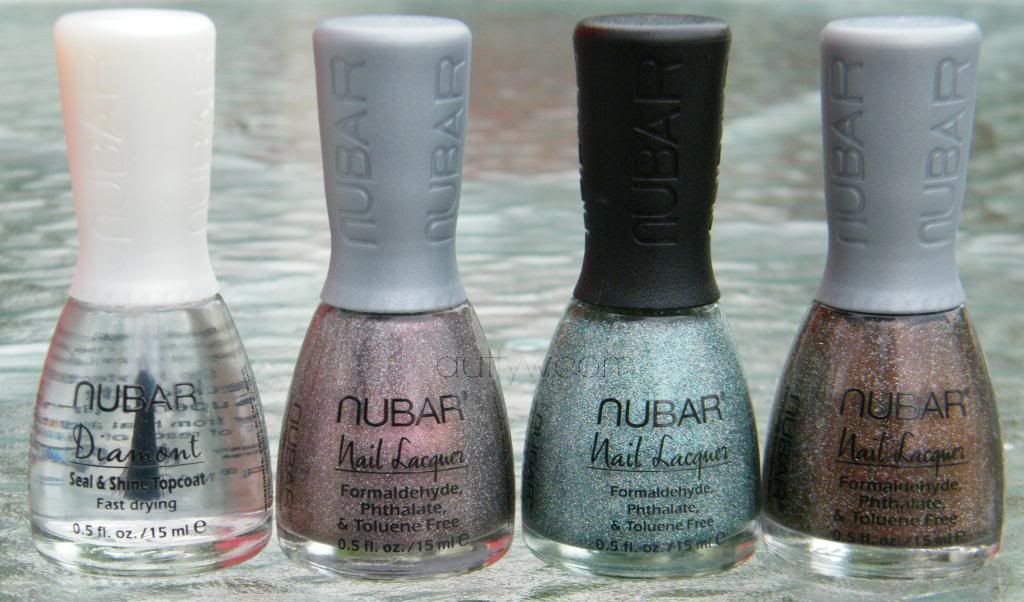 L/R - Diamont Seal & Shine Top coat - Gem - Green/Silver Glitter - Jewel
I've never heard of Venique before so I definitely could not pass these up! They were 6 for $15. They also gave a purse when you purchased 6 but my sister claimed that pretty quick.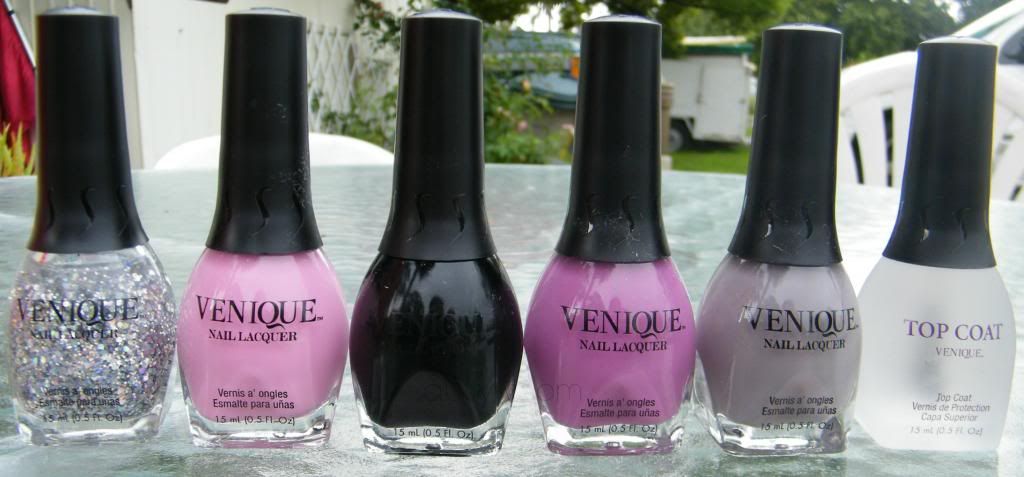 L/R - Twinkling Glitter - Heel D'Orsay - Dominating Thigh Highs - Jamin' In Jellies - Steel Toe Stud - Top Coat
I definitely had to hit up Zoya. I've been dying to get a hold of their pixie dusts and I have almost all of them. I'm missing a few. I can't remember what they were priced as but it was cheap!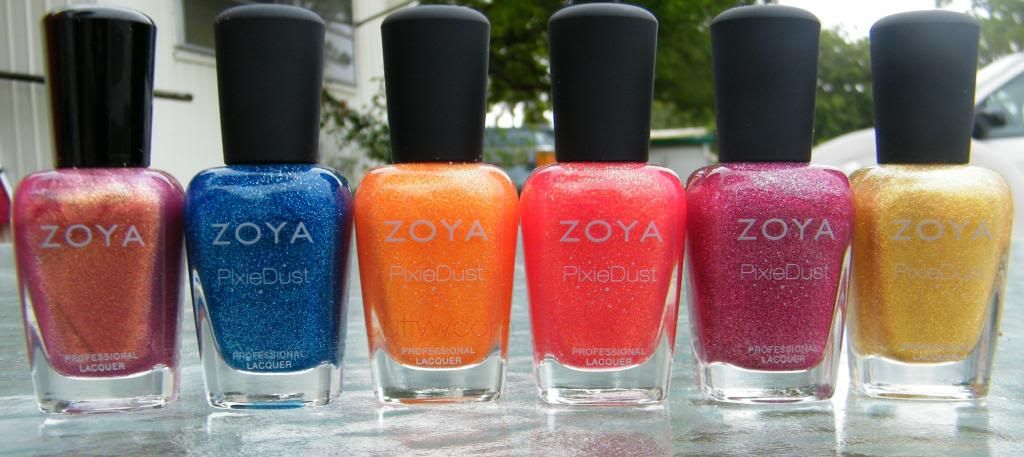 L/R - Tinsley - Liberty - Beatrix - Destiny - Miranda - Solange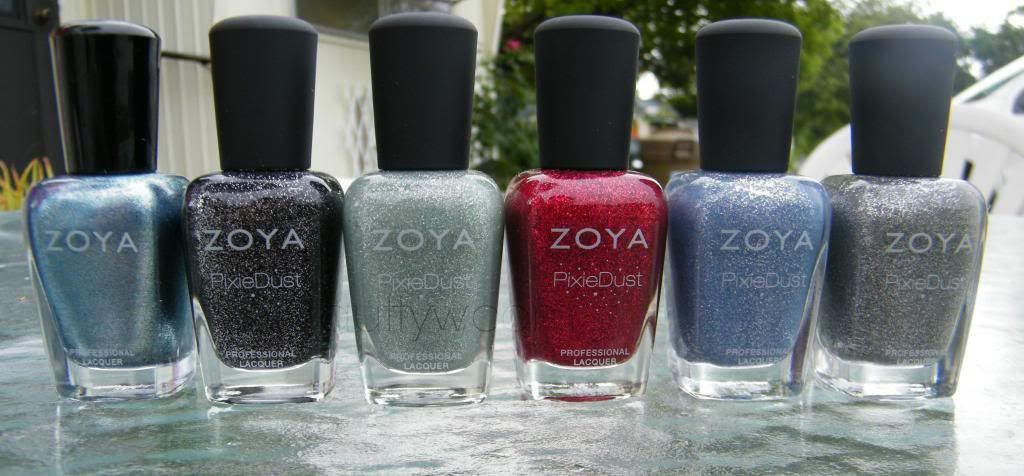 L/R - Hazel - Dahlia - Vespa - Chyna - NYX - London
I also picked up their Remove+ because I've been hearing amazing things about it! The bottles were buy 2 for $25 get 2 free. So 4 for $25 you couldn't pass that up! Especially not the 32 ounce bottles!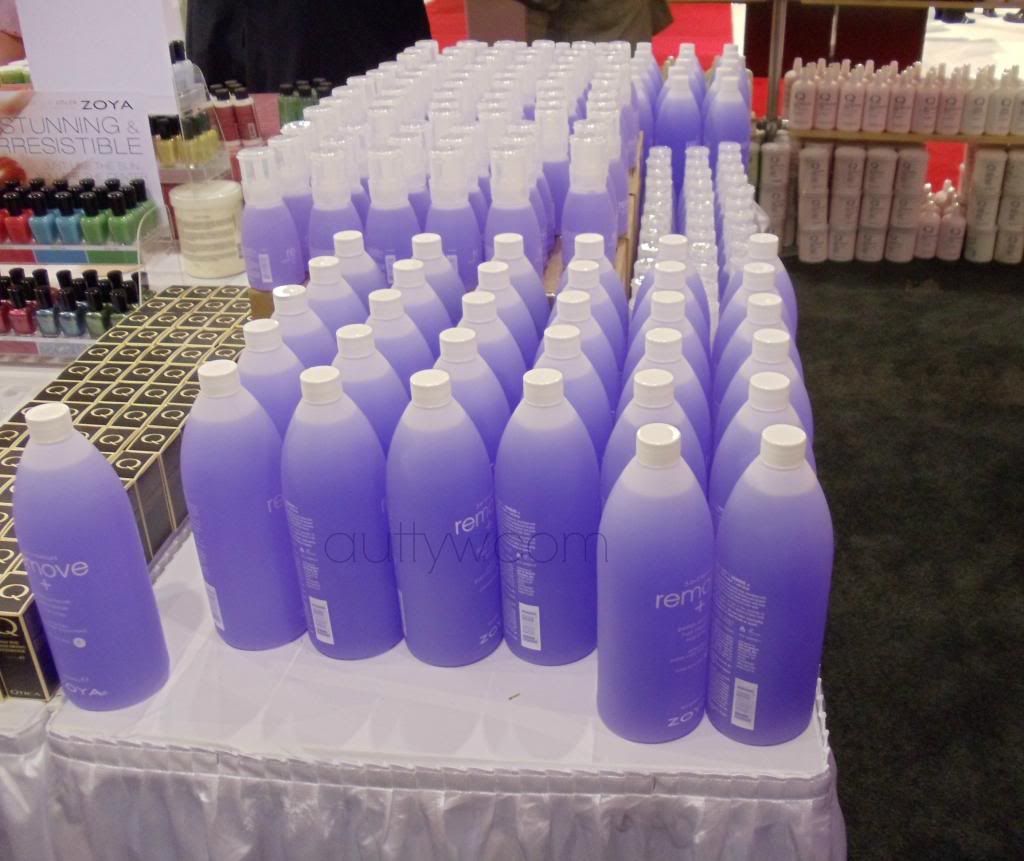 This is the second Zoya booth. They were selling all of the body stuff and remover. They also had some sets but they were $24 each and buy 2 get 1 free. I didn't have enough money then so I just went for the Remover. That spot with the 4 missing is where mine were. LOL. I forgot to take pictures of them. Plus 3 of them went to Let Them Have Polish and I took the other one. You can never have too much remover!
We hit up the ORLY booth as well and I got the rest of their MegaPixel FX collection and a few others and Oh my ever loving goodness! I found a polish that they stopped making in 2011 from their OLD collection. I almost pee'd with excitement! That polish and the megapixel are what drove me to pay 6 for $22. They were the most expensive ones of the day. Oh well! ORLY is my 2nd favorite brand. Corrinne also inspired a polish or two also lol.
(
side note: the pictures from here on down are kind of meh. It was cloudy and rainy today and I had to dodge the rain to get good pictures. So the super awesome holographic/shinyness of some were not picked up :( )
L/R - Sparkling Garbage - Space Cadet - Pink Pixel - Rose Pixel - Silver Pixel - Plum Pixel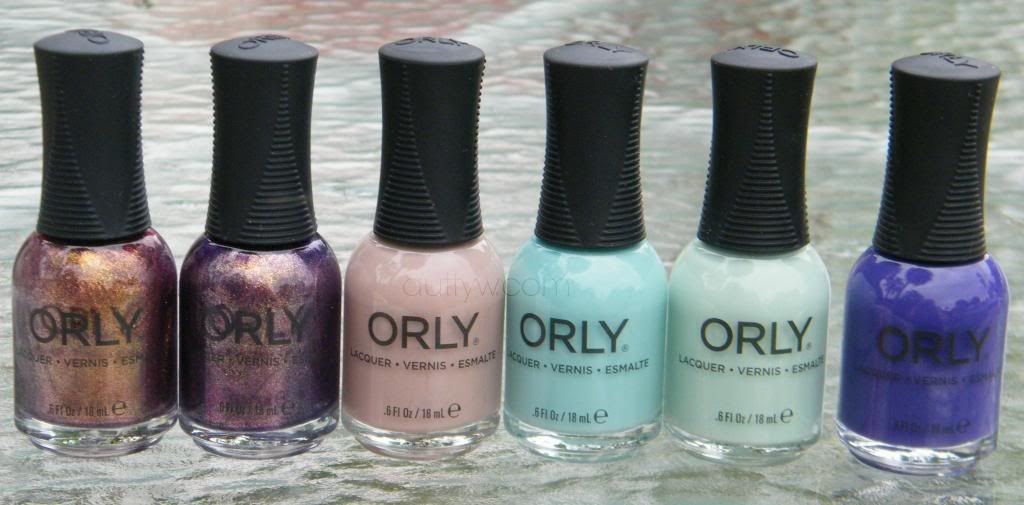 L/R - Ingenue - Oui - Country Club Khaki - Gumdrop - Jealous, Much? - Charged Up
Let me warn you now. Be crazy prepared. I went a "little" bit crazy at China Glaze. Their polishes were 6 for $15 or for their newer collections 6 for $18.
Let Them Have Polish definitely inspired my purchasing of the Texture polishes. Once I saw her Skittle mani with a couple of them I was like YUP they will be mine!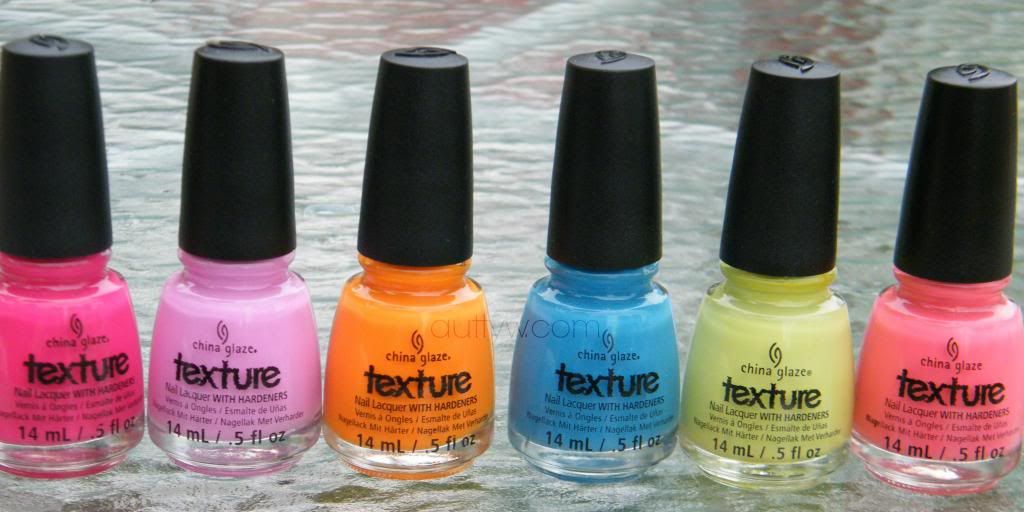 L/R - Bump&Grind / Unrefined - Toe-Tally Textured - Of Coarse! - In The Rough - Itty, Bitty & Gritty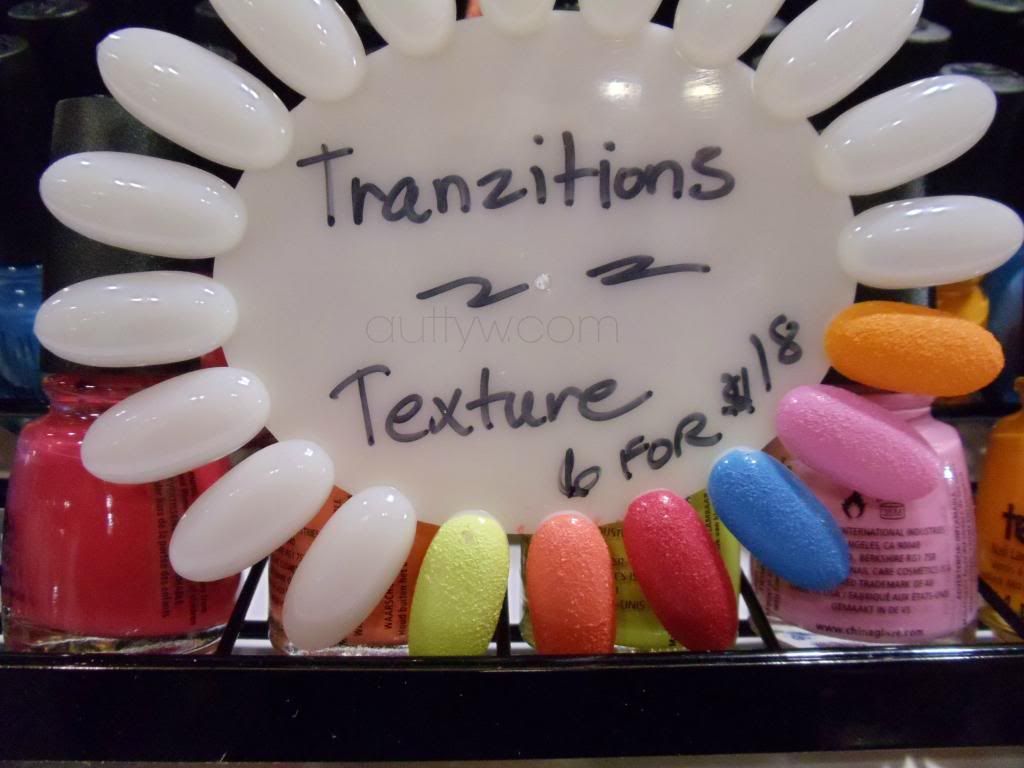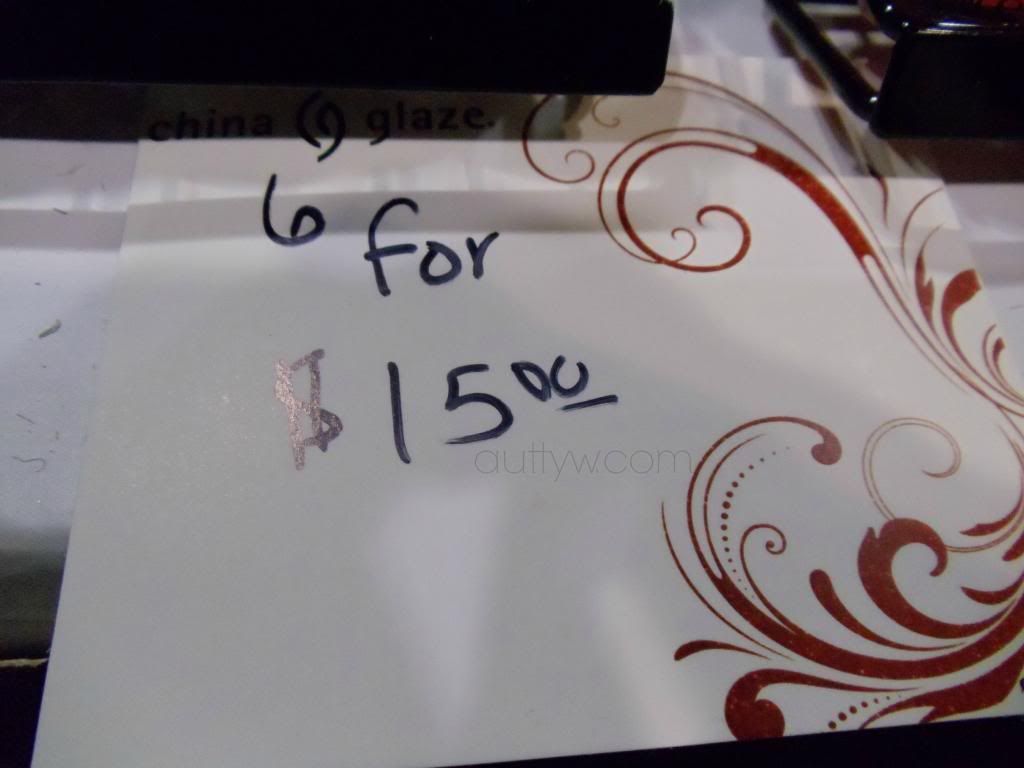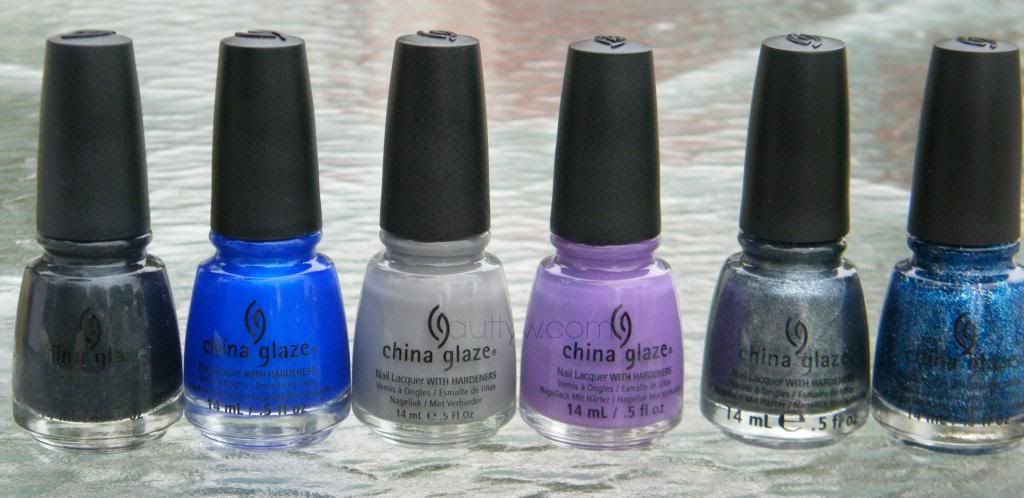 L/R - Black Diamond - Frostbite - Recycle - Spontaneous - Jitterbug - Dorothy Who?
L/R - Surfin' For Boys - Luxe and Lush - Keep Calm, Paint On - Snap My Dragon - Desert Sun - Secrets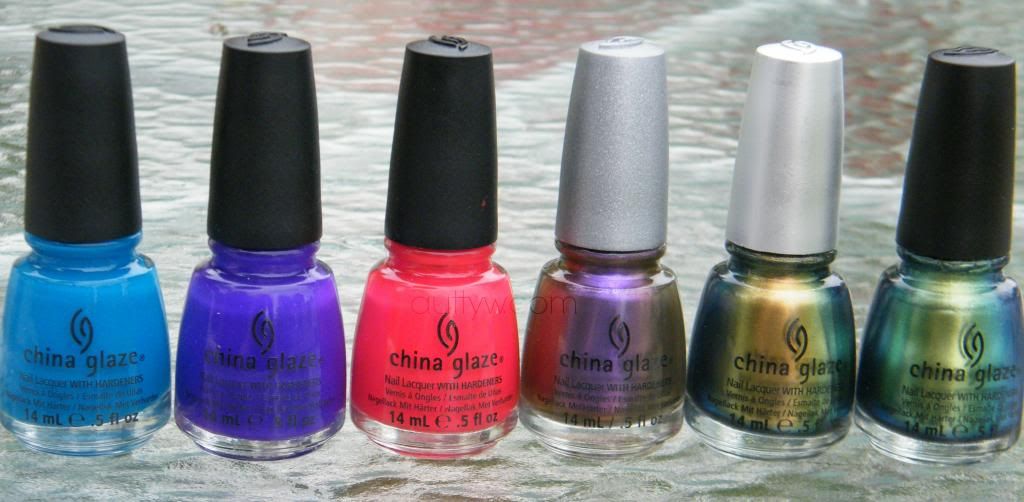 L/R - Hanging In The Balance - Creative Fantasy - Igniting Love - No Plain Jane - Rare & Radiant - Unpredictable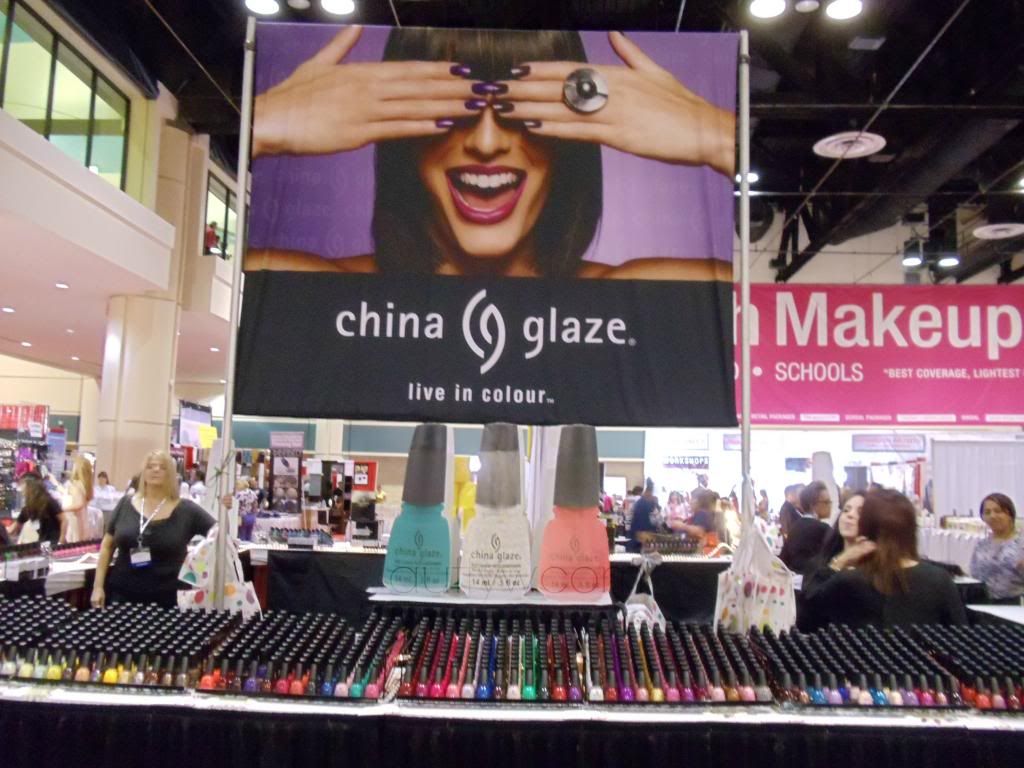 Look at that SEA of nail polish! Girl, that wasn't even all of them! This booth had FOUR sides FULL of nail polish. I could have bought them all if I had the money!
Oh lordy! I just found these sitting on my bed I can't believe I forgot them! I thought something was missing!! This duo was only TWO dollars! Uhm yes thank you!
The Duo is Winter Affair and neither of these polishes have names on them so I honestly can't help about that at all. The one of the left is a Flakie top coat. (I looked on The PolishAholic and she has the name of the! thank goodness!) The purple is Glitter Wonderland and the left is Snow-Flakes
SO that is my entire nail polish haul from Premiere. I had so much fun shopping with Corrinne from GalacticLacquer! It was so much fun hanging with her !! Definitely go check out her blog as well!
I also got a brush from Olivia Garden, but I forgot to take a picture of it. Plus, I am sure you all just wanted to see the polish! I've got a LOT of other polishes that I bought throughout last month, should I do a collective haul with those later in the week? Let me know!!
Disclaimer: Like I said before, I bought these ALL with my own money.