Hello!
I hope that you all are doing well! Are you excited for a makeup post finally?! I have quite a few more that I need to get done, but since Chris and I moved out of the apartment, it's been really difficult for me to put makeup on because I either don't have time or mostly because I have no where to put it on at. Yes I could do it in the bathroom, but it's not as easy as it sounds. So my makeup has really been getting neglected as of late. Hopefully we will be able to get in the house soon (don't even get me started on that honestly) but, I'm not rushing it. :)
Anypoodles.
The Maybelline Color Tattoo Pure Pigments are a recent release and it's something that took me about 2 weeks to actually find. I wound up finally finding them at Walmart. *gasp* Yes, I shop at Walmart, the ones that are around me aren't that bad. I only have 3 of the (I believe) 9 pigments. The ones that I picked up, I knew I would get some kind of use out of. It took everything I had to not get more of them.
They retail for between $6-$9 depending on your location and where you go. I've seen them as low as $5.89 and as high as $10.99 (on eBay.. that is insane!) I paid $6.98 at Walmart. These just started showing up in stores as of July 1st, so don't get your knickers in a knot if you can't find them yet! :)
You get 1.5g of product in each jar the the one thing that I really like about these is that there is a sifter. BUT even with the sifter you have to bang some out and it's not messy. Thank gosh for that, pigments can be a real big mess if you aren't careful.
For example, I spilled almost an entire jar of my Sugarpill Tiara..it was a sad sad day!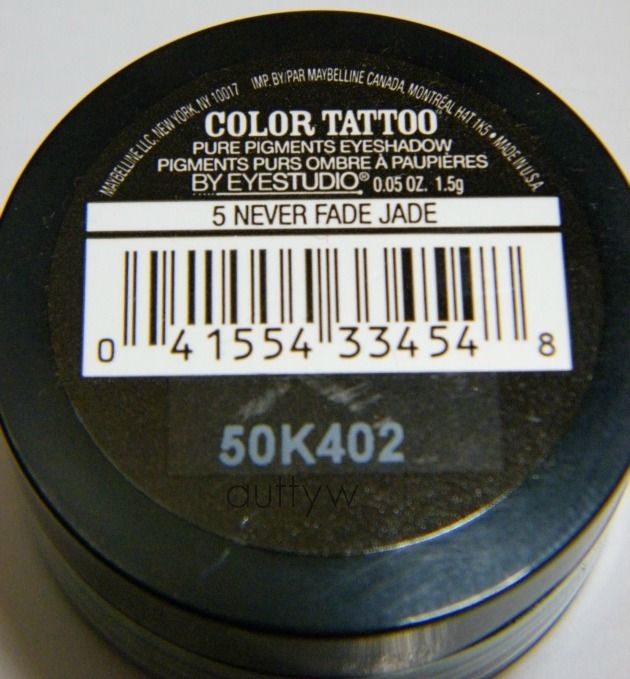 Never Fade Jade is a Teal color (
to me at least
) That has a gorgeous silver sparkle to it.
NFJ is the disappointing one, when it's not over a primer, only because it applies uneven, patchy and just all around blah, but once you put it over a primer, I think it's a fantastic shadow.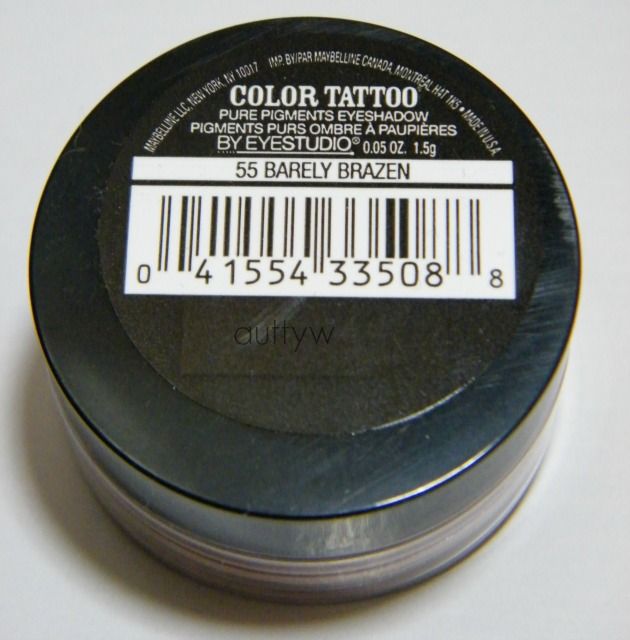 Barely Brazen is shimmery champagne.
I bought this one to primarily be an inner corner highlight because it's sparkly and just all around gorgeous. I've heard a couple people compare this to Stila's Kitten, but I don't have that shade so I am not sure how true that is, but it is definitely a nice (and cheaper) alternative!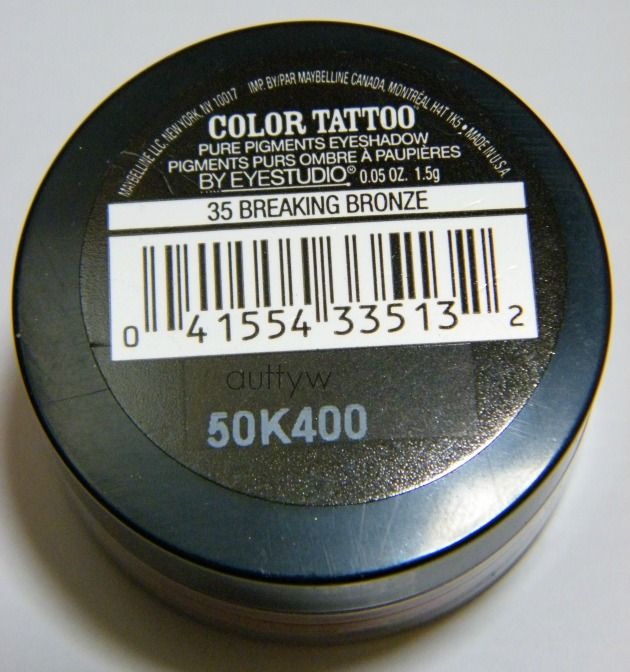 Breaking Bronze is more of a copper shade then it is a bronze shade. This definitely has a metallic finish and I really love this! Y'all know how much I love my gold, bronze and copper shadows!
How gorgeous! This is over Milani's Eyeshadow primer
I know there is a LOT of mixed reviews about these, but I think if you use them over a primer they are gorgeous. I actually regretted getting these a few hours after purchasing them, only because I have seen quite a few negative reviews about these. Luckily for me I couldn't find my receipt, and I am so glad that I couldn't!
As for wear time I can't say how they wear because my allergies have been so bad lately that my eyes have been watering so much nothing lasts on me. But I can say that they do have a pretty decent wear time! Now that I have proper allergy medicine I will give these another test and let you know on twitter! :)
Have you tried any of the Maybelline Color Tattoo Pure Pigments? Which ones?! I really want to get them all!
Disclaimer: I purchased these with my own money.