Hey everyone!
Okay, I know what you are thinking. Guuuuuuurl?! Dog food? Come up off of that!.. Seriously, the animals that are in the house play a huge part in my life. Pets are absolutely amazing and they can help with your mental health in a fantastic way. :) Plus, hello pets are cute! 'Nough said.
I do want to apologize for this shoddy picture. It's from my iPad. I forgot to take an "actual" picture of the bag before it got thrown out.
Puring Light & Healthy is a new food that recently came onto the market. It is a low calorie food made with real chicken. (yum!) It also had two different textures; crunchy and tender. This particular food has 25% FEWER calories than Purina Dog Chow Complete & Balance food.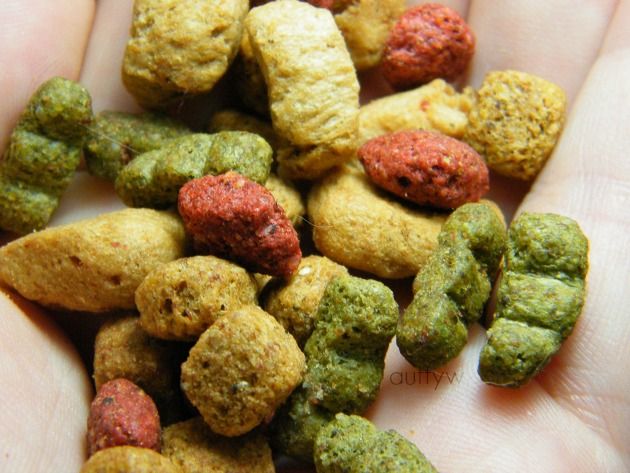 The thing that I really like about this food is that it has real chicken chunks in it, that is the one thing that I noticed as soon as I opened the bad. Rosie and Kyri both actually loved the food, which really surprised me since they are quite picky when it comes to their dog food. Now, when you change up a dogs food it can give them diarrhea, and thankfully this did NOT. Which was nice, because there were no accidents to clean up!
Anya was just smelling it. She has to smell EVERYTHING..she is like me...
Funny enough not only did the dogs like this but so did my Niece. NO we don't feed her dog food. The little bugger. We actually found her digging in the dogs food one day after she woke up from her nap. She is one crazy child, she loves dog food...NOW don't go actually feed your children dog food, it's not good for them and I don't suggest you eat it yourself. I just thought it would be cute to share that my Niece seemed to like it.
Rosie and Kyri thought this was the absolute greatest. They kept trying to get into the container where the food is kept because they wanted more and more! Crazy dogs. If they could talk I know that they would tell you how much they love it! I definitely recommend trying this out for your dogs if they are a bit overweight.
A dogs weight is just as important as your weight. You don't want them to be too under or over weight. Kyri is about 50 pounds where Rosie is around 75. Kyri is a bit overweight and Rosie is at a perfect weight for her size. They definitely eat quite a bit of food between the two of them. Rosie is a black lab and Kyri is a lab/sharpei mix. (Mother and Daughter) If you want more information on how much food your dog should get for their weight etc go to Purina's website (Dogchow.com) If you want more information on this food go HERE
ALSO! If you would like to request a sample of this food to try out for your dog click this link!
Kyri (My Dog)
Rosie (My Dad's Dog)
Will you be checking this food out?! Let me know down below! xx
I received this product for free from Purina Dog Chow. All opinions are 100% my own.