Hello loves!
This is the last part of the mini series! I hope you all are enjoying this as much as I am! x
Today we will talk about Rides, Shows, Passes, Tours, Merchandise, Special Offers and discounts! :D
This is basically going to be more of an informational post. There aren't many pictures honestly.
If you missed the two previous posts check out The 13 here and The Scares HERE
Let's start with Shows
Is there a doctor in the house? These captivating creatures of the night will infect you with dance fever and keep your pulse pounding with their deranged dance party. But when Dr. Freakenstein's naughty nurses start operating, the diagnosis is always "code pink."
RIDES:
Montu, SheiKra, Cheetah Hunt, Kumba and Gwazi are the roller coasters that will be open.
Tidal Wave, Sky Ride and I'm sure more will be
closed
Front Line Fear Passes
There are TWO
Front Line Fear Regular: $40
Front of the line access to the Haunted houses ONLY (not valid on The Experiment) You also get a 20% discount in all gift shops, BOGO offers at all Ride and Fear Photo locations and unlimited BOGO at Timbktu Games
No discounts, card must be punched at time of admission to house. Front line access is void after all 7 redemption spots have been punched.
Front Line Fear EXTREME: $50
Front of the line access to 7 haunted houses of your choice (
this means you can either go into one house twice and wait in line at another house or get front of the line access to all 7
) and front of the line access to each of the 5 major roller coasters (
Cheetah Hunt, SheiKra, Kumba, Montu and Gwazi
) You also get 20% off in all gift shops, BOGO at all Ride and Fear Photo locations and unlimited BOGO and Timbuktu games.
No discounts. card must be punched at time of admission to each house and roller coaster. No preferred seating on roller coasters. Rides are restricted by guest age, height, size and physical condition.Height determinations are made at each ride location
VIP TOURS
There are THREE
Each tour comes with complimentary drinks at Check-In and at various locations throughout the park. Each tour also gets you a guide and front-of-the-line access at each of the haunted houses. Each tour has specific perks so when booking please read carefully. This will only be basic information about all 3.
Capacity
Up to 20 people per guide.
Booking
To book any tour call the Reservations Center at 1-888-800-5447 or go HERE
When booking for the tour please also remember that you are going to be bundling your admission ticket and the price of the tour. The combined price will be posted next to each tour.
Times
Tour departs between 5:30-9pm. Check in at the HOS VIP Tour Center prior to 5:30pm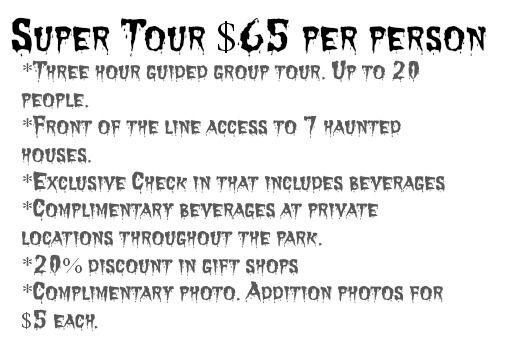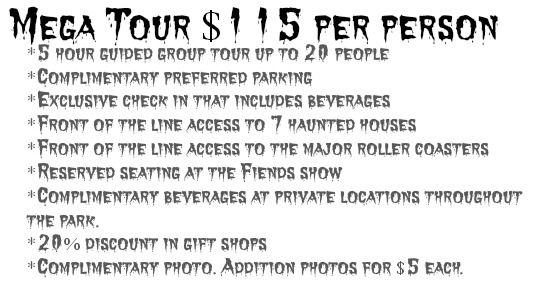 The additional information for the tours will be provided when you book your tour.
Tickets
Howl O Scream is a separate paying event. You need to purchase a HOS ticket to attend. Depending on the type of pass you have, you can get discounts.
To purchase tickets go HERE. You can also purchase tickets AT Busch Gardens, but it is easier to pre-purchase them otherwise you will be waiting in lines forever.
Special Offers
Thrills & Chills Weekend Pass -
$89
Valid for one weekend Thursday-Sunday of unlimited Busch Gardens' daytime admission plus all three HOS event nights.
no pass member or advance purchase discount
Recurring Nightmare Pass
- $89
The Recurring Nightmare pass is valid for unlimited even visitation on Thursday and Friday nights, September 27- October 26.
Only available for purchase at BG front gate ticket windows. Excludes Saturdays. No pass member or advance purchase discount
AAA Discounts
- $47.99
AAA members can purchase HOS tickets from participating Auto Club South locations or website.
Retail Discounts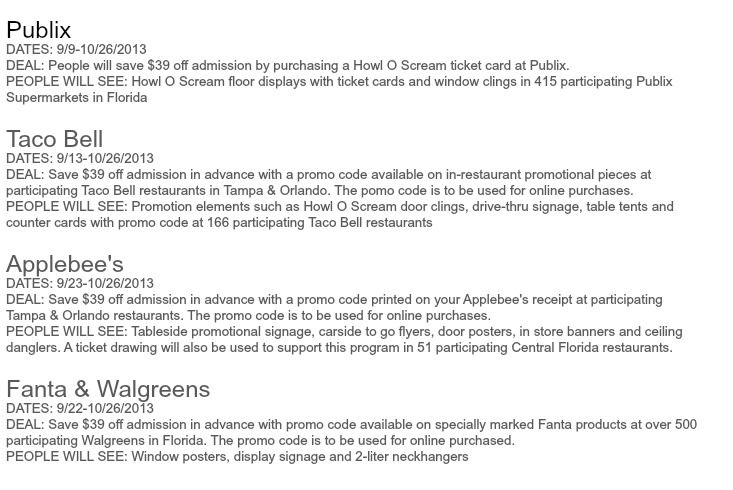 Merchandise


Are you as excited about Howl O Scream as I am?! I can't wait to do! I'm definitely going to be reviewing this years theme when the time comes and after I go! xx
Check out the other two posts associated with this series. The 13 & The Scares!
Disclaimer: I am not affiliated with Seaworld Parks and Entertainment. The fiends picture is property of
http://seaworldparks.com
. I do not own them. All pictures came from
HERE
.
The pictures with special fonts were all made by ME