Hola everyone! I am so sorry this took forever to get up. Getting Chris to give his opinion on something is like pulling teeth! Then, my laptop broke and I was without that and the pictures were on the laptop. Totally bogus past couple of months I have been having! Bah, but without further adieu lets get on with it!
Hyd For Men
sells everything else you might need for that clean and close shave. I decided to grab these from the iFabbo shop for Chris, because I figure what the heck, why not?! He needs to shake up his routine a little bit.
Shave Cream
Not only did Chris use this but I did as well. I wanted to test it from a womens perspective.
Chris said that the first time he used this, it didn't lather up on his face at all and it wound up clogging the razor blades. Not only that but he also wound up nicking his face in a couple of places. He's going to give it a couple more shots, but right now he doesn't have much of a good opinion on it. He thinks it is because his facial hair is so thick that the cream just doesn't do much for him. He normally uses foams on his face.
Myself personally, I really like this. Not only does it smell absolutely AMAZING (think orange creamsicle), but it's one of the nicest shave creams that I have ever used. It's pretty dang luxurious. I've used this quite a few times and I got such a close shave that it was like I waxed, but without the pain. My skin also felt extremely moisturized! Just wow, I really love this. But in the end, I probably wouldn't purchase this even with as much as I liked it. It's kind of expensive for a shave cream to be completely honest. I normally just use my conditioner or a body wash.
Retails for $12.99 for 150 mL
Ingredients:
Aqua (Deionized Water), Aloe Barbadensis Leaf (Aloe Vera Gel) Juice,Disodium Laureth Sulfosuccinate, Sodium Cocoyl Isethionate, Cocamidopropyl Betaine,Sodium Lauryl Sulfate, Stearic Acid, Glyceryl Stearate, PEG-100 Stearate, Sodium Polyacrylate, Isopropyl Palmitate, Caprylic/Capric Triglyceride, Glycerin, Propylene Glycol, Simmondsia Chinensis (Jojoba) Leaf Oil, Olea Europaea (Olive) Oil, Cocos Nucifera (Coconut) Oil, Mineral Oil, Hydrolyzed Wheat Proteins, Hydrolyzed Wheat Proteins, Tocopheryl Acetate (Vitamin-E), Glycine Soja (Soybean) Oil, Camellia Sinensis Leaf (Green Tea) Extract, Dimethicone, Sodium Stearate, Citrus Aurantium (Orange) Oil, Sodium Hydroxide, Carbomer, Palmitoyl Tetrapeptide-7, Palmitoyl Oligopeptide, Aceteyl Hexapeptide-8, Titanium Dioxide, Phenoxyethanol, Ethylhexylglycerin
Buffer Stick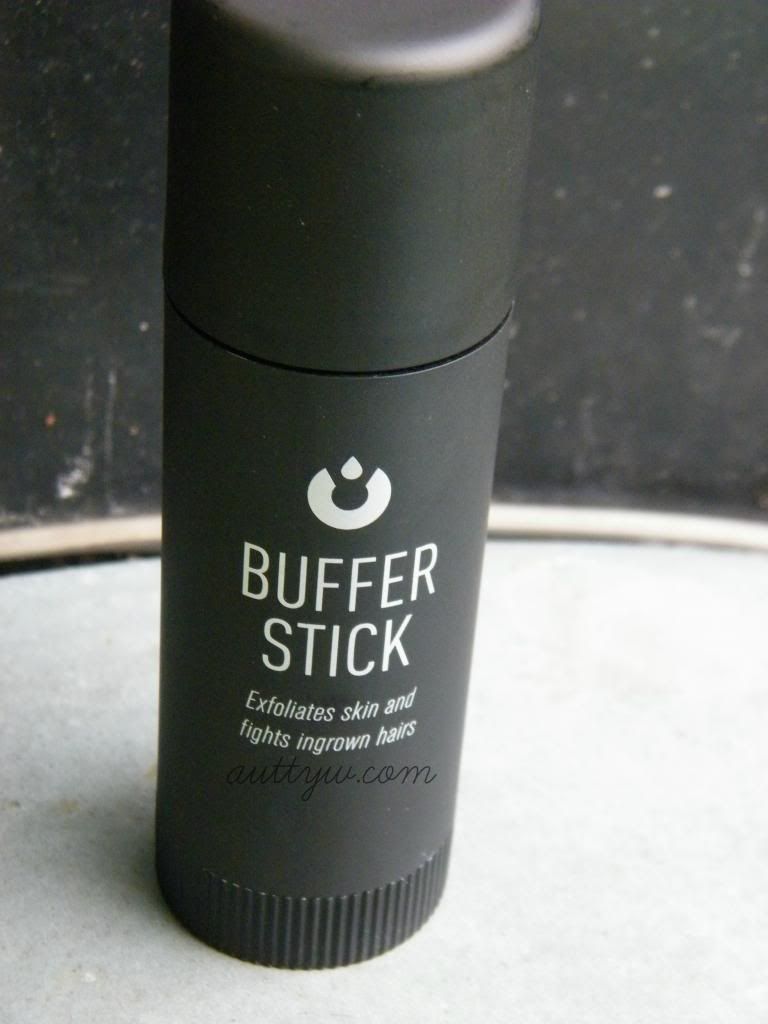 Chris said that this was nice, but he forgot to use it most of the time. He did notice that it helped reduce the amount of ingrown hair he gets. The hair on his face is extremely thick and coarse. In the end he said he wouldn't pay the $24.99 for it because it wasn't that important in his routine. He felt that it was a bit more money than he was willing to part with. He also mentioned that it looked like it had glitter in it and he didn't want to look like a sparkly vampire.
Retails for $24.99
Ingredients:
Propylene Glycol, Aluminum Oxide, Nonyl Nonoxynol-150, Water, Sodium Stearate, Dipropylene Glycol, Chondrus Crispus (Carrageenan), Retinyl Palmitate, Tocopheryl Acetate, Coffea Arabica (Coffee) Seed Oil, Camellia Oleifera Leaf Extract, Ferocactus Wislizenii (Cactus) Extract, Orchis Maculata Flower Extract, Hydrolyzed Soy Protein, Glycyrrhiza Glabra (Licorice) Root Extract, Cucumis Sativus (Cucumber) Fruit Extract, Arctostaphylos Uva-Ursi (Bearberry) Leaf Extract, Magnesium Ascorbyl Phosphate, Chamomilla Recutita (Matricaria) Flower Extract, Hydroxyphenyl Propamidobenzoic Acid, Caffeine, Aloe Barbadensis Leaf Juice, Glycerin, Butylene Glycol, Pentylene Glycol, Caprylyl Glycol, Lauryl Methacrylate/Glycol Dimethacrylate Crosspolymer, Mica, Titanium Dioxide, PVP, Trihydroxystearin, Fragrance, Phenoxyethanol
Razor Shield
This is the only product we didn't test, so neither of us can really attest to how it works. Chris normally uses an electric razor and you can't use this on electric razors. While he thinks that when he does go back to regular manual razors he will give this a go in the hopes of saving some money because we all know how expensive razor blades are.
Retails: Classic 15mL (
shown
) $17.99 - Starter 5mL $6.99
Ingredients:
Helianthus Annus (Sunflower) Oil, Aloe Barbadensis Leaf (Aloe Vera Gel) Juice, Petrolatum, Tocopheryl Acetate (Vitamin E), Cholecalciferol (Vitamin D), Retinyl Palmitate (Vitamin A), Isopropyl Palmitate, BHT, Simmondsia Chinesis (Jojoba) Oil, Melaleuca Alternifolia (Australian Tea Tree Oil)
In the end, none of the products were really a big hit with Chris, which really stinks. I had high hopes for these. I'll continue using the shave cream but I'm not sure what to do with the rest of it. I know I'll find something to do with them so they don't sit around. I do feel quite bad that these didn't work out.
You can connect with HYD for Men on
Facebook
,
Twitter
and
Youtube
, and tweet your best shaving stories using the hashtag
#hydformen
You can purchase Hyd For Men products at http://hydformen.com - Birchbox - drugstore.com -Amazon
These products were provided for free from iFabbo and Hyd For Men. All opinions are 100% my own