Before I get into the review, I want to say I do have some reservations about typing this for a few good reasons. When applying to be able to review this there were some misinformation in my opinion given about the product. Each "tone" was supposed to be for Fair, Medium and Dark, while that may be true the thing they forgot to tell people were that each one does something different. While they all have the same properties, each one does something the other doesn't. Had I known that I may have picked another "tone" for the specific needs of my skin. Not only that but we were instructed to test this for 30 days, I was only given 25 days as my review had to be up the day I am posting this. So, in reality, I only got to test this for about 23 days, since I am typing this a couple of days early. I wanted to point that out straight at the beginning so you knew. It has always been and will always be my intention to give give a completely accurate review or products regardless of if I have been sent them or if I have purchased them myself. I was raised to be honest when it comes to things like this and I always have been. With all of that being said, let's get into this review.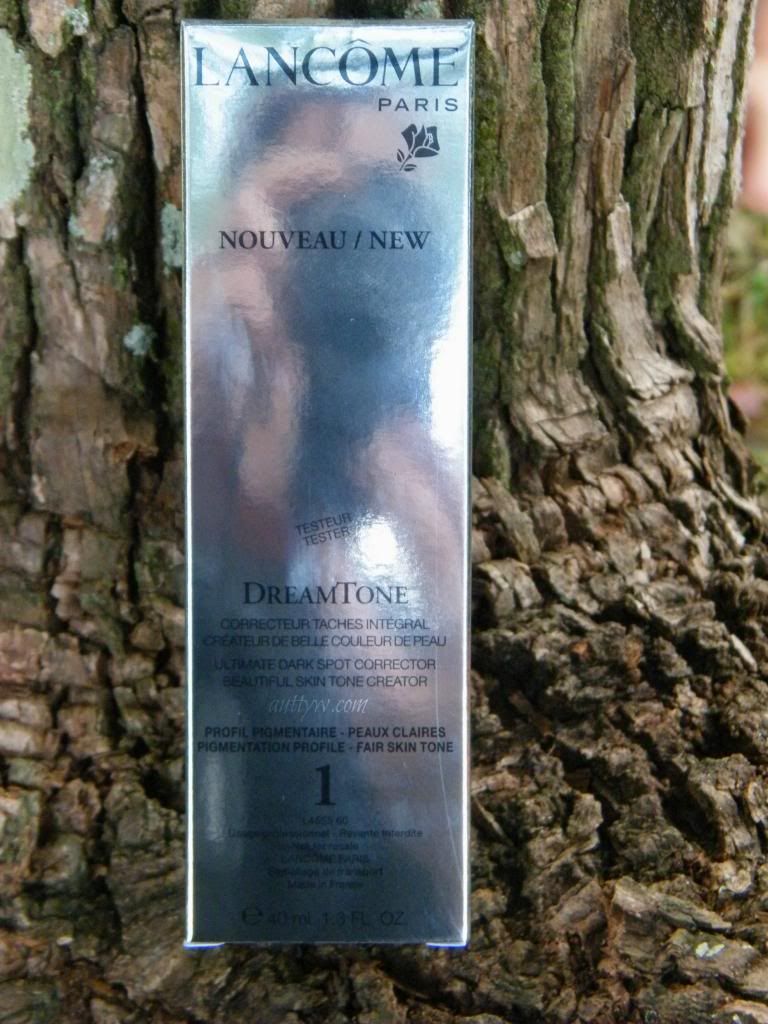 I didn't really have high hopes for this when I received it in the mail. I didn't look into the product except for the information that I was given. I've tried correcting products before that never worked. There are three different "tones".
The website says:
IMMEDIATELY:

• 74% saw glowing skin*




7 DAYS:

• 70% noticed a more even skin tone*




4 WEEKS:

• 69% saw the appearance of dark spots reduced*




8 WEEKS:

• 78% saw color imperfections reduced
Tone 1

-

Fair Skin

-

Corrects the appearance of dark spots, uneven skin tone, dullness and proves specific color correction for the look of

redness.
Tone 2 - Medium Skin - Corrects the appearance of dark spots, uneven skin tone, dullness and proves specific color correction for the look of sallowness.
SOURCE
Tone 3 - Dark Skin - Corrects the appearance of dark spots, uneven skin tone, dullness and proves specific color correction for the look of acne and blemish marks.
SOURCE
Ingredients:
AQUA / WATER / EAU, CYCLOHEXASILOXANE, PROPYLENE GLYCOL, GLYCERIN, ALCOHOL DENAT., HYDROXYPROPYL TETRAHYDROPYRANTRIOL, SQUALANE, ISOPROPYL LAUROYL SARCOSINATE, POLYSILICONE-11, PEG-10 DIMETHICONE, HYDROXYPHENOXY PROPIONIC ACID, GRIFOLA FRONDOSA FRUITING BODY EXTRACT, CARBOMER, SODIUM HYALURONATE, SODIUM HYDROXIDE, INULIN LAURYL CARBAMATE, ALUMINUM HYDROXIDE, MANNITOL, CHLORELLA VULGARIS EXTRACT, AMMONIUM POLYACRYLDIMETHYLTAURAMIDE / AMMONIUM POLYACRYLOYLDIMETHYL TAURATE, DISODIUM EDTA, DISODIUM STEAROYL GLUTAMATE, HYDROXYETHYLCELLULOSE, CAPRYLOYL SALICYLIC ACID, ACETYL TETRAPEPTIDE-15, ETHYLHEXYL HYDROXYSTEARATE, ACRYLATES COPOLYMER, PHENOXYETHANOL, CHLORPHENESIN, CI 19140 / YELLOW 5, CI 75470 / CARMINE, CI 77163 / BISMUTH OXYCHLORIDE, CI 77891 / TITANIUM DIOXIDE, MICA, GERANIOL, EUGENOL, LIMONENE, CITRONELLOL, BENZYL ALCOHOL, PARFUM / FRAGRANCE
Price: $98 USD for 1.38 Fl Oz
This isn't the cheapest correcting product. What I did find odd is how each tone is "designed" for each skintone, but what if you have problems with acne and blemishes and you are a fair skintone. Can you use Tone 3 and vise versa? That's just what I find off about the whole thing, I wish they were clearer about it. The scent of this is very lovely, it's kind of floral but won't kill you if your sensitive to floral scents. It doesn't linger and it dissipates pretty quickly. I use one pump for my entire face, sometimes I'll use a pump and a half, but that really depends on my mood. My skin does look glowing right after I use this. I'm not going to call it a shine, because that would be calling it wrong. I don't really know how to describe it. For someone who is so used to seeing a completely matte face, I kind of enjoy the more "glowing" look, it's nice. As for seeing my skin tone looking more even, not really so much. My forehead is a bit darker then the rest of my face (weird) but it does look a little bit more even, but not by much. Now most of my pictures that I take, I RARELY have foundation on because I just don't feel the need for it. That is beside the point I'm trying to make. I have a really red chin, I don't know why, but I do. I'm really surprised that the redness in my chin has really gone away. It's not COMPLETELY gone, but I think maybe with continued use it will. Do I have high hopes that the redness will completely go away? No, not really. All in all, I do think this is a good product, but it's not something that I would go out and spend the $98 for. That's just me though. I'm not 100% convinced with it, especially since I really needed Tone 3 for acne and blemish marks. But it is what it is.
Before: See what I mean about my forehead being a slightly darker color than the rest of my face. Then the redness in my chin and a few other places.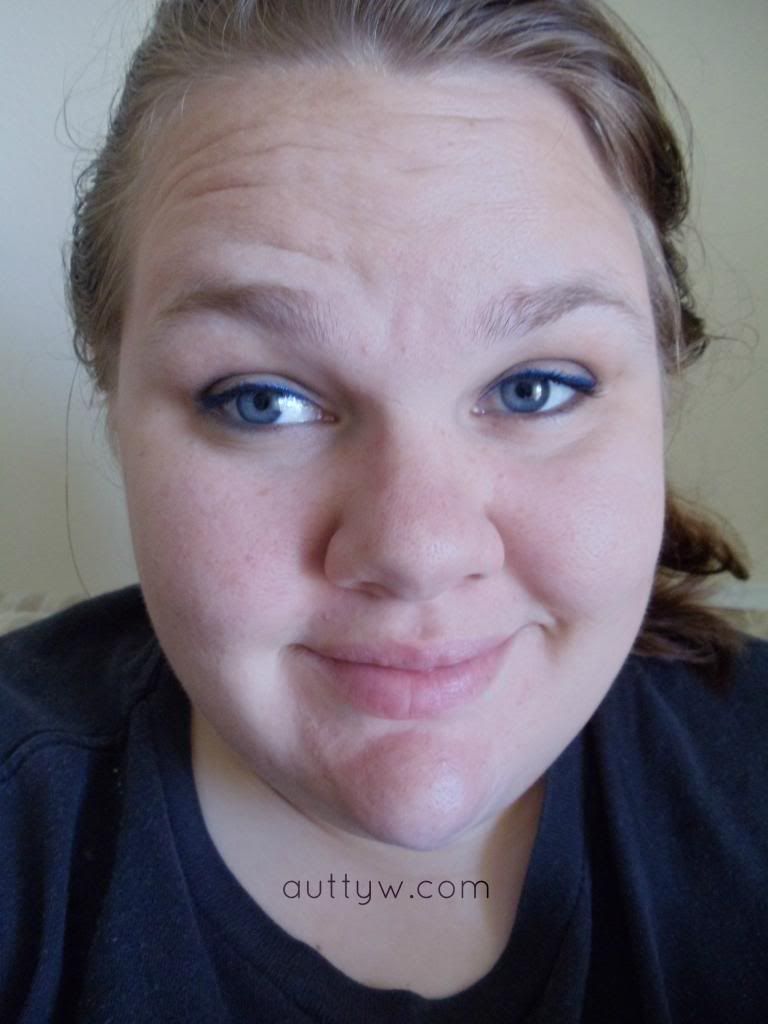 After:
Excuse the couple of acne marks. Both pictures were day in natural lighting. As you can see the greatest majority of the redness is gone, especially in my chin.Woo for that :D
I kind of want to try the Clinique Dark Spot Corrector, or whatever it's called to see how it compares to this. I've heard the Clinique was better, but only time and the future will tell.
Disclaimer: This product was sent to me for free for review purposes. The only compensation I was given was to keep the product. All opinions are 100% my own