Press Samples
Hello everyone! I hope you are doing well! I'm totally behind on blog posts, but it's really my own fault. I need to start getting them done beforehand instead of trying to do them the day of. That would be the smart thing to do haha. Especially with my Niece and Nephew here all week it's been a bit hard to find time to blog or do much of anything really. I love kid though so I don't mind. I mainly do my post writing in the middle of the night when everyone is asleep though. Not today though! I'm sitting with my Niece in her brand new Minnie Mouse footie jammies that Chris and I bought last night watching Mickey Mouse Clubhouse. It's a party here! :P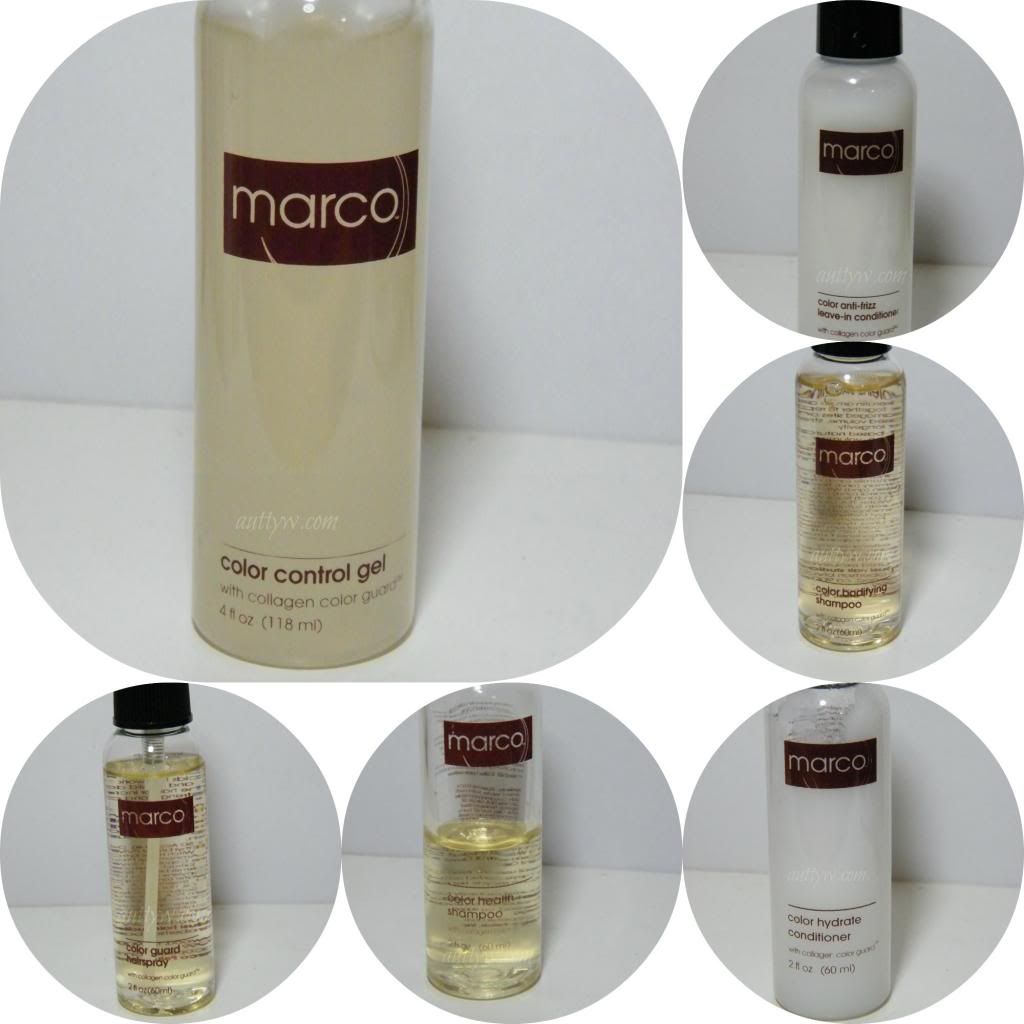 Marco Pelusi was extremely kind enough to send me these travel sized samples of his products. I had gotten in touch with him on twitter via Nancy-Lee (fashionCHICsta) and we started emailing. I had asked him if he had any products that would be good for overly processed hair, from the last time I tried coloring my hair. Along with that, I asked if he had any products that also worked with my scalp. It's oily, but I also have dermatitis, frizzy hair and it's dry from the over processing. I'll be danged but he said he had products that would work with all of that! Of course, hello that's a lot to ask of any product. But Marco was confident that his products would work with my hair, but I was still skeptical.
Anytime I get ANY package in the mail I get so excited, even if I know what it is. Let me tell you I was way over excited about this one! I've been using Clear Haircare shampoo since it came out so it was nice to be able to have a little change. I was sent a total of 6 products. 2 shampoos, 1 conditioner, 1 leave-in conditioner, 1 gel and 1 hairspray. At the time of this review I have not tried one of the shampoos, but I will tell you which one later on! :)
First up we have the
Color Health shampoo With Collagen Guard
.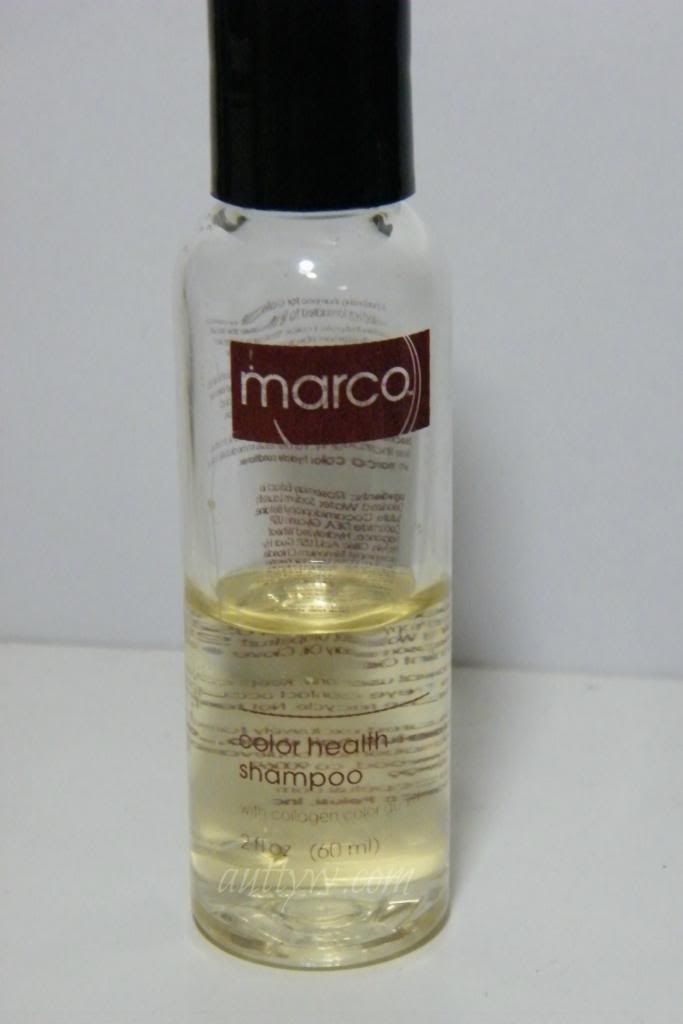 As you can tell, I dropped the ball on taking pictures of this BEFORE I used it. None the less shall we begin?
Travel Size $7.25 USD (2oz)
Full Size $27.25 (8oz)
The website says:

Keeps your haircolor healthy, fresh and radiant. A moisturizing shampoo that gently cleanses and infuses the hair with natural proteins that protect the hair from premature color fade and promotes maximum vibrancy, shine and optimum pH balance.




rich in rosemary essential oils to stimulate celll growth, soothe the scalp and offer anti-aging properties.

clove essential oils offer therapeutic and medicinal benefits including an antiseptic and astringent; also help to enhance and elevate mood

peppermint essential oils refresh and invigorate
My opinion:
The consistency of this is a gel, for me I LOVE this shampoo. You definitely get the peppermint scent right off the bat and I love that. I love peppermint scented anything. This doesn't foam, but it does have sulfates in it. For color treated hair, sulfate free shampoos are the best to use, but I found that my color didn't fade at all with this shampoo.Which is awesome. even though this doesn't lather my scale felt exceptionally clean, but not dried out. Even though I've previously stated that I would never buy a $20 shampoo, you know what I'm a convert. I would so totally buy this shampoo. With this being a travel sized shampoo you would think you wouldn't get many uses out of it. What you see in the bottle is after about 7 uses and I have long hair.
Color Hydrate Conditioner With Collagen Guard
Travel Size - $7.25 (2oz)
Full Size - $27.25 (8oz)
The website says:

Hydrates, energizes and refreshes your hair for better-looking, longer-lasting color. A restorative conditioner uniquely formulated to replenish the hair with vital moisture while increasing volume, manageability and shine.




French lavender essential oils soothe and heal the scalp

apricot essential oils smooth, condition and mirror our natural sebum/hair oils, adding shine, slip and lubricity.

aloe vera moisturizes and helps repair the hair shaft
So, I'm not sure which scent it is, I think it might be the lavender mixed with the aloe vera, but this smells kind of granny-ish. The scent isn't over powering though, which I am very grateful for! I shook this a little bit for the picture, which is why it looks more full then it is. Which again pictures were after about 7 uses. I took these pictures maybe a week ago and as of today I have maybe one use left. The conditioner soaks into your hair quickly and I typically let it sit on for a while. Not a crazy amount of time, but when I get a shower, I wash my hair first, put the conditioner in and typically put my hair up in a clip and let it sit until I'm done washing my body,
then
wash it out. My hair feels SO smooth after I use this, did I already mention that it soaks in quickly? (
I know I did :P
)
Color Bodifying Shampoo with Collagen Guard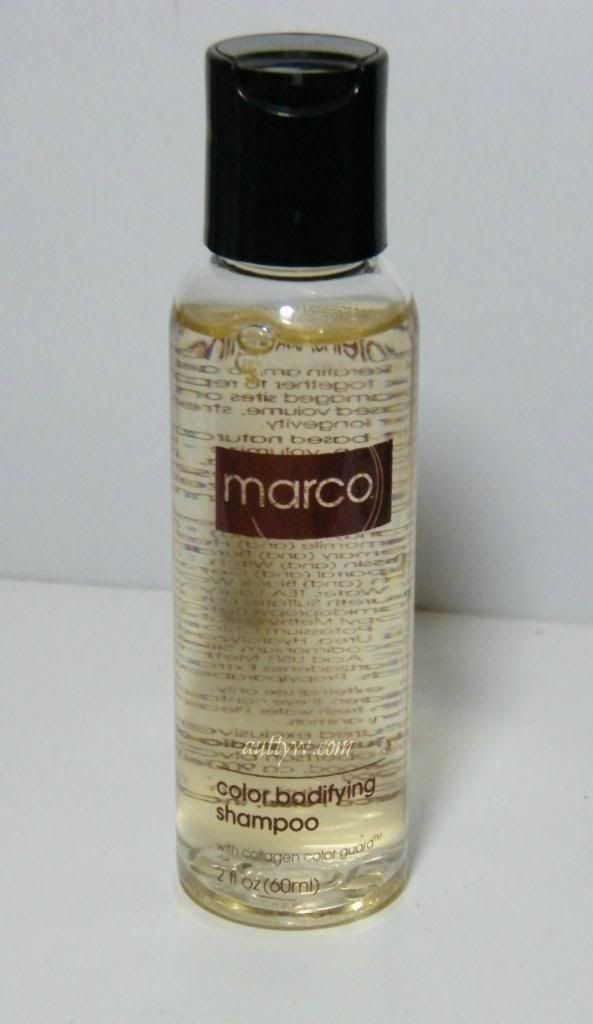 Travel Size - $7.25 (2oz)
Full Size - $27.25 (8oz)
The website says:

A luscious, volumizing shampoo specifically formulated with natural proteins and botanicals to boost hair body, thickness and luxury, as well as prevent premature color fade.




coconut-based natural ingredients thicken, volumize and boost body

known for its remarkable and unparalleled healing and soothing properties, aloe vera extract conditions and moisturizes

chamomile, comfrey and black walnut herbal extracts texturize, heal and restore hair health.
This is the product I can't give you a review on because I haven't used it. It's hard to comment on something you haven't used. I'm waiting to finish the other shampoo before I tried this one.
Color Guard Hairspray with Collagen Color Guard
Travel Size - $6.25 (2oz)
Full Size - $20.25 (8oz)
The website says:

Delivers flexible hold and root lift while protecting hair from premature color fade.




the purest deionized water in an advanced delivery system helps moisturize while natural fixatives hold hair in place, drying gently on the outside of the hair shaft like a silky fine protective net

includes panthenol usp for shine and smoothness and Aloe Vera for moisture retention and healing properties.
I used to HATE hairsprays like this. I always felt that I got the worst spray coverage, so I never re-bought them since I was young. Let me tell you, I am a changed woman! I absolutely LOVE this hairspray. This has a pretty good hold, I would say it's got about a Level 5 hold on Suave hairspray standards. (that's the one I normally use in the pink can. The top level is 10) If you use too much it does make your hair crunchy. I saw it had about a middle hold is because it will keep your fly away hairs down. In the humidity of Florida it lasts a good few hours on me, but I plan on using this in place of my Suave because I love it. I can't really place the scent or I would describe it. It reminds me of something from when I was younger but I can't think of what it is. :(
Color Control Gel with Collagen Color Guard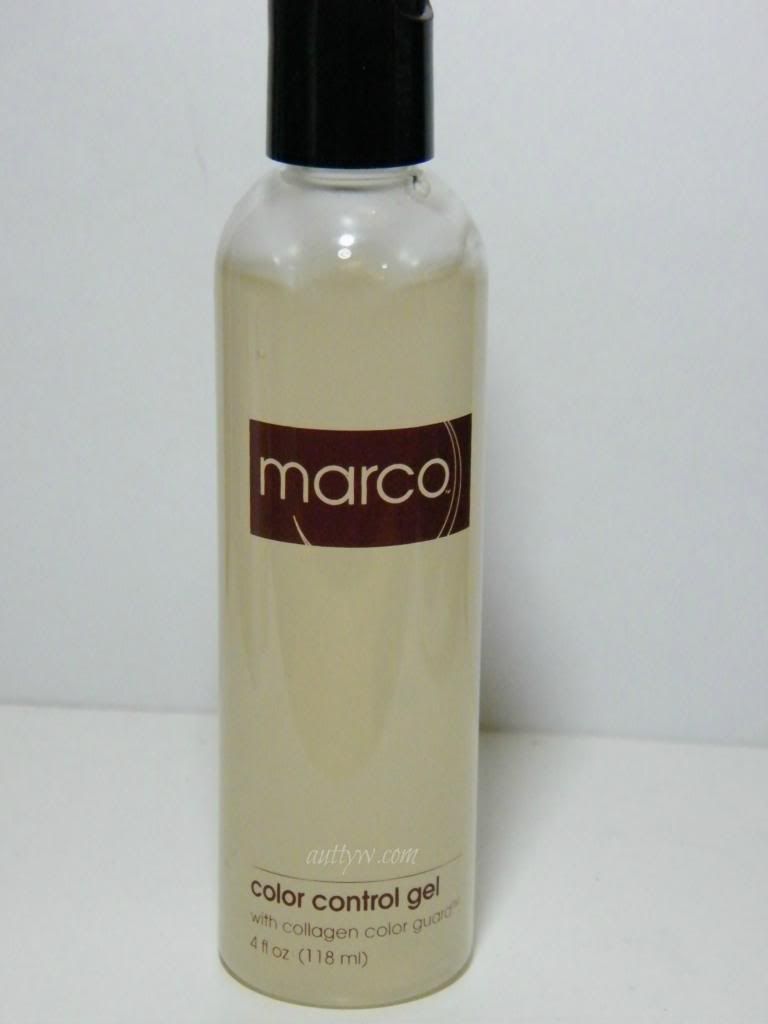 Full Size $18.25 (4oz)
The website says:

Adds lift and definition to waves and curls while preventing hair from premature color fade and providing added volume to smooth, straight styles. Unique concentrated water-soluable and alcohol-free gel leaves hair smooth and manageable, and creates a healthy environment for the scalp.




rosemary, clove and peppermint and borage seed essential oils stimulate scalp circulation, heal dryness and flakiness

amazingly light in texture; designed to provide and natural, flexible hold that lasts all day
I know this looks barely used but trust me when I tell you that this was used 7 times as well. Just like the shampoo and conditioner. I add this into my hair routine when it's wet and I blow dry it in to help with the frizz and fly aways. Since this is a little bit more liquidy then a gel, I don't mind it being more liquid then actual gel because it's easier to get in my hair and it doesn't weigh it down. Now I've got thin hair and the fact that this doesn't weigh it down is fantastic to me! You don't smell the peppermint or clove but you can smell the rosemary and borage seed. It's not overpowering at all thankfully. Since I blow dry this into my hair it helps keep everything down and in place. In fact I also find that I get some extra volume with it!
Anti-Frizz Leave In Conditioner with Collagen Color Guard
Travel Size - $10.25 (2oz)
Full Size - $32.25 (8oz)
The website says:

This signature product is an exclusive anti-frizz formula that repairs, restores and rebuilds, leaving the hair and scalp comforted and protected. An ultra luxurious, light and airy leave-in conditioner expressly formulated to replenish the hair's own natural reserves to boost condition, as well as haircolor longevity, vitality and tone. Tames curly, coarse hair while allowing for easy comb-thru and a smooth, healthy appearance.




naturally derived from coconut, cetrimonium chloride is the most potent anti-frizz element available to moisturize and neutralize static electricity; effects last for up to 72 hours even when rinsed with water

usp grade vitamin e, one of the most powerful antioxidants available from nature, protects the hair from hostile environmental factors, including pollution, aging and stress

apricot essential oils fight dryness and cell dehydration

natural moisturizing factors, including sodium pca, volumize the hair
This is the product I was looking forward too the most. I've got dry ends because of my hair being fried and I've never tried a leave in conditioner because I was never sure how it would go with my hair. I put this in my hair before I put the gel in. Yes, I put it in my wet hair and I blow dry it. This has made the BIGGEST difference in my hair. This doesn't weigh it down either, so woohoo about that! The biggest difference I have noticed in my hair is that it looks a lot healthier. It also feels softer and my ends don't look so scraggily and horrid. This has to be my favorite product out of the entire line by far!
You can check out Marco Pelusi's website HERE
Follow them on TWITTER
and LIKE him on Facebook
I absolutely love 5/6 products because I've not tried one of the products. Have you tried anything by Marco Pelusi?! I can't thank Marco enough for allowing me to try his products!
Disclaimer: These products were sent to me for free. I am not affiliated with Marco Pelusi hair care products nor am I being paid to write this post. The only compensation I got was to keep the products.