Press Sample
I know that it's in bad taste, and just in general a bad thing that it's taken me this long to update my review of this product, since the initial review of Marco's products was back in November. So please accept my apologies that it's taken me this long!

Out of the two shampoo's that I have tried from Marco Pelusi's line, I should have tried this one first! I'm so in love with the scent of this it's crazy. You're probably going to think that I am weird but it smells like artificial coconuts. The Color Bodifying Shampoo smells just like Suaves coconut shampoo and conditioner.
This lathers very well and I feel my hair actually getting clean, unlike my previous shampoo (not Marco's). This shampoo also doesn't build up on your scalp either, so really you can probably go another day or two without washing your hair. That's what I do actually, is go an extra day or so without washing my hair when using this shampoo. Now you're probably going "ew that's gross" but let me tell you, my hair doesn't get all gunked up or oily washing my hair once a week with this. That's how awesome it is!!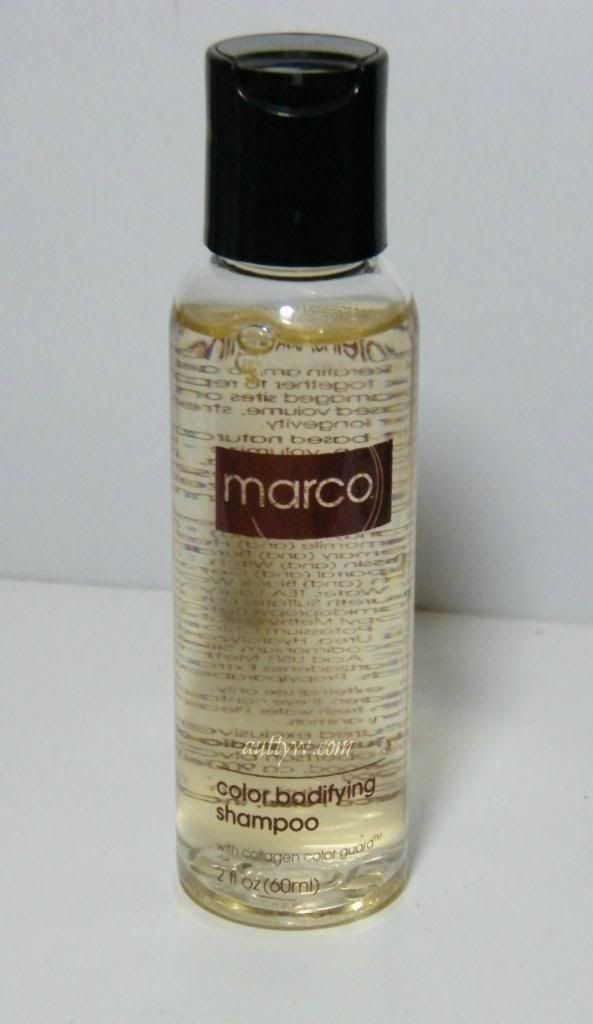 My hair feels soft, silky, smooth, pretty much everything you want your hair to feel like, is what this shampoo does for your hair. Seriously though, I really love this shampoo, this is for sure a splurge shampoo since it retails for $27.25 for 8oz., but you know what, it's really worth it in the end for shiny, healthy hair. Not only do I get the above mentioned benefits but my hair also get a little extra volume from this, which hello for me is amazing. My hair is pretty much stick straight and only gets wavy when I put it up, which living in Florida my hair is always up, so having extra volume is a definite plus for me.
The website says: A luscious, volumizing shampoo specifically formulated with natural proteins and botanicals to boost hair body, thickness and luxury, as well as prevent premature color fade.
coconut-based natural ingredients thicken, volumize and boost body
known for its remarkable and unparalleled healing and soothing properties, aloe vera extract conditions and moisturizes
chamomile, comfrey and black walnut herbal extracts texturize, heal and restore hair health.
In
the end, my hair felt amazing after using this shampoo. I really do recommend everything from Marco Pelusi's hair care range because I've had nothing but fantastic results from it! As a matter of fact, I still use his Leave-In Conditioner. With all of that aside, I am saving up to get everything from his line again because my hair was so healthy and gorgeous with his products!
You can purchase Marco Pelusi's products on his website http://marcopelusi.com
You can find this particular shampoo (the full size) Here which retails for $27.25 HERE and the travel size (which is pictured above 2oz) for $7.25 HERE
What do you think? Have you tried anything from Marco's line? So far I've LOVED everything of his that I've tried!
Product was sent for free for review. All opinions are 100% my own. I gained no compensation for this review, except being able too keep the product.