purcahsed myself
Today's post was supposed to be makeup related but I have to re-swatch a few things before I can put it up, but it should be up soon! I do want to make a note that you can see how much of a toll that wearing the false nails have taken on my hands. I've not worn them in a week or so and I'm still struggling to get my hands and my nails back to being healthy. Or at least into a presentable fashion. I've not even painted my nails and that's sad. So do excuse the fact of just how gross my hands look right now.

Love Hate Love
is a glitter topper with matte white & black and red holo microglitter; white dots, matte white and red holo hexes; red micro slices; and red and black matte and red holo hearts.
All swatches shown over HBL Love Hurts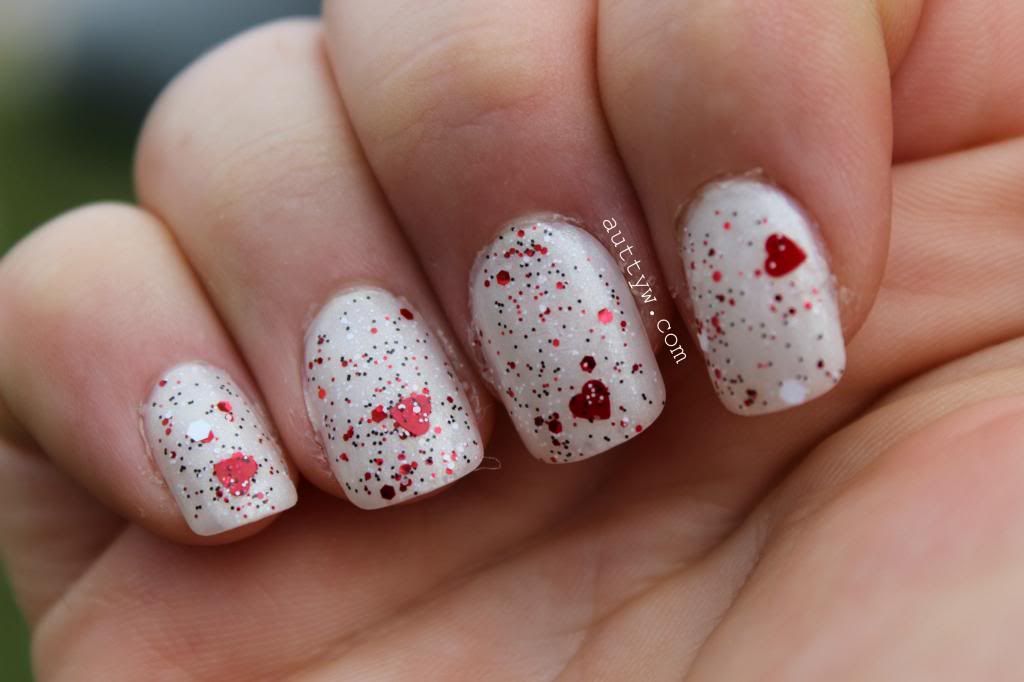 Now I purchased the Mini bottle, so what I'm going to say could be totally different if you purchase the regular size. I had to fish the hearts out of the bottle or I had to take them off of the wand portion. I only managed to get 4 hearts out of the bottle and those are the 4 you see currently.
See, no hearts. I'm totally okay with it because it makes the mani itself a little more unique. While I do wish I could have gotten more than the 4 hearts out. The formula itself is a little thick as well, but it's very manageable. You don't need to sponge this on at all. I didn't have to go back into the bottle to get more on the brush, that is how much that comes out. I don't mind that this polish is thick because you do NOT have to work to get a good coverage except for getting the hearts but once again like I said up above I have the mini bottle so you could have a different experience with this polish then I did. I still love this polish and definitely am going to covet it!
You KNOW I had to do an artsy fartsy picture for you!
You can purchase Love Hate Love
HERE
. The full size retails for $7.00 and the Mini retails for $3.00
I purchased this with my OWN money. All opinions are my OWN