Press Sample
I've been using this product for a good month or two so I feel that I can properly give my opinions on it! I'm sure you remember me reviewing Radical Skincare Instant Revitalizing Mask (here) When i had the chance to try out their Age-Defying Exfoliating Pads, you know I had to jump at the chance!
In the jar you get 60 pads, which is enough for 2 months of use, if you use them every night. The product itself retails for $75 and is available on Sephora.com. I know you're probably like "holy heck Autumn!" I know I'm typically a very frugal person, but I feel that skincare is something that you shouldn't skimp on. Use what works for you, regardless of if it's drugstore or high end. Everyone has their preferences.
When this arrived in my mail box I wish you all could have seen my face when I found out/realized it had glycolic acid in it! I READ about the product but I didn't read into the ingredients. Don't ask my why I didn't look into them. Bahah. I'm a huge fan of glycolic acid and have used products that contained it in the past.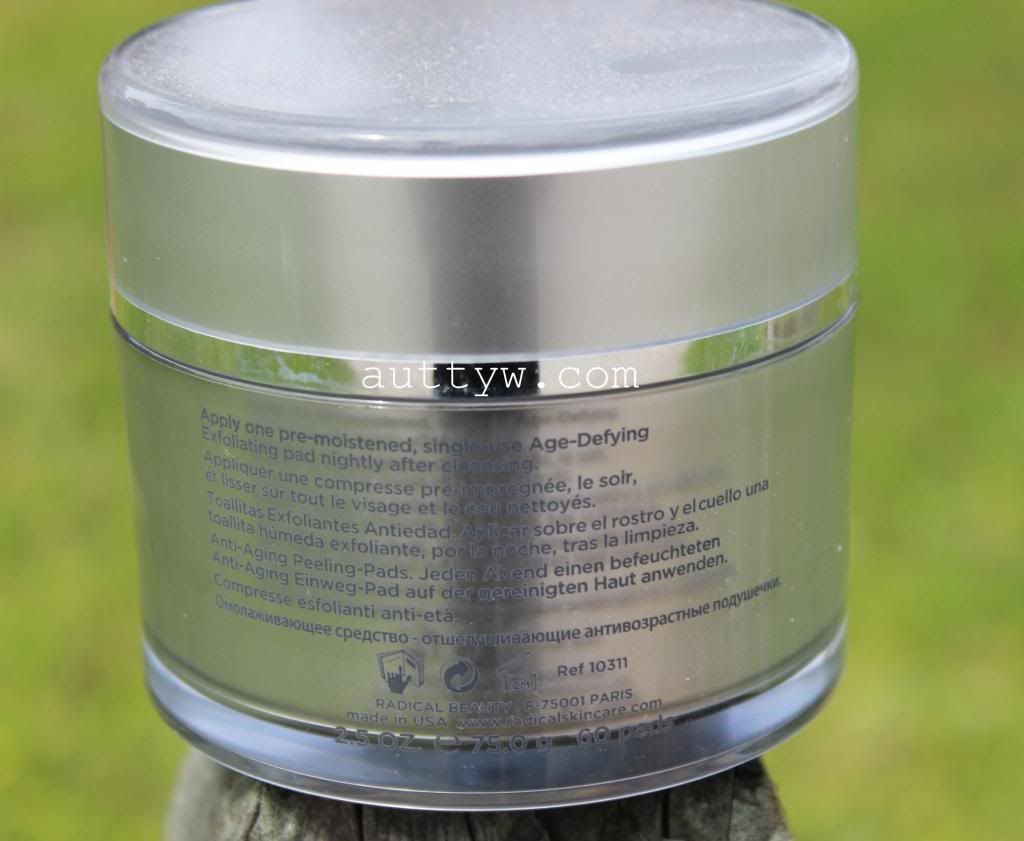 This product contains;;
-Alpha Hydroxy Acids: Help prepare the skin for absorption of active ingredients; helps exfoliate the upper layers of dead skin while increasing penetration of other ingredients.
-Willow Bark: Helps clarify pores while reducing oily build-up on skin.
-Witch Hazel: Works as a mild astringent to keep skin surface clean.
-Osilift: Tones and smooths the skin; reduces the appearance of fine lines and wrinkles.
This product does more than tone your skin! I'm so amazed with the results that I've gotten. My skin has been softer, my pores have been really clean! Especially the ones on my nose where I've got an insane amount of black heads! This product has GREATLY reduced the amount of black heads that I have/get and I am so excited! I've not found a product that has worked on blackheads like this! This isn't even a product specifically for blackheads and it works amazingly! I've definitely noticed good changes in my skin. I don't get as oily and my face doesn't get as gross as it normally goes after one days. I've even had less breakouts!! Whhhaaattt?! No joke!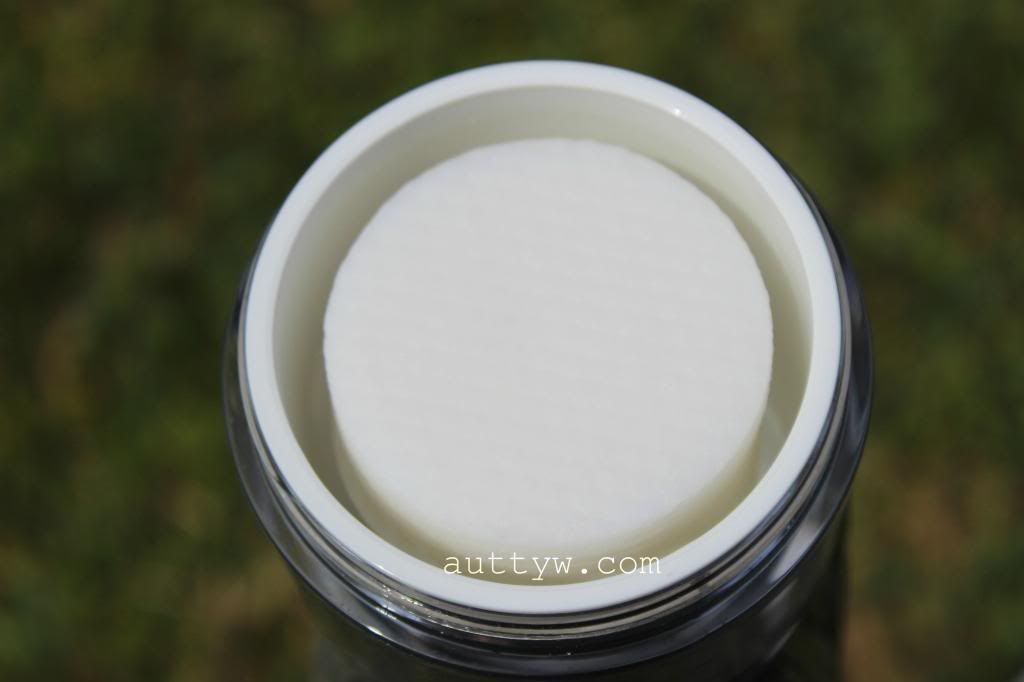 Now this also helps with fine lines, I'm 23 and I've got some lines around the edges of my eyes from squinting and I've seen a huge difference in them! You can barely see them anymore so I'm pretty dang impressed. I did notice a little burning when I used this the first time, but it wasn't unbearable and it subsided rather quickly. This product is good for people who have sensitive skin as well, so I don't think you'll have any burning sensations like I did. My face typically reacts like that with the first use of a new product.
All in all, for the price, this product is amazing! Myself personally, I feel that this product lived up too all of it's claims so I am a happy camper. This does have a light citrus scent too it and it's rather nice, when you can smell it. I don't find that it's super noticeable. I use one pad a couple of times a week, I don't use it every night because some nights I don't feel the need for it. I just read some reviews where some people do this as well, so it's good to know that I am not alone! This product does
NOT
contain Parabens, Sulfates and Phthalates.
Ingredients: Water, Aloe Barbadensis Leaf Juice, Glycolic Acid, Butylene Glycol, Alcohol Denat., Vaccinium Myrtillus Fruit Extract, Coffea Arabica (Coffee) Seed Extract, Vitis Vinifera (Grape) Seed Extract, Salicylic Acid, Centella Asiatica Extract, Avena Sativa (Oat) Kernel Extract, Allantoin, Echinacea Purpurea Extract, Resveratrol, Malus Domestica Fruit Cell Culture Extract, Chamomilla Recutita (Matricaria) Flower Extract, Salix Alba (Willow) Bark Extract, Camellia Sinensis Leaf Extract, Phenoxyethanol, Hamamelis Virginiana (Witch Hazel) Water, Saccharum Officinarum (Sugar Cane) Extract, Polysorbate 20, Sodium Pca, Propylene Glycol, Citrus Aurantium Dulcis (Orange) Fruit Extract, Citrus Medica Limonum (Lemon) Fruit Extract, Ethylhexylglycerin, Acer Saccharum (Sugar Maple) Extract, Potassium Sorbate, Citrus Reticulata (Tangerine) Peel Oil, Sodium Benzoate, Xanthan Gum, Glycerin, Lecithin, Limonene, Linalool.

Radical Skincare Age-Defying Exfoliating Pads are available at Sephora.com and retail for $75 for 60 pads. It is availabe in the US AND Canada on Sephora.com!
Product sent for review purposes.