Hey all,
I'm jeebjeeb from In Jeeb WeTrust.
When I heard Autty wanted some guest bloggers I was all over it!
And I knew I had to bust out something super fun for her readers.
Fun and color.
Because once it starts getting nice outside those are the two things on my mind.
So I give you lovely AuttyW readers my spring watermarble.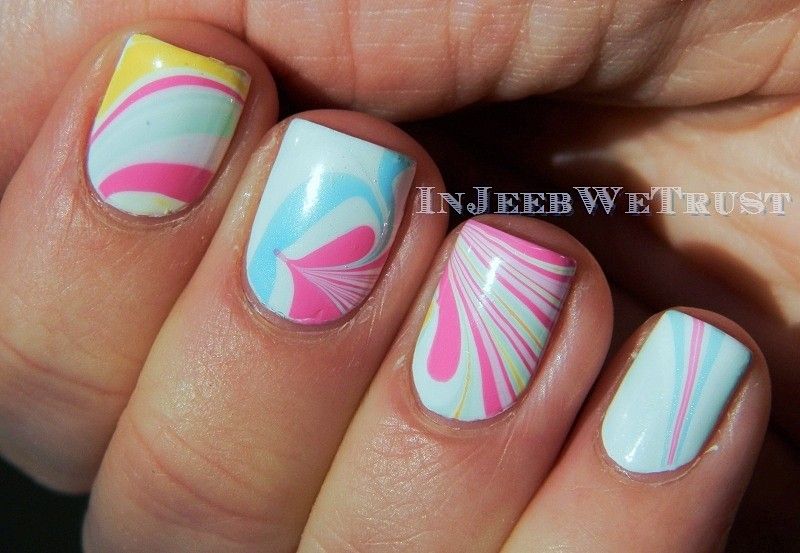 For the base I used Essie – Blanc
And then watermarbled with Sally Hansen – Lightening, Nubar – Faded Jeans
Models Own – Apple Pie, Essie – Lovie Dovie & Blanc
Unfortunately Apple Pie didn't quite show up as well as the other colors.
And my pinkie fingers are pretty meh.
But that's ok!
Every watermarble is a learning experience

I'm pretty damn happy with how they turned out.
What do you think?
Ever tried watermarble before?
I want to give Autty a big thank you for having me on her blog!
And I hope your spring has been fun and colorful!
jeebjeeb
----------------------------------------------------------------------
You can find Gio on her blog http://injeebwetrust.blogspot.com/
Instagram ; http://instagram.com/injeebwetrust
Facebook ; https://www.facebook.com/injeebjeebwetrust
Thank you so much Gio for the AMAZING post!! I can't describe how envious I am of this manicure! D: I've not watermarbled in a while because I've failed every single time! It's been years since I've had a sucessful one! *flails* Bah! I need to break out my polishes and try again!!
Seriously y'all need to go check Gio out! Her blog is absolutely amazing and I can't thank her enough for doing this post for me! <3
xx Autumn