PR Sample
It's ALWAYS exciting when there is OCC anywhere to be found. Even though I only have a few of their lip tars, I am head over heels in love with this brand. I really need to get more from them! I've got quite the list of lemmings from the brand!
You can't even imagine how excited I was when I pulled this set from the blogger swag bag during the blogger preview for The Makeup Show Orlando..I held my excitement pretty well (hello back pain) but on the inside I was jumping up and down and dancing.
This set is a PERFECT gift for your favorite beauty junkie or for someone who is wanting to try the brand. You can't go wrong with it because 1) they're all lovely only their own 2) you can mix them and create unique shades. This set is Limited Edition so don't hesitate on purchasing this because when it's gone...it's gone.
The set comes with FOUR Test Tube (aka mini) Stained Gloss shades ass well as a mini #10 Precision Lip Brush (show below)
This is the PERFECT brush for applying stained glosses or lip tars, which is why it comes with the set.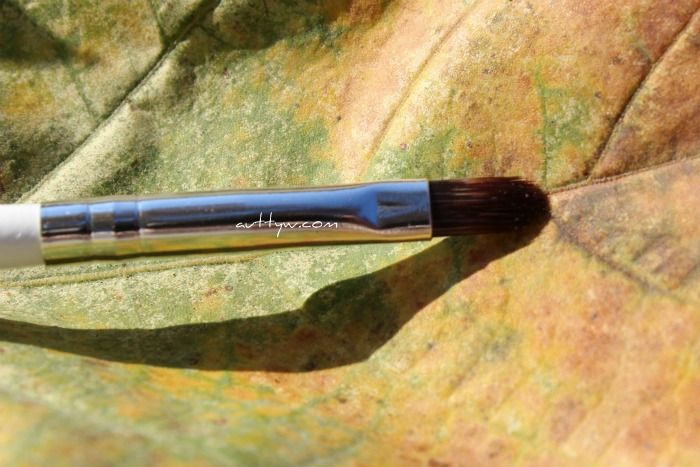 Now, the difference between Lip Tars and the Stained Gloss is that SG's are sheer instead of full coverage. These are perfect if you are nervous about wearing a full on lip color (like me).
Hedonist - Intense Pastel Pink
Hedonist has to be my favorite shade out of the entire set. This was the color that I thought I would like the least. The pigmentation of this is absolutely stunning, even for a gloss! I really can see myself getting a LOT of use out of this shade.
New Wave - Glassy Neon Pink
I actually expected this to be more "pow" because of how it looks when it comes out of the tube. I'm actually really surprised and like that it's not as neon and bright as it looks in the tube.
Jealous - Red-Orange Shellac
This shade I'm a bit disappointed in because I don't get the "red-orange" color like in the tube. To me this is more of a light pink shade. Other than the color not matching the tube (on the lips at least) I must say that I am pleased with the color it comes out too.
Little Black Dress - Sheer Glossy Black
When they say sheer, boy do they mean it! That's okay though because this is actually incredibly wearable! I could definitely see myself wearing this. I think this was thrown in to not only wear alone, but it's nice to have a very sheer black to mix with the other shades to create your own.
All of the glosses applied very easily and I didn't see any feathering with these like I do regular Lip Tars (I don't own any lip liners), so for me that is a plus.
You can purchase this set at Sephora.com as well as in Sephora stores for $18.


Like James Vincent said during the blogger preview. These test tube sizes are perfect because a normal person would never go through an entire tube of full sized Lip Tar or Stained Gloss and I fully agree with him!

Product provided for free from OCC via The Makeup Show Orlando