Purchased Myself | PR Samples
Hello everyone! Welcome to another bi-weekly post of The Beauty Buffs!
Woohoo! *throws glitter*
As a warning, this is a really long post.
This week I'm pretty excited! It's all themed around Holiday looks! What I decided to do was touch on each of the three Holiday's that are going to be happening this December! Christmas (12/15), Kwanzaa (12/26-01/01/15) and Hanukkah (12/16-12/24) Why did I chose to do three? Well, isn't it kind of obvious? More than Christmas goes on in December, plus it could be a good learning lesson. Plus, it could be really fun to learn a little something about each of the three! One little known thing about me is that I LOVE History and really, I love learning about customs and things that I normally wouldn't know about.
All of the eye looks are BASED off of colors from each Holiday.
First up

Christmas :

An

annual religious and cultural holiday commemorating

the birth

of

Jesus Christ

,

celebrated generally on

December 25

by billions of people around the world.

A

feast

central to the

Christian

liturgical year

, it closes the

Advent

season and initiates the

twelve days

of

Christmastide

, which ends after the

twelfth night.

Christmas is a

civil holiday

in

many of the world's nations

,

is celebrated culturally by an increasing number of non-Christians,

and is an integral part of the

Christmas and holiday season.
Source
Christmas is a season that I think pretty much most of the world celebrates. For most people unfortunately it's turned into all about getting gifts instead of just spending time with family. In my family this year we actually wont be getting gifts for each other, we only plan on getting gifts for my Niece and Nephew. For Christmas I decided to not stick with the traditional red and green but to take my inspiration from that song by Burl Ives called (what else) Silver & Gold. Every Christmas this song gets stuck in my head without fail. I also must give a shout out to Jacqueline from A Brilliant Brunette because she helped me settle on doing something with silver and gold. Now I also added in some brown and green as I'm sure you can tell. I wish my silver would have been more bright but it looks kind of muddy. Boo.
Products Used:
Too Faced Shadow Insurance
Wet n Wild Brulee (base)
L'Oreal Infallible 24/hr Eye Shadow - Continuous Cocoa
Sugarpill Cosmetics - Goldilux
Sugarpill Cosmetics - Tiara
Make Up For Ever Artist Liner - I-32 *
A Dark Brown MATTE eye shadow for the lower lash line (if you want)
Wet n Wild Lipstick - Spotlight Rouge
Vincent Longo Meta Gloss - La Fiera *
Kwanzaa : A

week-long celebration held in the

United States

and also celebrated in the

Western

African Diaspora

in other nations of the Americas. The celebration honors African heritage in

African-American culture

, and is observed from December 26 to January 1, culminating in a feast and gift-giving.




Source
I've looked at a lot of Websites about Kwanzaa and everything is very tribal and very traditional. The focus is on the lighting of the Candles (3 red, 1 black, 3 green). Those three colors are what I am going to mainly focus on. I personally feel like Kwanzaa is a very lesser known holiday, and really it's something I would LOVE to learn more about! I decided to go dark with the shadows, I didn't want it to be bright or it would have been too "Christmassy".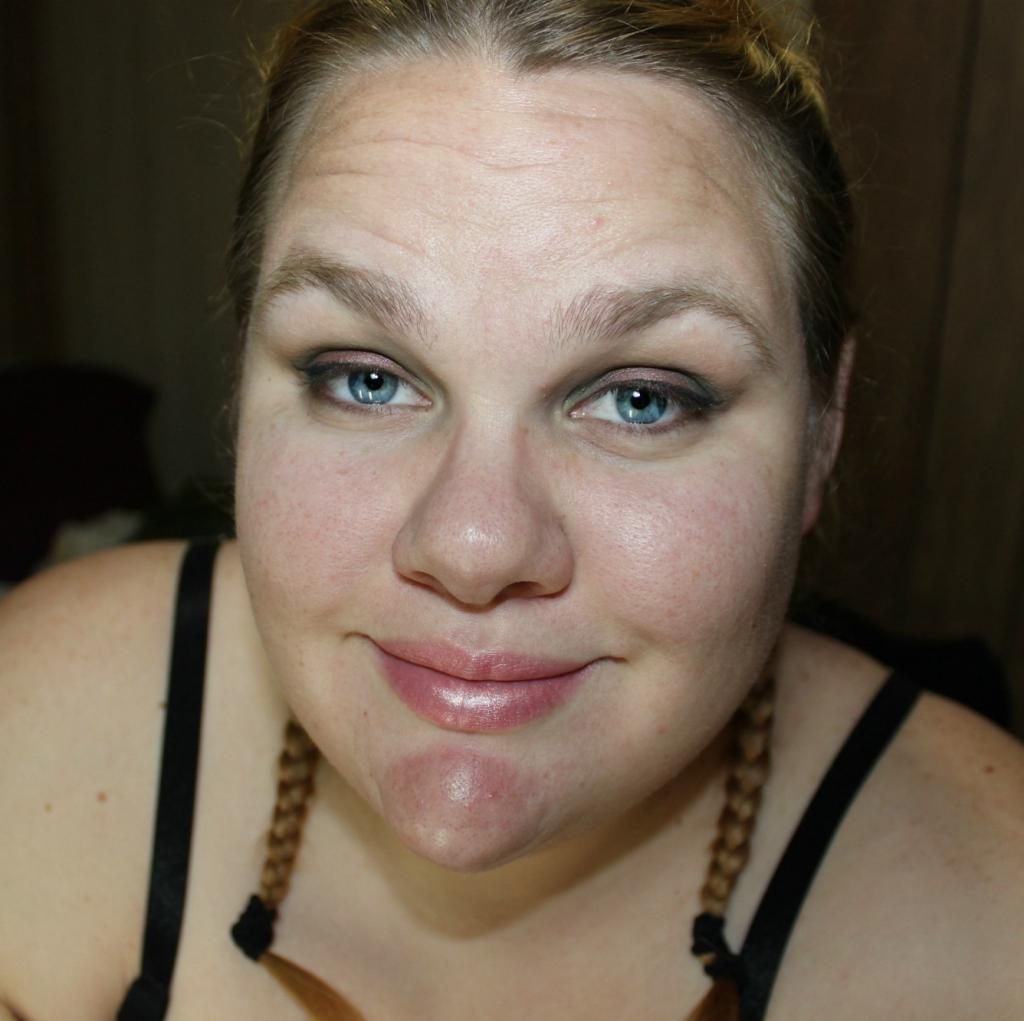 Products Used:
Too Faced Shadow Insurance
Wet n Wild Brulee (base)
MAC Cosmetics - Cranberry
Urban Decay - Bender
MAC Cosmetics Fluidline - Blacktrack
A Dark Brown MATTE eye shadow for the lower lash line (if you want)
Wet n Wild Megaslicks Balm Stain - Pinky Promise
Hanukkah :

also known as the

Festival of Lights

,

Feast of Dedication

, is an eight-day

Jewish holiday

commemorating the rededication of the

Holy Temple

(the

Second Temple

) in

Jerusalem

at the time of the

Maccabean Revolt

against the

Seleucid Empire

of the 2nd century BC. Hanukkah is observed for eight nights and days, starting on the 25th day of

Kislev

according to the

Hebrew calendar

, which may occur at any time from late November to late December in the

Gregorian calendar

.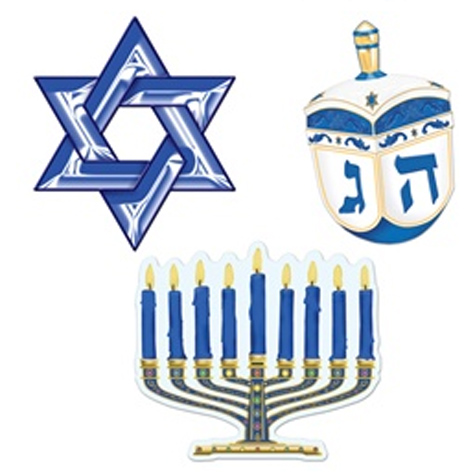 Source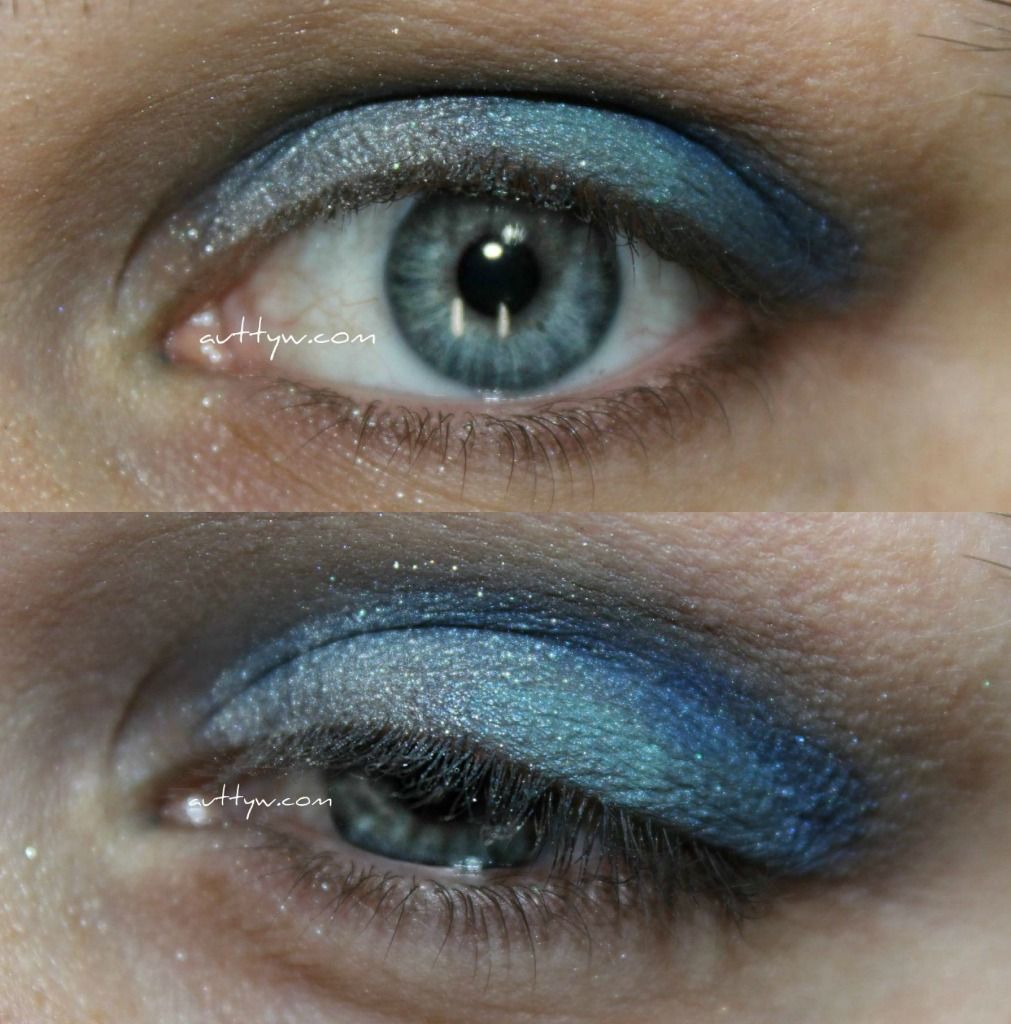 Hanukkah is a Holiday that has ALWAYS interested me, probably because of my Mother. Little known fact my Grandfather was born into a Jewish household and was put up for adoption and was later adopted by an Italian family. My last name would have been Jobe if his parents wouldn't have given him up! We actually used to play with Dreidels when we were kids. One of these years I will celebrate Hanukkah. For this look I will be focusing on Blue and White, since that is what is mostly associated with the Holiday. I decided to go with no eyeliner because I felt like it could have been too much. I wanted this look to be simple and be the main focus.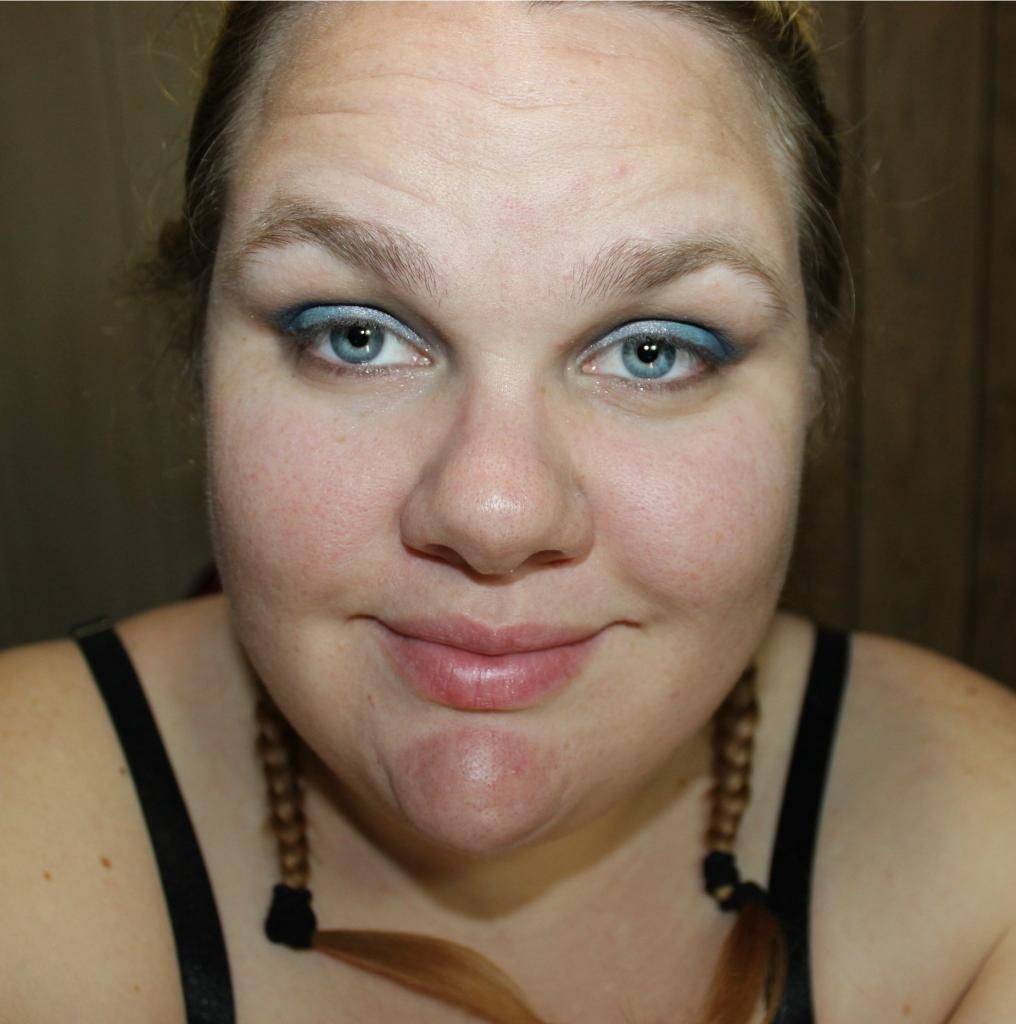 Products Used:
Too Faced Shadow Insurance
Wet n Wild Brulee (base)
Maybelline Color Tattoo Metal - Electric Blue
Sugarpill Cosmetics - Velocity
Sugarpill Cosmetics - Mochi
BFTE Cosmetics - Diamonds *
I also added other random no-name whites to try and make it brighter
A Dark Brown MATTE eye shadow for the lower lash line (if you want)
Now, with all of those looks aside, you're going to need an eye look for all of your Holiday parties! I chose to do Gold and a darkened Cranberry because those two colors goes together so beautifully. Unfortunately I don't have a full shot with both eyes, I'm not sure where that picture went! I think out of all of the looks, this has to be my favorite, there is just something about it that I absolutely love!
Products Used:
Too Faced Shadow Insurance
Wet n Wild Brulee (base)
Sephora Pocket Palette Neutrals - Darkest Brown (crease/outercorner/lower lashline)
MAC Cosmetics - Cranberry
L'Oreal Infallible - Bronzed Taupe
Urban Decay - Half Baked
Givenchy Nior Couture 4-in-1 Mascara
MAC Cosmetics Fluidline - Blacktrack
Urban Decay 24/7 Liner - Demolition (waterline)
Xtreme Lashes by Jo Mousselli Glideliner - Black Pearl (tight liner) *
I KNOW this was a long post and if you've read or made it this far kudos to you! Which is your favorite look out of the four?!!
Don't forget to check out the other posts below from the other ladies!

Some products were purchased by me and the products marked with ( * ) we provided for PR use.
An InLinkz Link-up