Have you ever just had internet problems!? I've been struggling for a week to get my computer to connect. Technology is the worst sometimes!
Just as a small warning this post might be a little long. I'm going to go over the box itself then each individual product...As well as my Mom tried the products out as well so you're going to be getting a perspective from someone who is 24 and someone who is 51. Fun for all ages.
Modere just recently launched their beauty box, which allows you to sample 5 products for 7 days risk free. Each box comes with 5 full sized items and 4 samples sizes/. You get to keep the samples as well as the eye gel which is full sized. This box retails for $79.00+tax. Now you may be thinking OUCH!, yeah that's what I said until I tried the products! However you only get charged if you KEEP the products. Now that's something awesome. You can keep what you like and send back what you don't like. You will only get charged the MSRP+tax of the products you keep.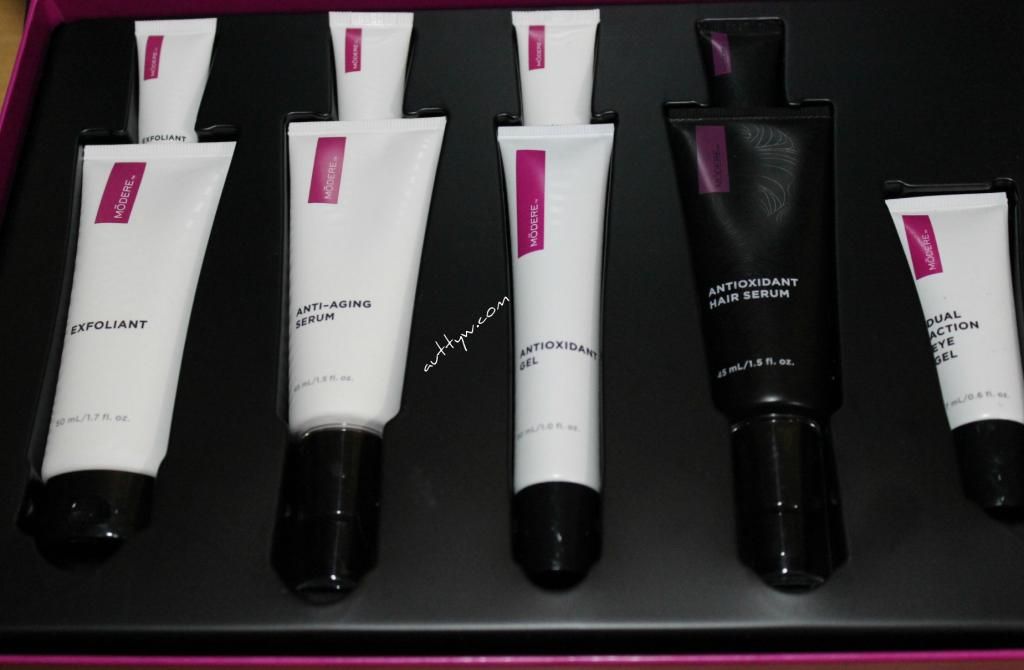 Like I mentioned above my Mom tested these products out..it's actually why it's taken me longer then I wanted to get the review up because my Mom wanted to try them when I was getting ready to start typing my review up. Figures right! :P Anyhoodles.
Exfoliant - $12.99 MSRP
Key Ingredients : Prickly Pear Extract, Jojoba Beads, Bamboo Extract, Silk Amino Acids and Vitamin E.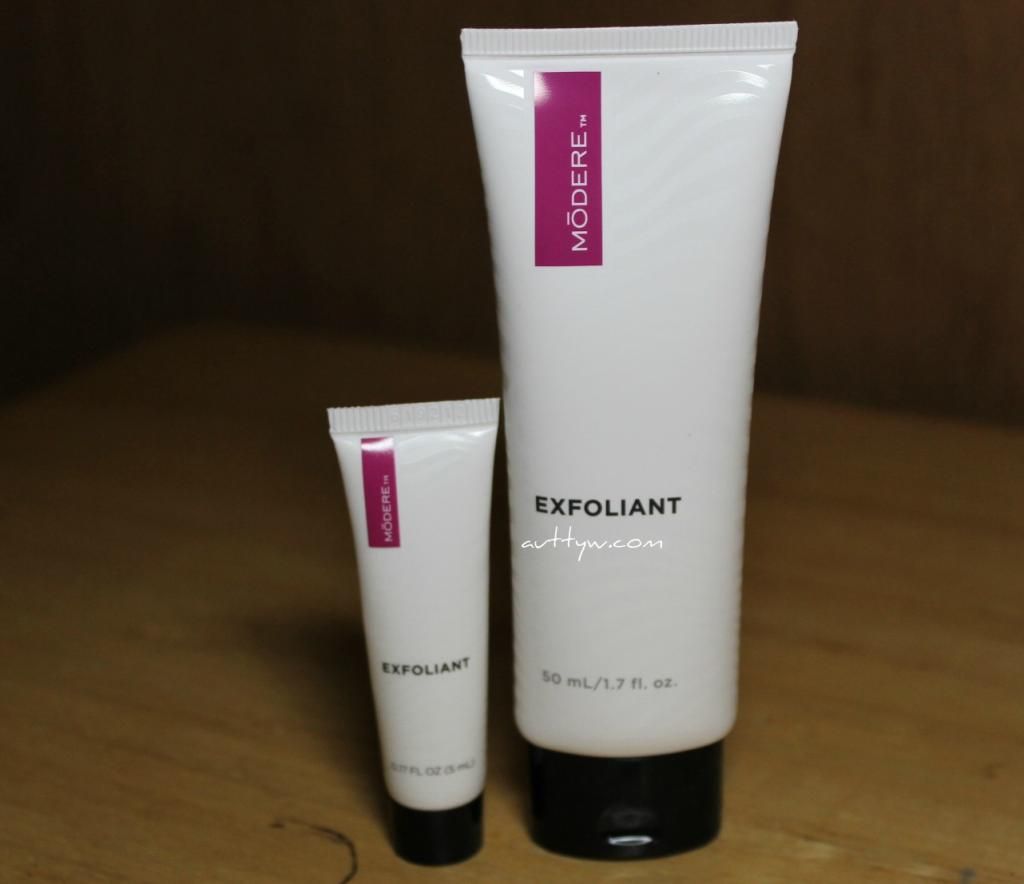 Me: I quite enjoted this product actually, I thought it would be a bit too harsh on my skin but I was surprised that it was very gentle. This exfoliates your skin just enough to where it doesn't dry your face out, which I greatly appreciate because as I've gotten older, my skin has gotten more dry..even though I have oily skin I get some nasty dry spots. This also made my skin feel softer, which is also a great thing!
Mom:
My skin is usually dry and really flaky, even though I have oily-ish kind of skin, it flakes pretty bad. I'm not much of a skincare person but when Autumn got this in the mail I really wanted to try it because my face looked like a lizard that was shedding it's skin. Not attractive at all. This made my skin feel softer and it goes rid of the flakes! After the first use even! This also made my skin feel very hydrated.
Anti-Aging Serum - $39.99 MSRP
Key Ingredients: Rye Seed Extract, Maca Hydrolyzed Lepidium Meyenii Root, Hydrolyzed Elastin, Gotu Kola, Banana Flower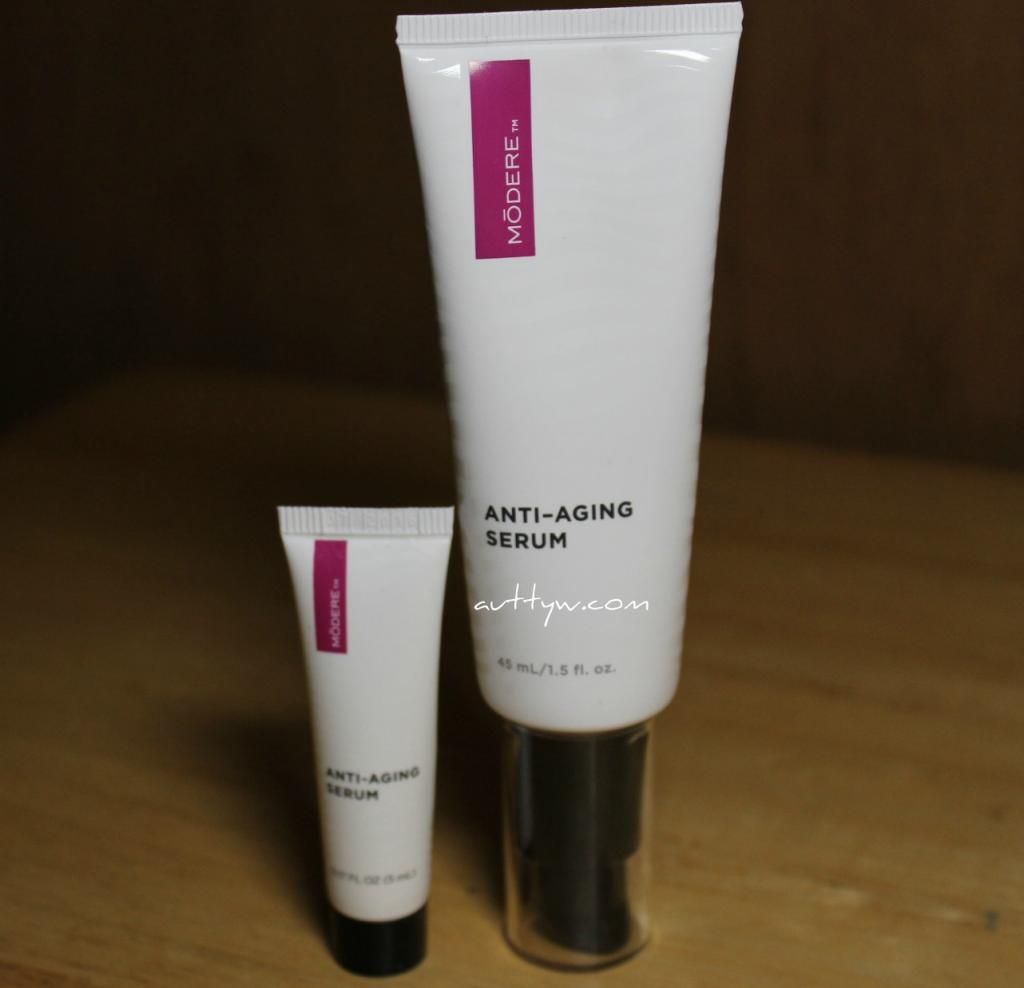 Me: This is a thin milky white serum that sinks into the skin pretty quickly. I'm not even going to mention what I thought it looked like when I squeezed it out of the tube. The 10 year old in my giggled, lets just say that LOL. Anyways all of that aside. After using this I could tell a HUGE difference in my skin. It felt hydrated and it looked smooth. Not only that but my complexion looked pretty much even. There was also a little bit of luminosity to it.
Mom: It smoothed out my wrinkles somewhat as well as it got rid of the extra puffiness under my eyes.
(why she put this under her eyes is beyond me)
My fact felt hydrated and smoother then it had been in quite a while.
Antioxidant Gel - $24.99 MSRP
Key Ingredients: Tetrahexyldecyl Ascorbate, Dimethicone Crosspolymer, Tocopheryl Acetate, Citrus Auorantium, Dulos, Retinyl Palmitate
Me: My complexion looked quite a bit more brighter then it normally would, since I have a duller complexion this amazed me. (
It takes so little
) My only really qualm with this is that it felt like I was putting a silicone primer on my face. I am not a big fan of the silicone feel on my face. It does goes away rather quickly and this could be a good thing to put under your foundation, which if you know me I haven't tried because I don't wear foundation. But if you try this and wear foundation, let me know! This does smooth your skin out and it works with the Serum to help your skin to help it look even and luminous.
Mom: My skin felt nice after using this. It softened my skin and help with the dryness, flakiness as well as the redness in my skin. It has a decent but not overly perfume-y or floral scent to it. I'm pretty sensitive to scent and this doesn't bother me at all, which I like.
Antioxidant Hair Serum - $21.99 MSRP
Key Ingredients: Kukui Seed or Kendi Oil, Argan Oil, Jojoba Seed Oil, Ethyl Macadamiate, Tamanu or Nyamplung Oil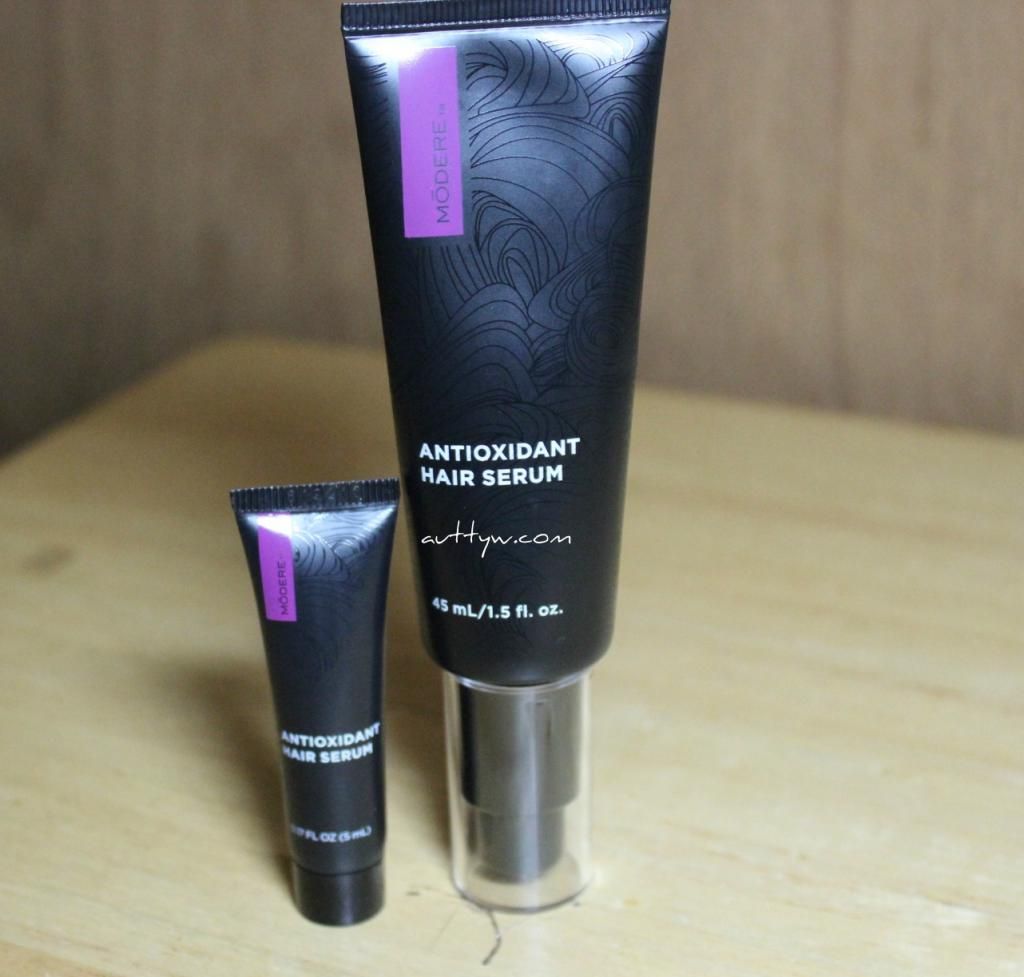 Okay, I am seriously obsessed with this product! This has to be one of my favorite products out of the entire box! This doesn't make my hair feel gross or oil after using it. I can also go about another day without washing my hair, which is always nice. The formula of this product is to help "Banish Frizz", I don't exactly have frizzy hair but I do have some pretty damaged hair, I need to get it cut. Out of the little bit of frizz I do have, this helps. Speaking of damaged hair, it helps my hair feel healthy and gives it that shine that can sometimes be missed. I seriously need to get a backup of this products.
Dual Action Eye Gel - $29.99 MSRP (yours to keep when you get the box)
Key Ingredients: Hydrolyzed Lupine Extract, Glucosamine HCL, Alfalfa Extract, Hydrolyzed Elastin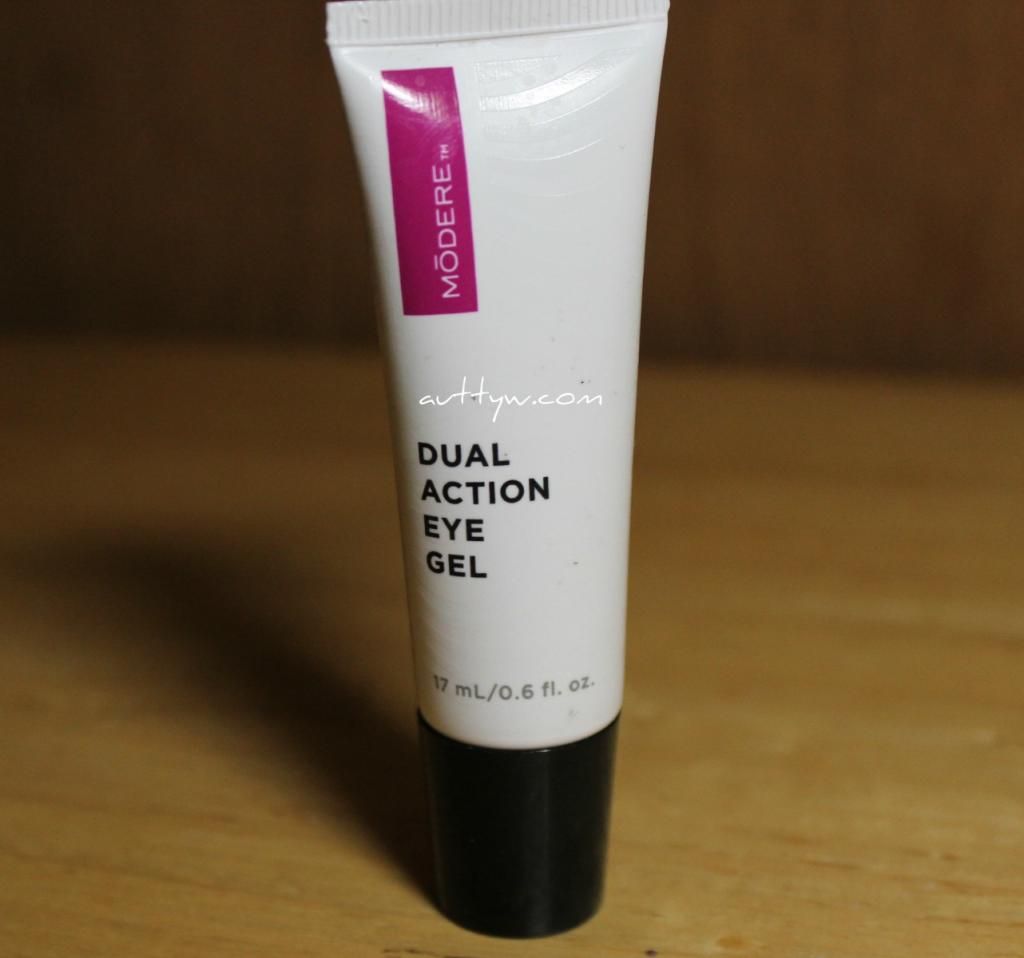 When I used this gel for the first time I was amazed. It had gotten rid of my puffy under eyes as well as it helped to diminish the look of my dark circles. I can't use this every day unfortunately because it did burn my eyes a bit, which stinks because it's an awesome product!
Mom: Didn't used because she used the Antioxidant Gel under her eyes.
Out of the entire box, I would probably buy everything except for the eye gel and the antioxidant gel. Those I feel like will last for ages as well as they weren't my favorites. The Exfoliant, Serum and Hair Serum were simply amazing!
You can find more information about the Modere Beauty Box by going HERE
The box retails for $79.99+tax You get to keep the sample products as well as the Dual Action Eye Gel.

Products discussed in this post were provided for FREE for review. I received no compensation except for being allowed to keep the products. All links used in the post are referral links/