Hey everyone! I hope you're all doing well!
Today I have a new to me subscription service as well as it's pretty new itself if I read correctly.
The 1Up Box is a subscription box that is reminiscent of Loot Crate but is different in it's own ways. Now their tag line is "A Monthly Box Of Epic Gear For Geeks & Gamers." Now, I am not a gamer by any means but I do consider myself a geek about certain things, but we shant get into that at this moment. :P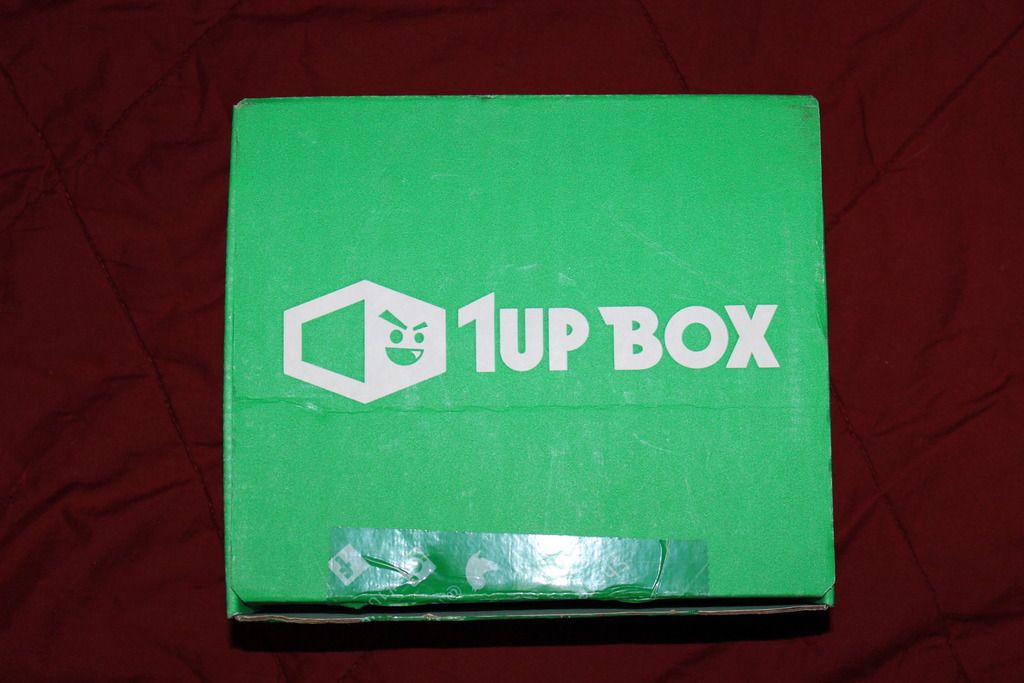 Now, this isn't my subscription, it's my Brothers but I do have his opinion on the box as well as I've gotten permission from him to blog about it. Secretly though, I kind of want my own subscription!
The box is usually $12.92 +S&H, which makes it come out to around $19 with tax and everything, so it's not too out there in price, I think it's pretty reasonable. They do have a code on the front page of their website
AWESOME
to get your box for $9.92 plus the shipping and handling jazz. Now, that code has nothing to do with me at all, so I just wanted to put that out there.
March's theme was
Villians,
which I thought was pretty neat and I was kind of anxious to see what was in the box. YES, I know it's not mine but getting packages is freaking exciting regardless of who they belong too.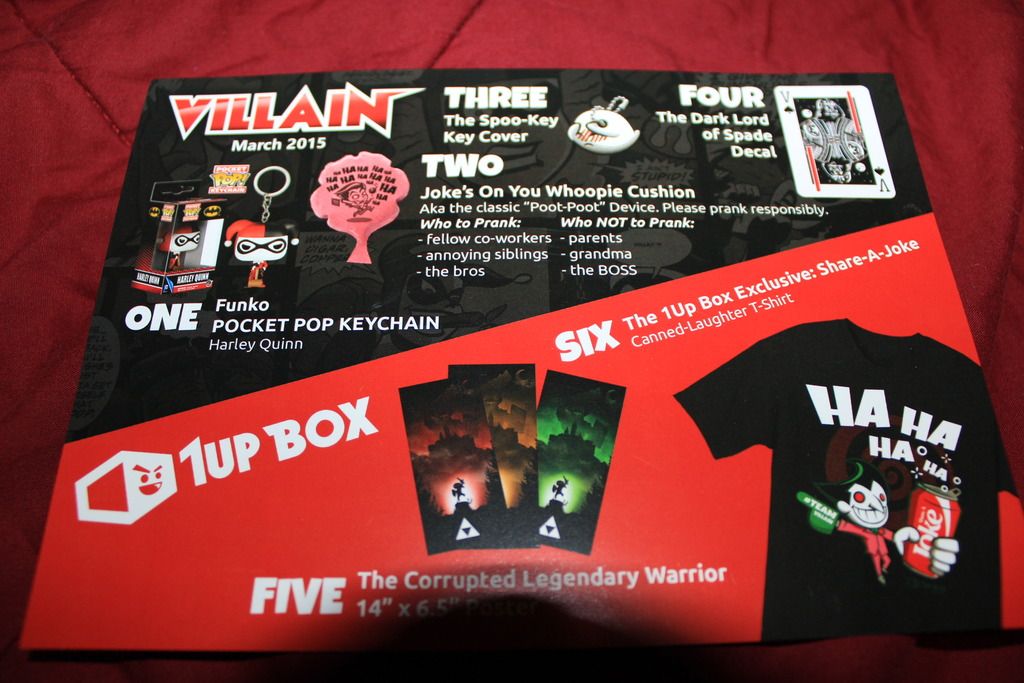 In this box there was 6 things PLUS what come in every box, a pin and a T-Shit. So, you get around 8 things per box, but each box varies so you still get a decent amount of things. NOW, even though it's my brothers box, I get to keep the T-Shirts out of the boxes because unfortunately for him, they don't come in his size. That's really sucky because I know he'd love to wear them. However, it's good for me because I have zero decent t-shirts and this adds something funky and cool to my wardrobe so high five!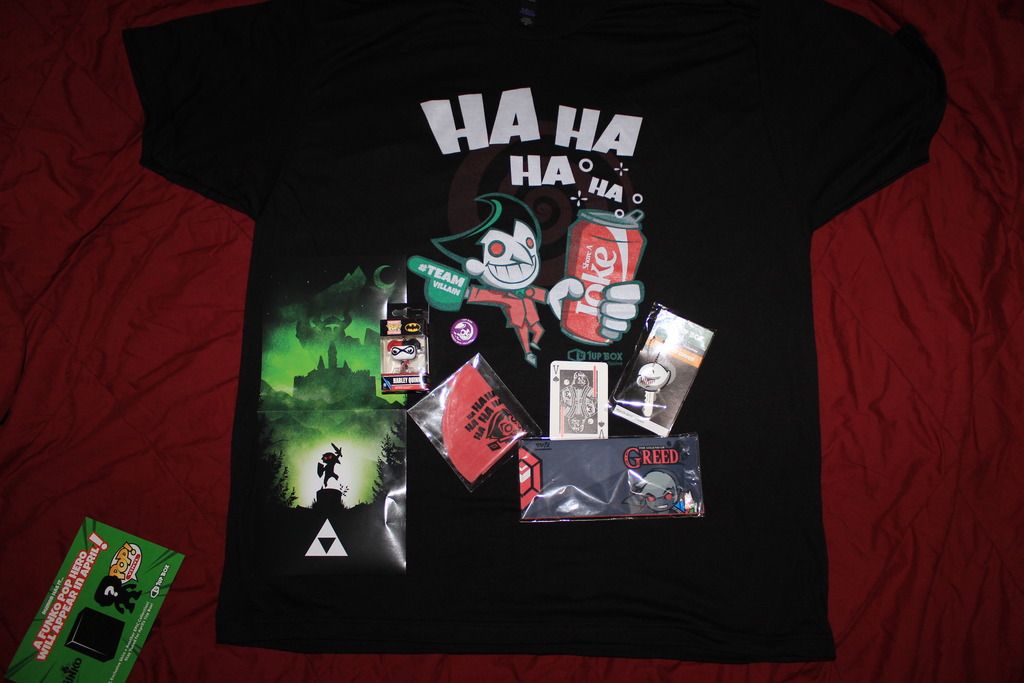 Up first we have the
Funko Pocket Pop Keychain Harley Quinn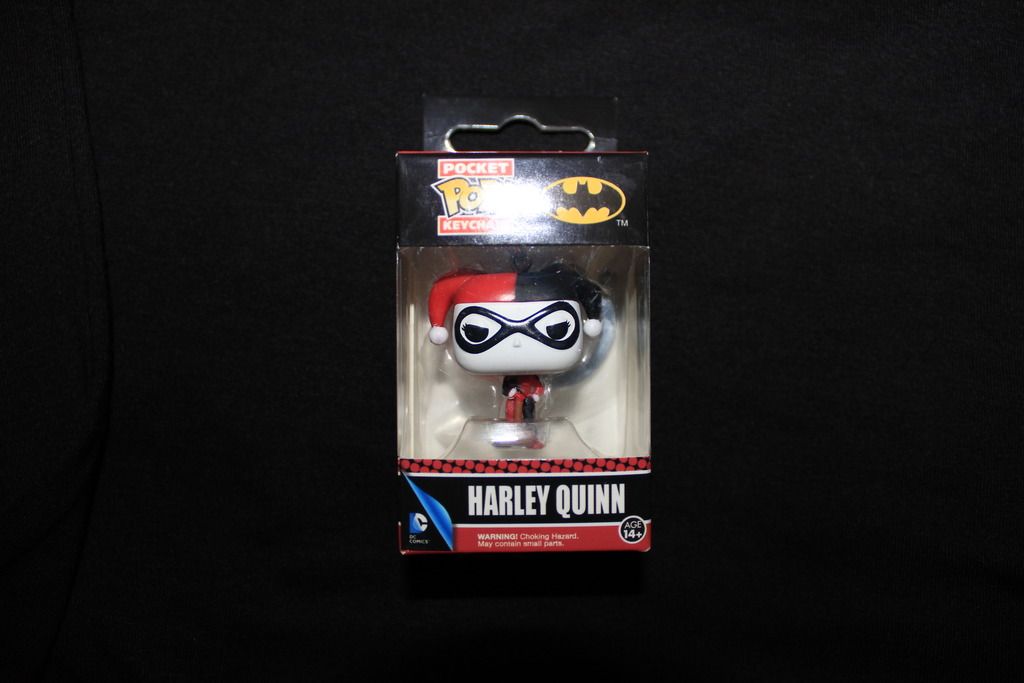 Jokes On You Whoopie Cushion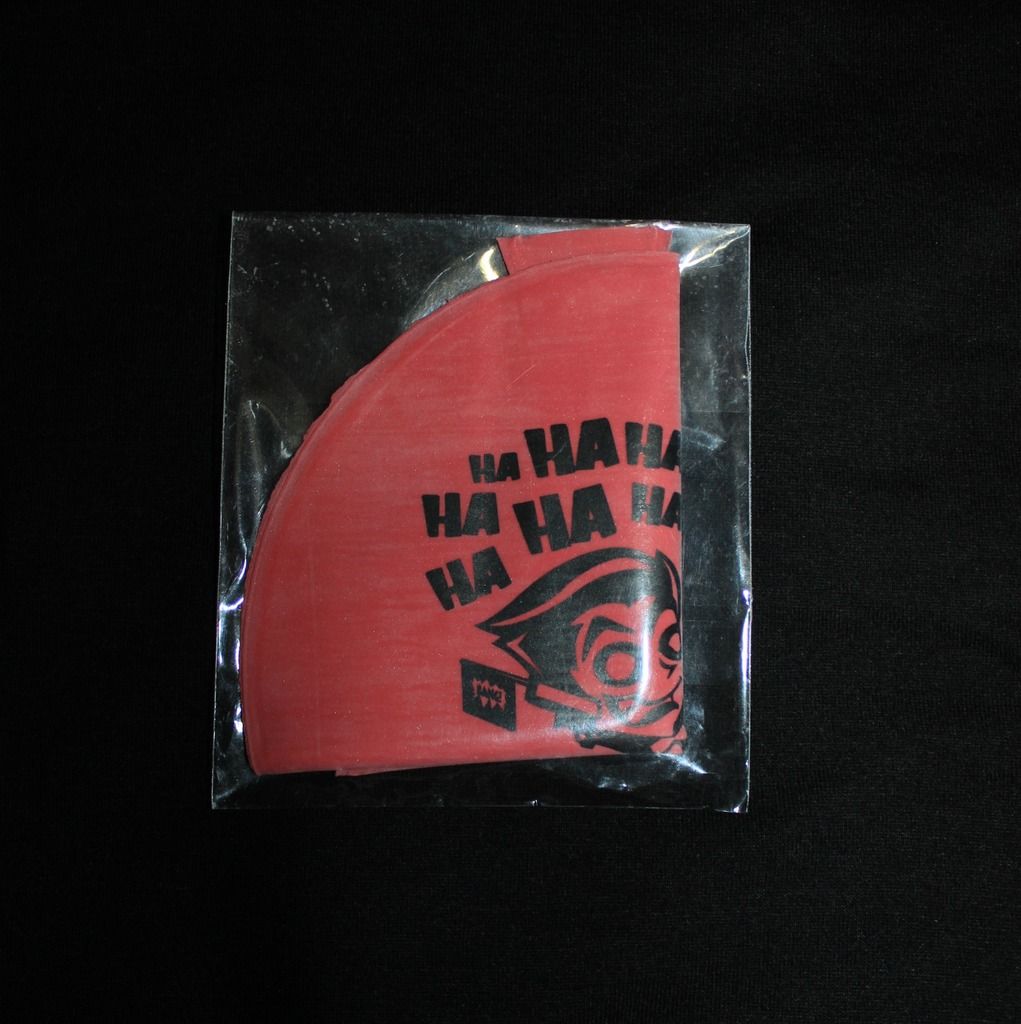 As you can tell, I didn't even bother opening it. I'm not a person who thinks that Whoopie Cushions are funny.
Spoo-Key Cover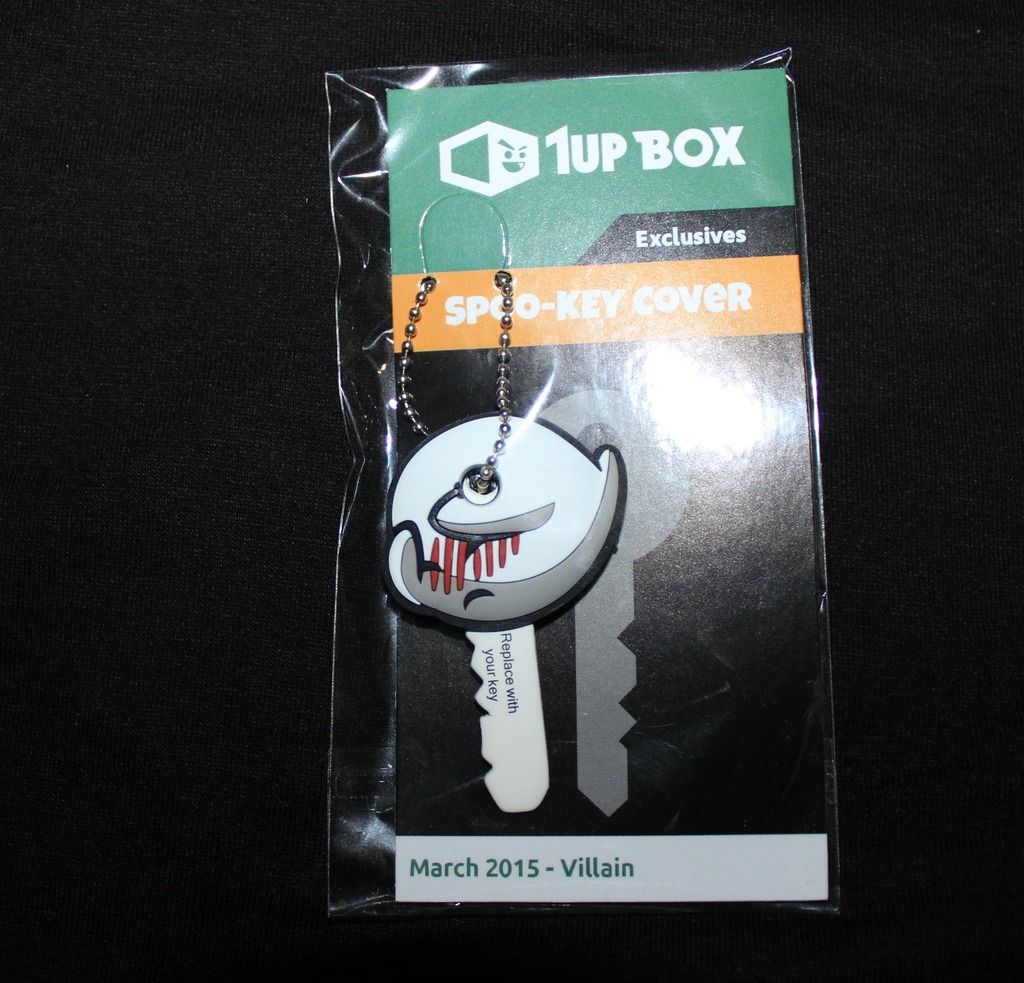 The Dark Lord of Spade Decal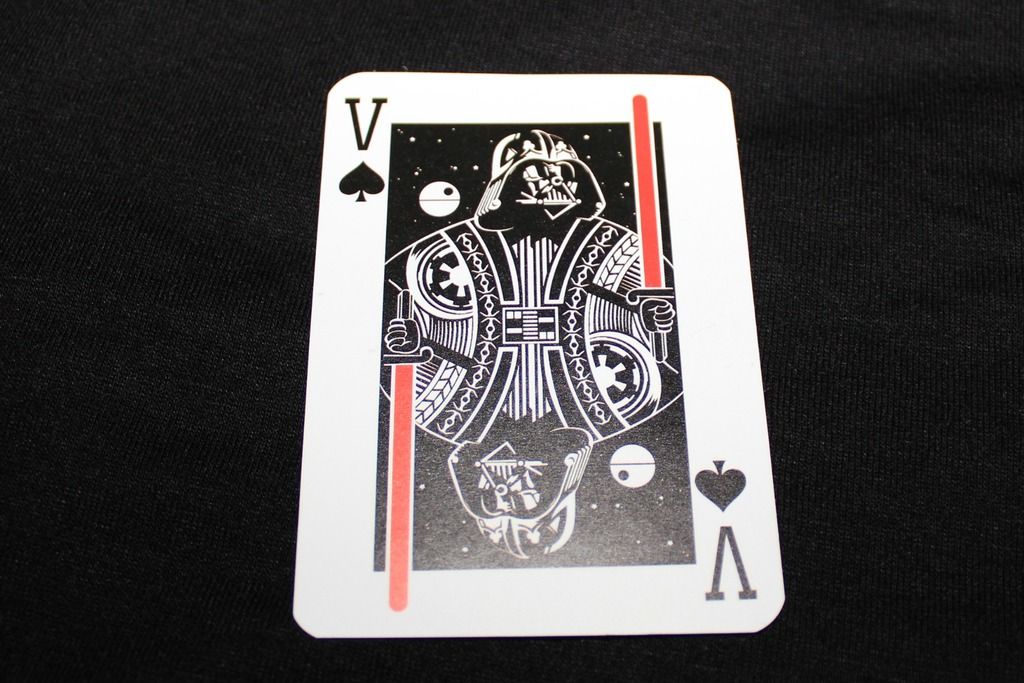 The Corrupted Legendary Warrior Poster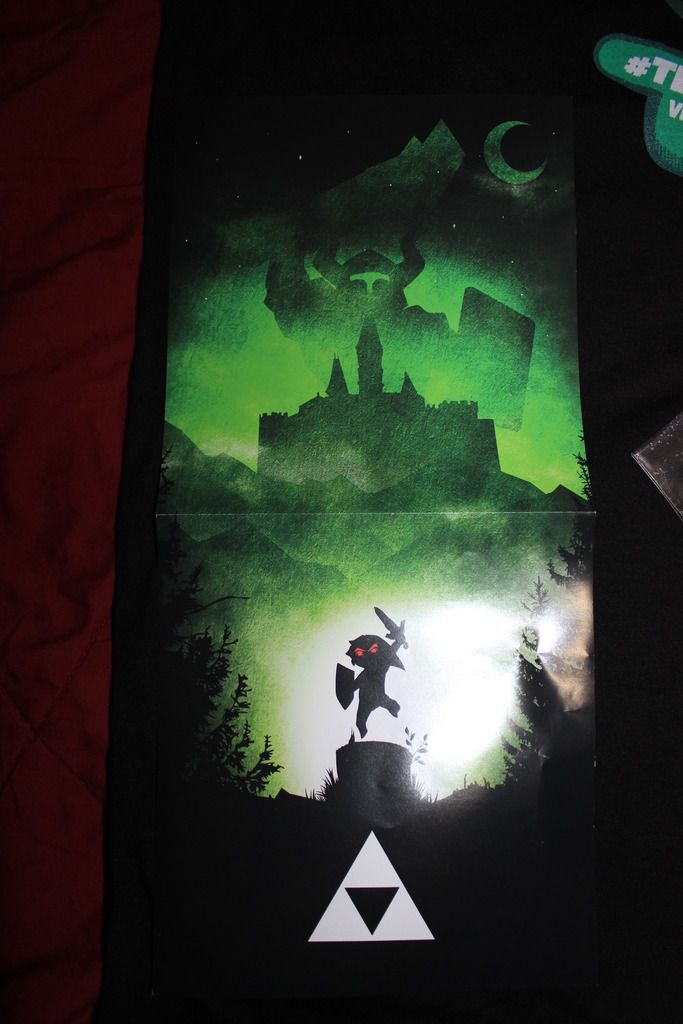 1-Up Box Exclusive Share A Joke Canned Laughter T-Shirt
(Shown At the beginning of the post)
1-Up Box Pin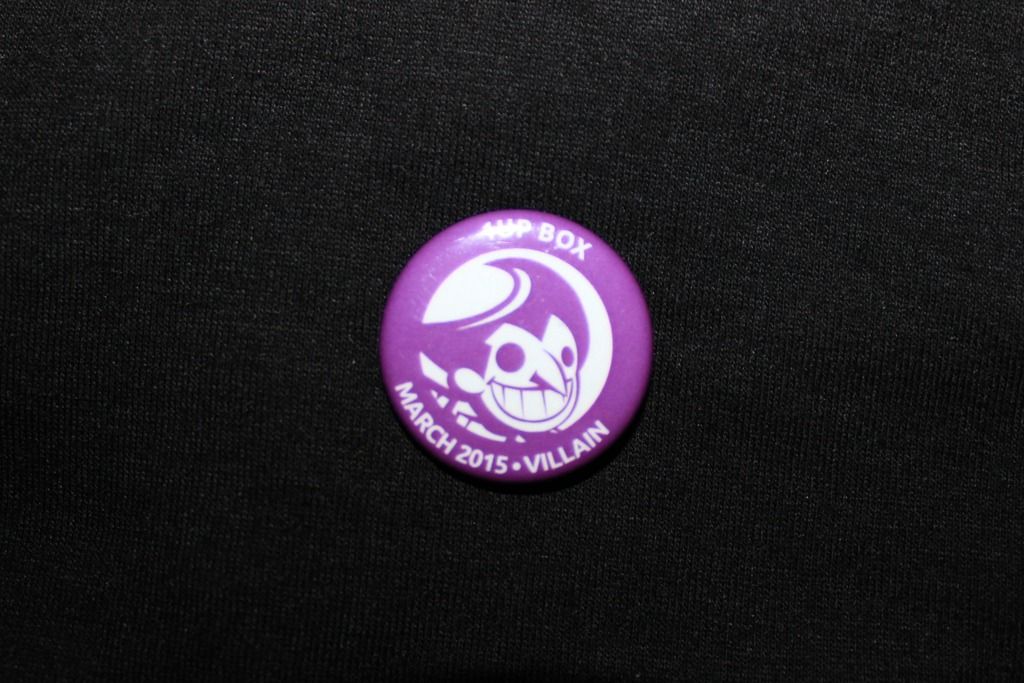 Dark Link Wallet (Not on pamphlet that came in the box)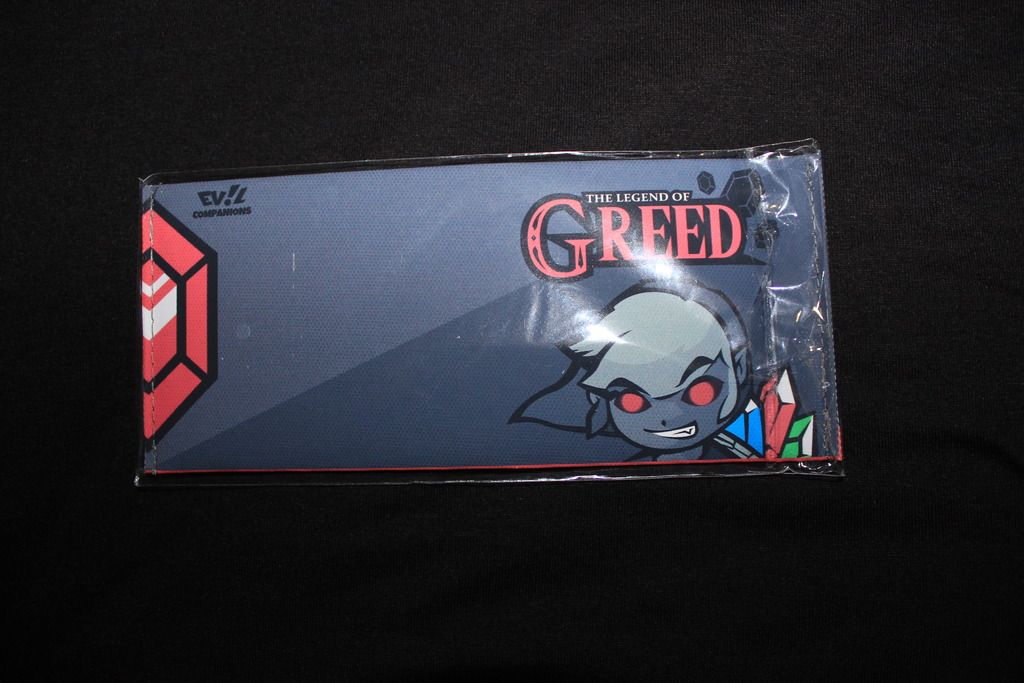 I personally am pleased with what was in the box. I think it's all really cool and just geeky, but that it totally me. My brother on the other hand, I've not seen him use a single thing out of this box to be honest. If he has used it or is using any of it, I've not seen it. That's kind of a bummer in my opinion because I'd be rocking the crap out of the Spoo-Key Cover and the Harley Quinn Key chain!
I will say that the one thing I extremely dislike it that they take the money out on the 3rd, but the boxes don't get shipped until the 20th of the month. That's kind of crappy in my opinion. As well as I think that they should add larger sizes of T-Shirts, even though they go up to a 2X, I think they should have larger sizes available for their bigger clientele. Just my opinion.
I do want to apologize for the quality of the pictures, I know that some are blurry and you have the reflection from the flash. I hate when people hover over my shoulder and that's exactly what people were doing, so I just hurried through the pictures and didn't even bother checking to see if they were decent. However, I do promise that for April's box I will do better.
What do you think? Is 1UP Box something you'd consider subscribing to?