So, this blog post has taken me longer then it should have to get posted. This happened back in February and here it is the end of May. I don't have too much of a defense as to why it's taken my this long to get a blog post up. Honestly, I've just been burnt out on blogging, I seriously considered giving it up because it became a chore to me. That's why I've been taking it slow and I feel that I'm starting to get it back, so here's to hoping I can get the kick in the butt that I need!
I was invited to a Press Night for a new restaurant here in New Port Richey, Florida called Dulcet. I think the only reason they knew about me was because I had tweeted at them on twitter (obviously), on how I had noticed a new restaurant with a red carpet and a doorman. ( I actually called the gentleman a Bouncer). They had tweeted at me and actually invited me for a tour and I was planning on going within the month of February but they invited me to attend the event first! I had invited a few other bloggers to attend with me, but at the last minute every with the exception of Denise from Harajuku Girl FL Beauty. I was glad to at least have someone with me, even if it was for a short time. Now, I've never been invited to a press night or a grand opening or anything like that so I wasn't exactly sure what to expect. If you saw my twitter exchange with Denise that night, or the phone call to my sister or the texts to Chris you would have known how simply terrified I was of walking in alone. I was instantly regretting not inviting my sister to attend.
I wasn't sure what to expect when I first walked in...Actually, I thought there was going to be like Journalists, other bloggers and what not. It was City Council members, myself, Denise and one other Blogger. Unfortunately I can't remember his blog. I looked it up, but apparently I remembered the name incorrectly. When I was taking pictures, it didn't even occur to me to use my flash for most of them because me being me and being as afraid as I was thought the lighting was good enough. I'm still pretty pleased with how my pictures came out though!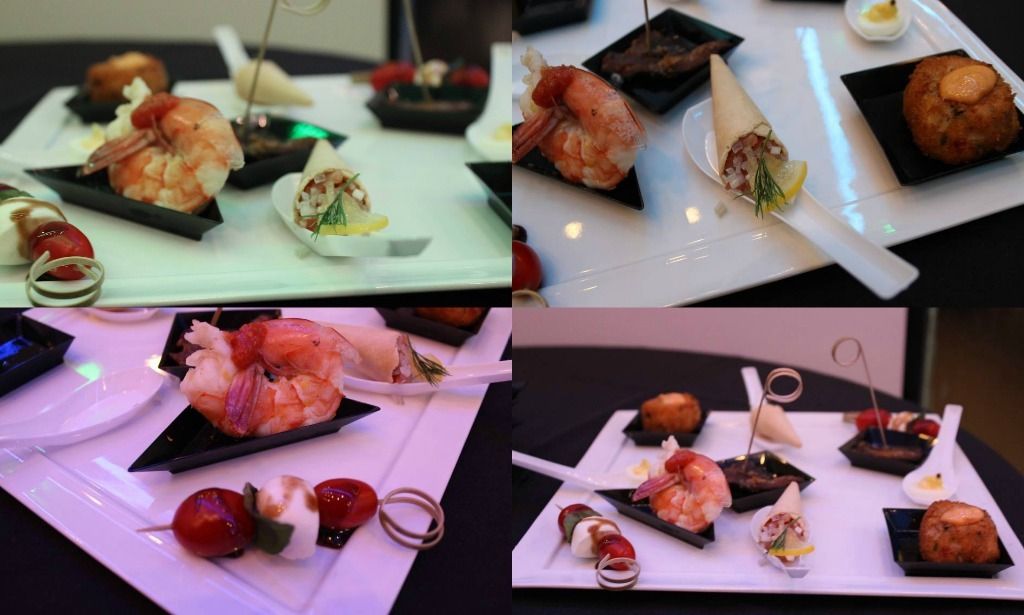 Look just how absolutely stunning that plate was! Let me tell you though, I was so intimidated by this plate as well as I was pretty afraid to eat the food. I don't eat seafood as well as I'm allergic to Salmon, HOWEVER, I didn't die so it's not a serious allergy! On the plate you can see all of the different elements, I'm bummed that most of my pictures were unusable but I did collage them up so this wasn't a mile long deal..
On the plate as a whole there was Quail Eggs, Crab Cakes, Salmon Gravalax, Giant Shrimp, Candied Peppercorn Bacon and Mini Caprese Salad Skewers.
What you see on the little skewer was a mini
Caprese Salad.
It consisted of cherry tomatoes, mozzarella, a little torn basil leaf and a drizzle of balsamic glaze. The ONE and only other time I ate a caprese salad, I despised it but I was probably like 10 years old. Since I'm obviously older, this was actually pretty good I have to say. I don't like Balsamic vinegar or tomatoes, so for me to actually enjoy this was a miracle. I will say that I didn't eat the other one though, one was good enough for me.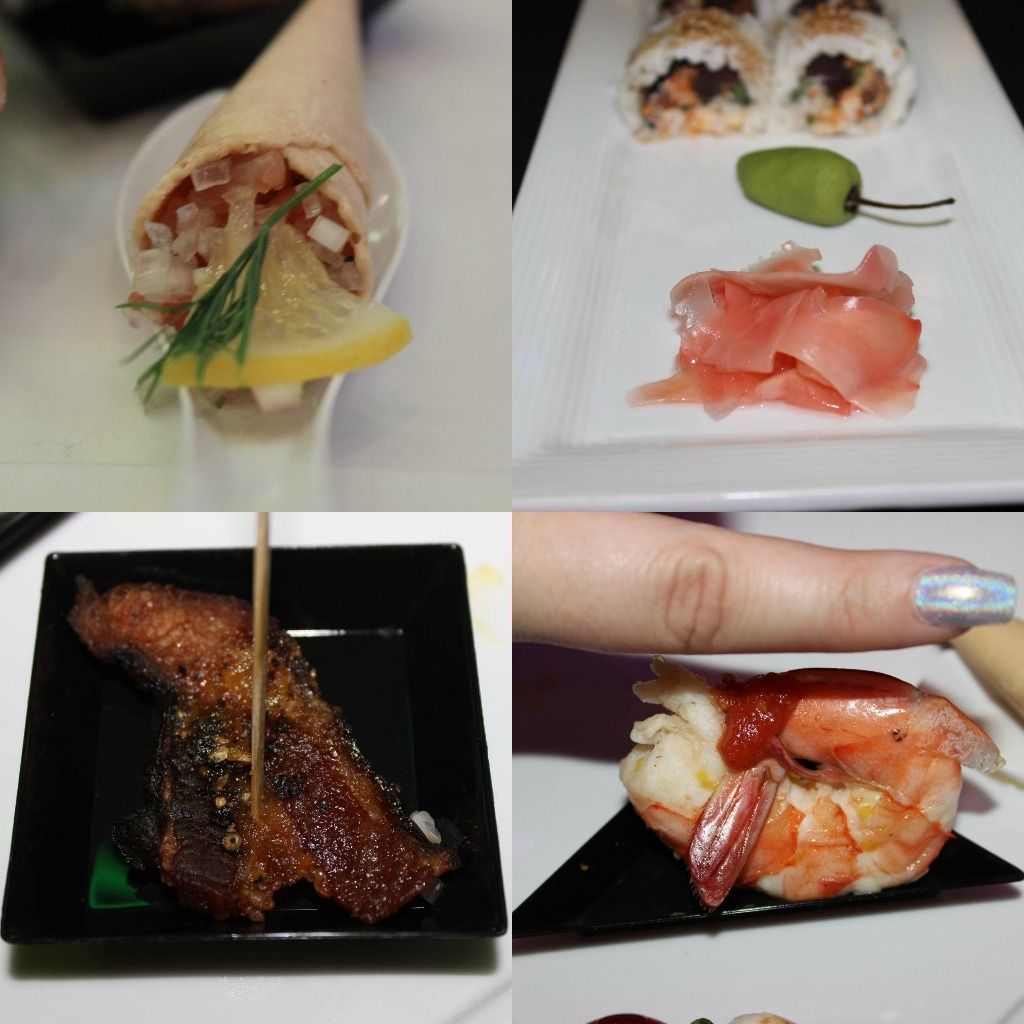 Top Row - Salmon Gravalax - Bacon Lobster Tuna Roll, Wasabi, Pickled Ginger
Bottom Row -
Candied Peppercorn Bacon - Large Shrimp with Cocktail sauce
Here is another view of the BLT (Bacon, Lobster, Tuna Roll)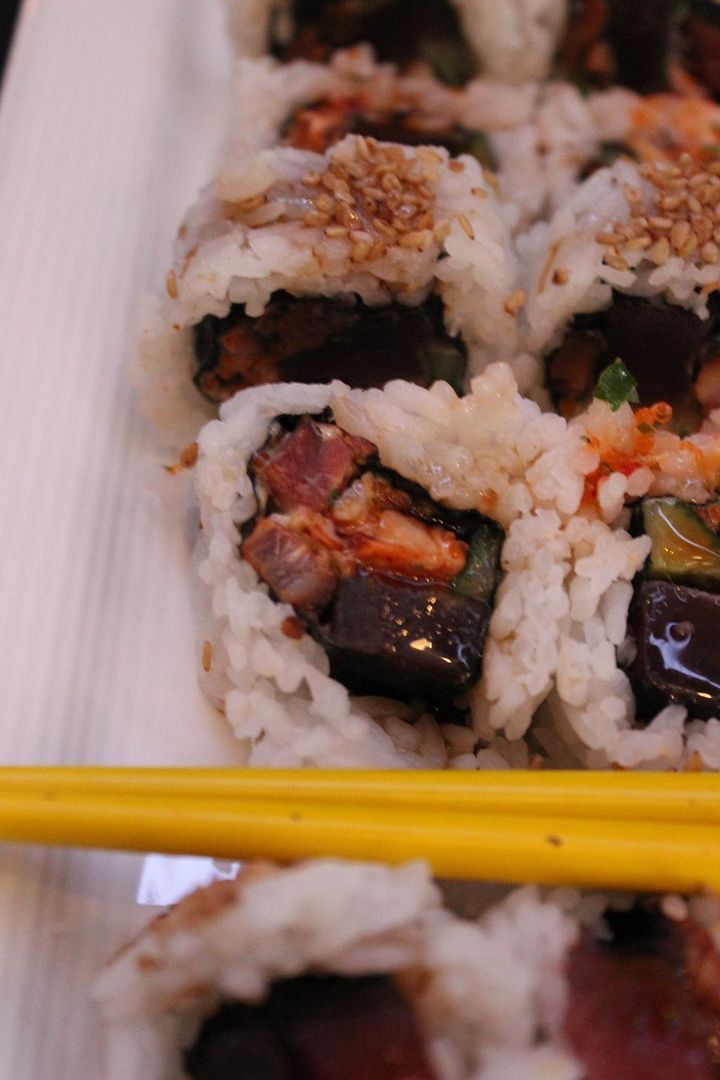 This plate of goodies was Desert. Macaroons (pistachio, caramel, chocolate), Chocolate Dipped Gooseberries and Rum Chada ice cream covered in chocolate. The Rum Chada ice cream was delicious, even though it really just tasted like vanilla to me.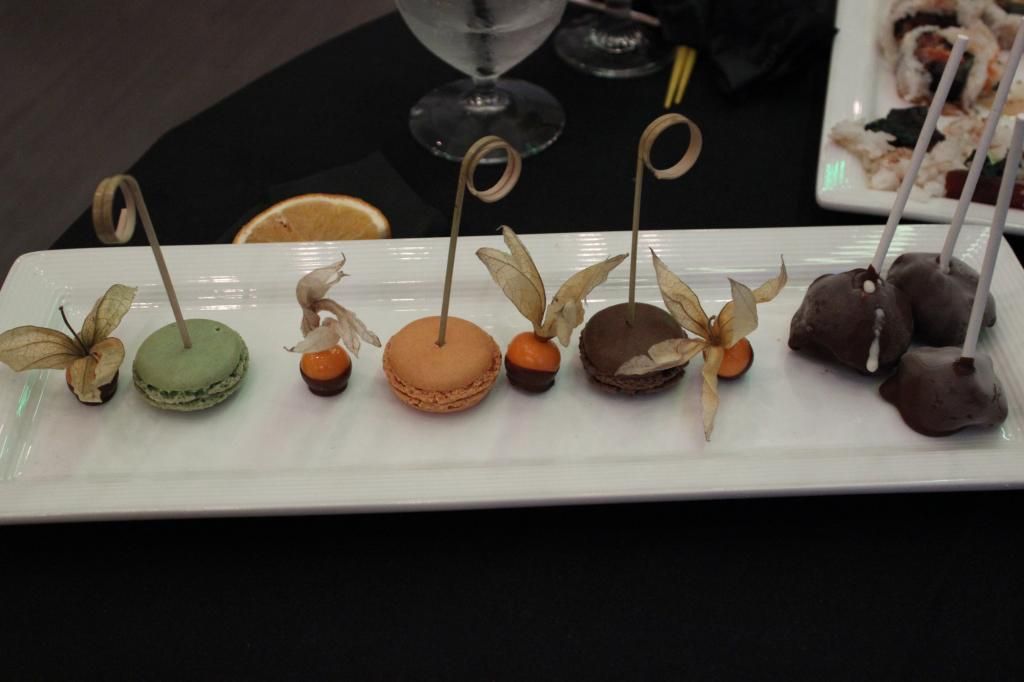 Food wise, everything was on point. Even though I wouldn't normally eat most of everything that was given to me to taste for allergy reasons (Hello Salmon) as well as I just don't eat fish. Well, I tasted it anyways and obviously I'm still alive and kicking so the Salmon didn't kill me :P. I am so wanting to go back for the candied peppercorn bacon, it's amazing and I was craving it the other day like crazy...that coming from a person who isn't over crazy about bacon. I eat it, but I don't go crazy over it (Chris, I'm looking at you)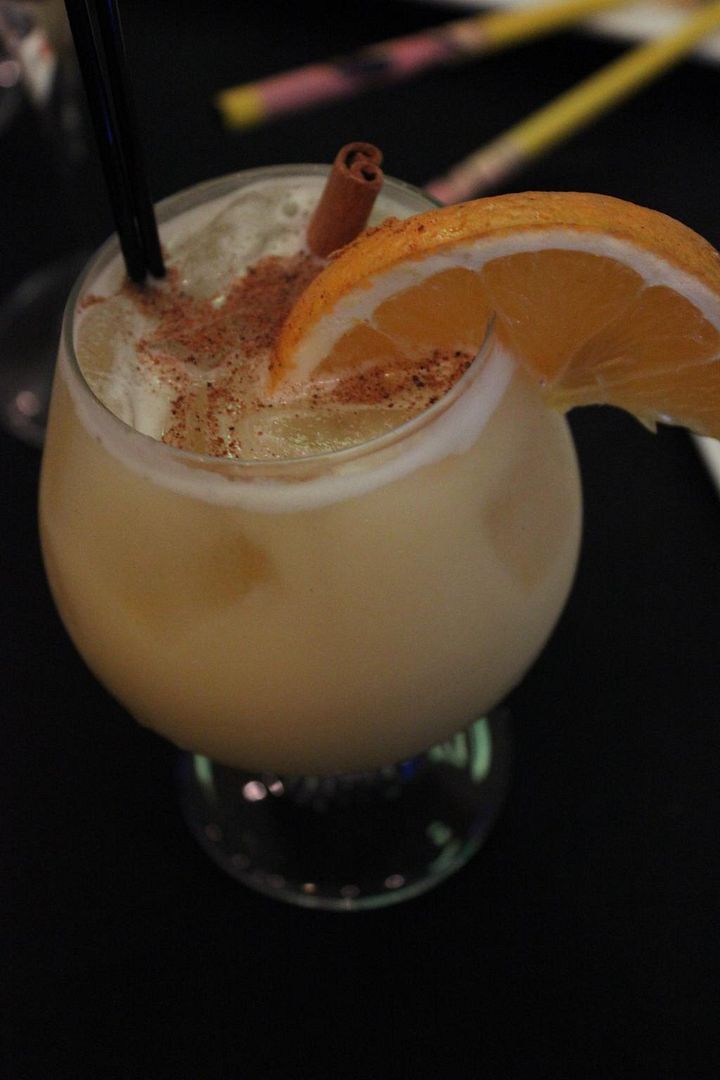 I don't even remember the name of this drink honestly, all I remember is that it was $10 and there was so much alcohol in it that you couldn't taste the fruit in it. It's their version of a pina colada pretty much without being mixed with ice. I don't know, this and the BLT roll was my least favorite things of the night.
Now here you get to see the ambiance of the restaurant. I think this all has to be my favorite thing of the entire place. Dulcet has done a seriously phenomenal job with how they changed the place. I've lived in New Port Richey my entire life and I love the fact that we have this awesome place to go now. The top left picture is their water wall. I was completely in love with it! So of course, I grabbed a table right next to it! It's absolutely mesmerizing! The bottom left picture is some art work that was done specifically for Dulcet and I really think that it fits and gives them a little something extra and personal in their space. The two right pictures are something that is absolutely amazing. First off, it's their stage for when they have bands play and what not. But what's really cool is the
four 4K resolution screens that cast "live" jazz music into the space. Funny enough, when I was there Jingle Bells was playing, so I found that quite
humorous, nothing like Christmas in February
. I have to say though, they're quite impressive. The displays are manufactured by a company based in Cologne, Germany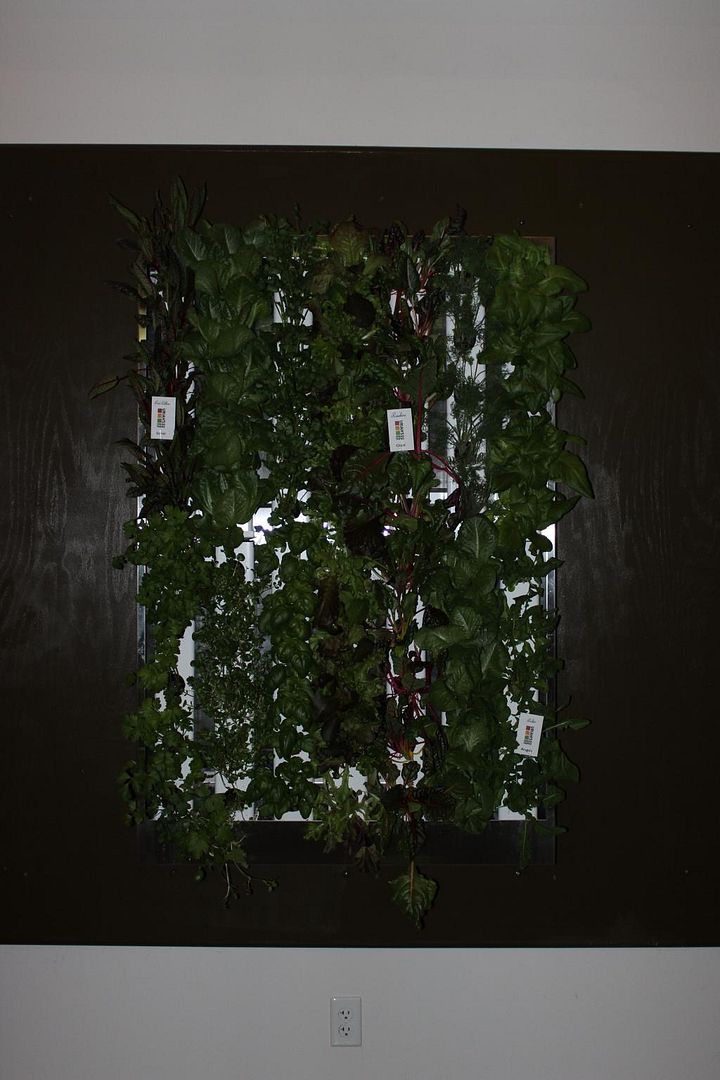 I think that my other favorite piece in Dulcet has to be their garden wall. It's got Herbs and other things that Chef Paul Syms might need to cook his amazing foods. I did get to meet Chef Paul Syms for a minute when he came over to ask how I was liking the food and he seemed very nice. I wish I would have gotten a chance to ask him more about his appetizers though! I definitely wasted that opportunity because I was shy.
All in all I think that Dulcet is such a nice restaurant in New Port Richey. It's definitely a diamond in the rough, but over the past few months I've kind of seen this little historical town change for the better in some ways and I think it's because we have this hidden upscale place to visit. Also, I need to mention that they have doormen and a red carpet outside. That was actually how I first noticed that they were there! It also doesn't help that a couple of their doormen are cuties! :P
Dulcet is such a great addition to Grand Boulevard and it's kind of in such a nice location in the downtown area that they'll get a lot of different clientele. Obviously they'll get city council members and people who have money and then they'll get visited by people like me. Someone who really wouldn't be able to experience a restaurant like this on a normal basis or really someone who just gets to do something fun and different only once in a while. So, they really cater to a lot of different kinds of people. Their prices could definitely set you back though, so if you're wanting to visit, make sure you have the money. I wish I would have gotten a picture of their menu, I think I saw a plate of something for $26. So definitely be mindful since this is an upscale restaurant.
I definitely suggest that if you're in the area, come check Dulcet out! I plan on going to on of their Lounge nights on the weekend, I'm not sure which though. That is something I definitely want to experience!They also serve brunch now, which is something that definitely needs to be checked out as well! I've seen the pictures and it all looks so delicious!

UPDATE 31/05/15 - I was informed that on typical nights, there is no cover charge! There is only a cover charge on nights they have events. So if you're wanting to go and experience them, just check out their facebook or twitter to see if they are hosting an event so you can plan accordingly.
Facebook https://www.facebook.com/thedulcet
Instagram https://instagram.com/dulcetdining/
Twitter https://twitter.com/DulcetDining
thedulcet.com