Roasted Garlic is one of those things that I always just shrugged off as something that I'd never do. Not for any particular reason, I just thought it was complicated. I've never roasted any vegetables or anything because I'm always worried about messing it up. As someone who loves cooking, I have found my new favorite thing to add to recipes!
Roasted Garlic is probably the easiest thing to make in the oven. Not only just that but if you save the oil, you have roasted garlic oil that you can use in your recipes as well! Two things for the price of one!
You just need a few simple things;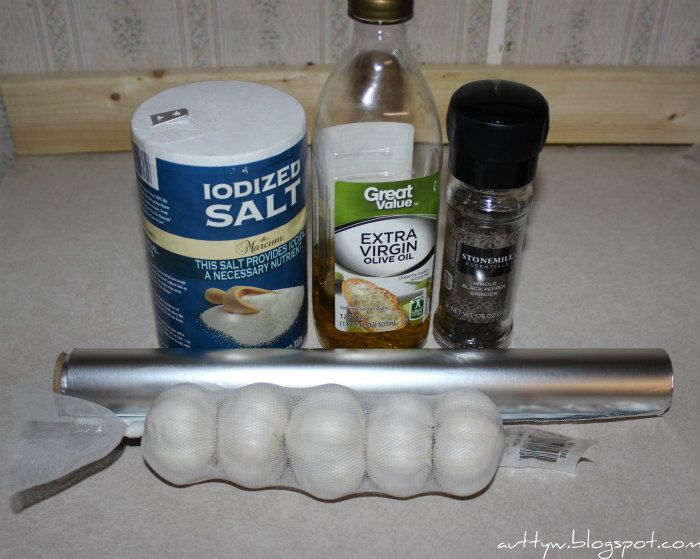 Ingredients/Tools:
Garlic Bulbs
Salt
Pepper
Oil (I used EVOO, but you can use what you prefer)
Aluminum Foil
A pan to set packet of cloves in. (not pictured)
Sharp Knife
Cutting Board
Preheat your oven to 400
°
F (205
°C)
First you want to remove all of the excess paper on the outside of the bulbs. To do this, just rub the bulbs between your hands. You don't want to break up the bulbs though, try and keep them as intact as you can.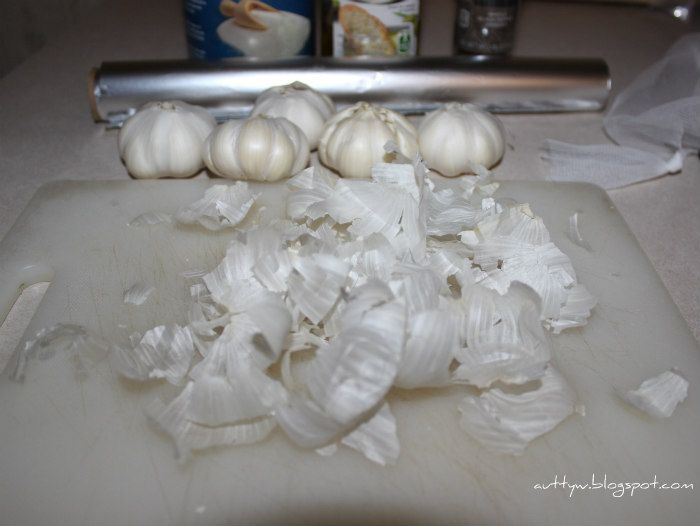 Take your aluminum foil and fold it over so that it is double thick. You want to do that to try and keep the oil on the inside. Cut a little bit of the top of the bulb off. You just want to expose the cloves.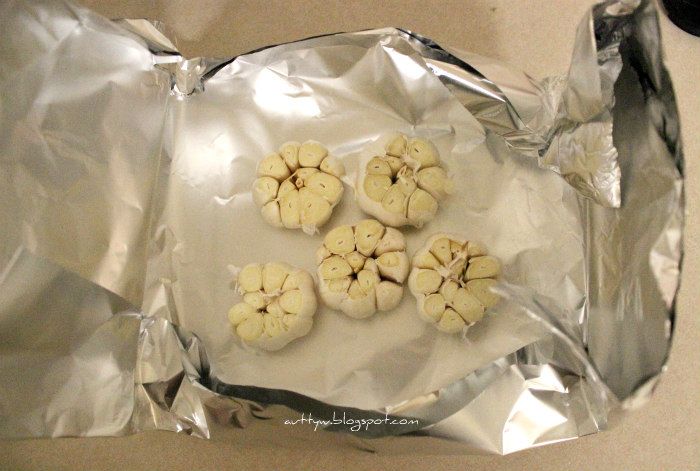 Drizzle on the olive oil, or if you're wanting to make garlic oil, pour the oil on. I used what was left in my bottle. If you do plan to make garlic oil, I would suggest putting it in a deeper pan. That is what I did.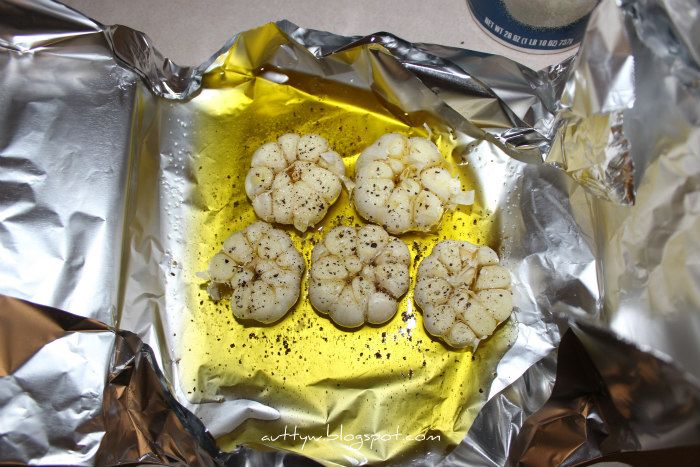 After you add your seasonings, just fold up the sides and make it into a little packet. don't make it tight, or you could tear the foil. Trust me, I did it and made a mess. Could you omit the aluminum foil and just put it in the pan with the oil? I've seen people do it, but they break the bulbs apart and don't cut them. I guess it is just preferential.
Bake your garlic for 40 minutes.
Your house will start to smell so yummy! This is probably my favorite part of this whole process.
After you pull your bulbs out of the oven, open the packet and let them cool down a little bit. Please be careful so you don't burn your hands!
I like to use a spoon to pop the cloves out of their individual spots. Put them in an airtight container and store them in the fridge!
The uses for this are endless! I've used them in hamburgers, but I also suggest spreading it on some toasted bread for garlic bread! It's so yummy! Because they're roasted, they're actually sweeter than raw garlic. I've actually eaten just a clove by itself. Roasted garlic is so addicting!
Have you ever made roasted garlic or tried it? What ways do you suggest using it?! I would love to know!