I had all of these blog posts planned and written out and I just knew it was going to be a good month! I was so ready to go! Unfortunately, nothing ever works out in my favor. My Mom is still having issues after her surgery, my Grandmother was back in the hospital with issues stemming from her colon cancer surgery and then I got a pretty disheartening email. It was a rejection email from a company and honestly, 99,9% of the time they don't bother me. This one however was pretty damn disheartening. I was told my blog wasn't good enough and I myself were too "heavy" to be accepted. I'm not naming names, but that is just something not nice to say at all. I was told to apply again in a couple of months and "maybe" I would be accepted then. Excuse me? I was just insulted and they still want me to apply again?! No thanks. >( So I've been feeling really crappy about not only myself but I have been feeling pretty shat about my blog. It's not a great feeling.
Currently however, I am being howled at by Simba the needy Sable Point Siamese Cat. He is a needy pain in my butt. Ginger is sitting at the table in front of me who is dubbed my Tuxedo Stalker and Anya is just Anya. We all know how she is. Cute but plotting your death. I love my cats though! I wouldn't trade their crazy butts for the world.
Another side note. I went to Chipotle with my Cousin for the first time and I felt basic as hell and was not impressed. It was not that great, I have had better.
Too Faced Shadow Insurance
Mustaev Single Eye Shadow #104 Smoke (lower lashes)*
Stilazzi MS28 (orange)
Maybelline Color Tattoo 75 Electric Blue (base)
L'Oreal Infallible 759 Burst Into Bloom (center of lid)
Urban Decay 24/7 Glide On Eye Pencil Demolition
Mustaev Max-Volume Mascara*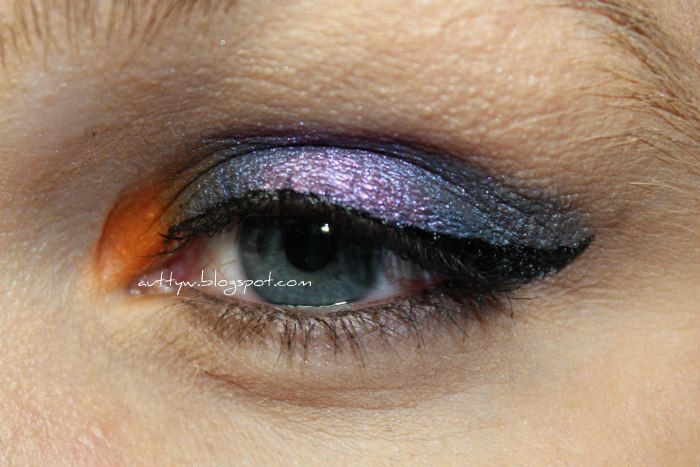 Temptu Pro S/B Primer*
Maybelline Fit Me! Matte+Poreless 220 Nude Beige
The Body Shop Shade Adjusting Drops Lightening*
Cara Cosmetics Nagoya
Becca Cosmetics Beach Tint Souffle Watermelon/Moonstone
Mac Mineralize Skin Finish Natural Medium
Nars Light Reflecting Press Powder Translucent Opal*
Kevyn Aucoin The Precision Brow Pencil Brunette*
NYX Conceal.Correct.Contour
Bare Minerals Marvelous Moxie Lip Gloss Birthday Babe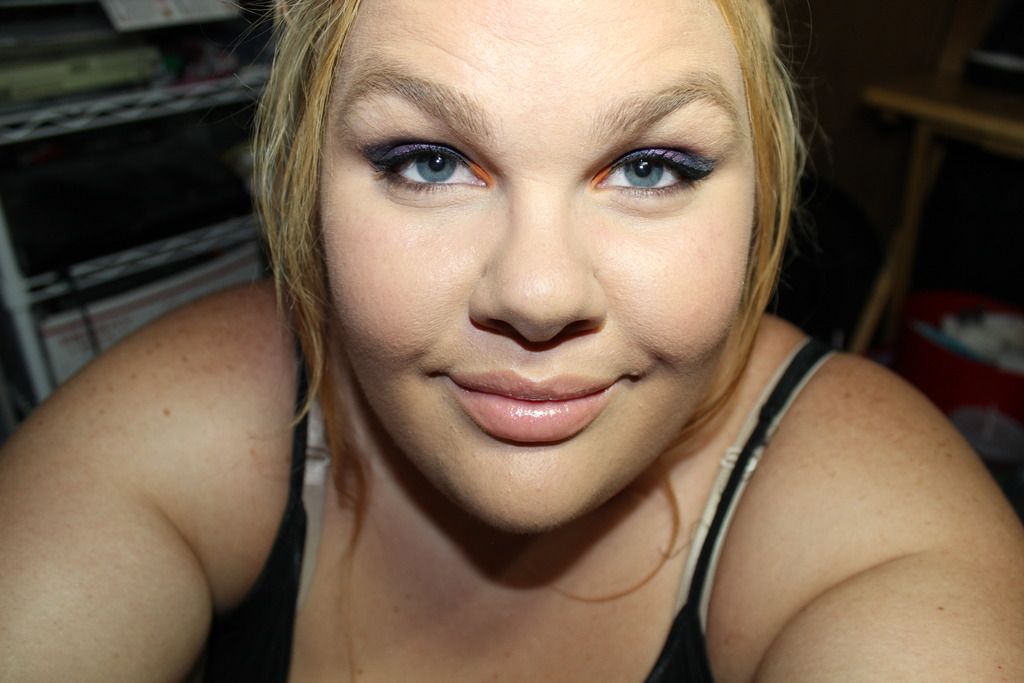 Ignore all of my griping. I guess I really have no excuse. The one thing I DIDN'T Mention though was I let Chris pick out the eye shadows that I used. He didn't do half bad, so lets all applaud Chris!
Best,
Autty
Some products marked with a (*) were provided for free