There really isn't a set recipe for this at all. I didn't measure, the entire thing is too taste. The most important part of this is the actual cooking process. I styled my Rolled Egg Omelette after Tamagoyaki from Japan. It's exactly the same thing, except I didn't use any Japanese seasonings nor did I use the traditional pan. You can find them for around $10+ on Amazon though, but I just haven't invested in one as of yet. I'm honestly quite fine making mine in my round pan. If you do want to make it more Traditional you will need Sugar, Dashi and Soy Sauce. I've also heard of them being make with Sake and Mirin. But like I said, it's all personal preference. I don't like fishy things so I avoid Dashi.
What I use in mine is;
2 Eggs
Salt
Pepper
Milk
Badia Complete Seasoning
Green Onions
Butter for the pan.
You can change out the butter for Coconut oil or whatever your prefered substance is to cook with. I however had butter, so that is what I used.
Two eggs is actually considered ONE serving, so that is what I used. You will need two eggs though to make enough to be able to roll it. This also can be saved for later in the day or the next day. However, this is too much for me, so I tend to split it in half with Chris or someone else. Again, use as many or as little as you would like. You can also add more things into this, I have added cheese and meat before.

Would this be easier to make just a regular omelette? Sure, but this is fun to do I find.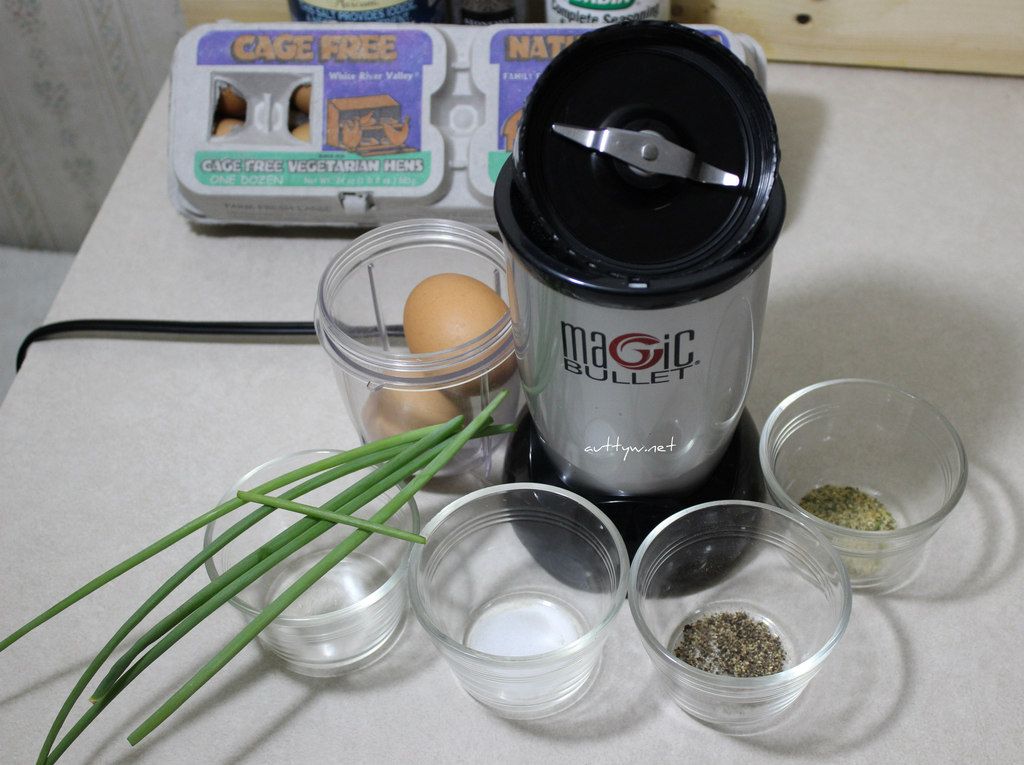 Another thing, you don't need a Magic Bullet or anything fancy to make this, you can use a fork or a whisk. I just prefer to use it because I'm just that weird person. Don't judge! :P If you do happen to use a blender, food processor or a Magic Bullet, don't fret when the beginning layer and possibly the end layer comes out frothy. That's just from being whipped. It threw me off the first time it happened, but have no fear! It will cook just the same!
You also may need to do it again during the process depending on how many flips you use.
Add some of your egg to the pan and let it cook until you can see it staring to bubble. I let mine cook until it's just about fully cooked.
Start your flipping process. You a spatula for this, it makes it easier. The first roll is always the hardest!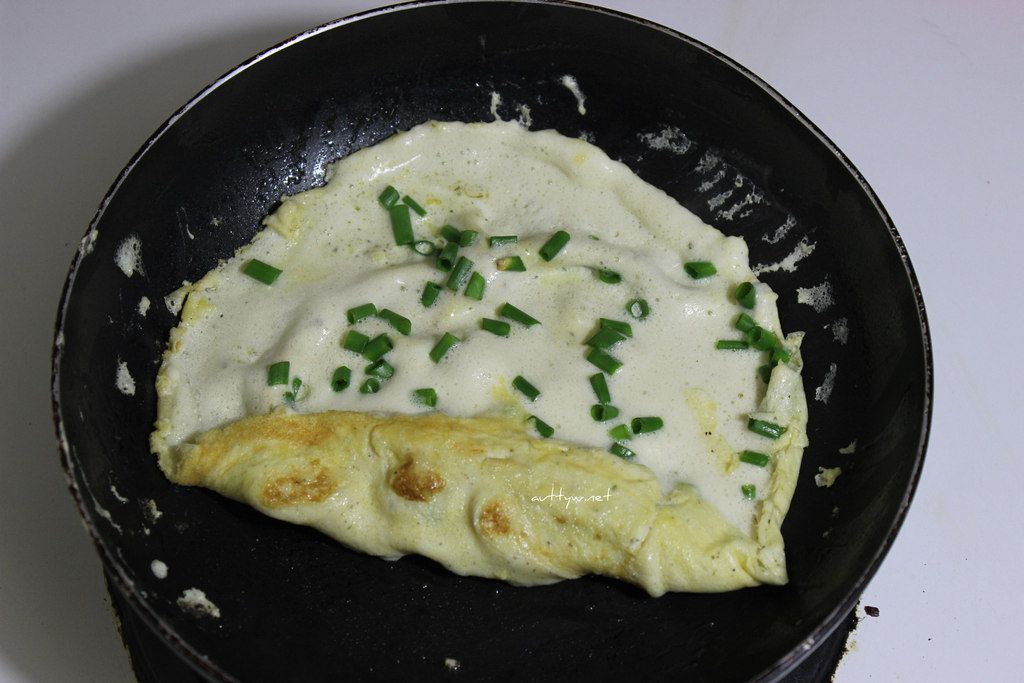 FLIP
FLOP
FLOOP
(I so did not get the entire process because it's kind of hard to cook and flip and egg and take a picture at the same time)
Continue adding egg to the pan after each completed flip to the other side of the pan
BAM! baby, just slap that baby on a plate and enjoy! If you want to make it all "fancy" just trim the ends a little bit and you'll have something a little more shapely!
I just want to point out, I bought these brown eggs for just this post. I wanted damn "fancy" eggs instead of just plain ol' white chicken eggs. Was there a difference? Not at all. Total personal preference again.
Obligatory inside shot because it looks freaking delicious!
I'm sure there are ways to make each layer thinner but I prefer it like this. It does take a few extra minutes to make, but I mean why not! Make it for that special someone...or if you're like me make it for yourself!
What do you think? Will you try this?!